Aktan Abdykalykov, nowadays known as Aktan Arym Kubat, is a renowned Kyrgyz filmmaker, scriptwriter and actor. His first feature film, Beshkempir – The Adopted Son (1998) is considered the first independent film production in Kyrgyzstan. Arym Kubat was also the first director from this country whose films won awards at major international film festivals. In 2022, Arym Kubat completed the last part of his rural Kyrgyzstan trilogy under the poetic title Esimde: This is What I Remember. The three films (The Light Thief, 2010 and Centaur, 2017 and Esimde) tell stories about everyday life in Kyrgyzstan; they were all co-produced with French companies, the last one also received funding from the Netherlands and Japan.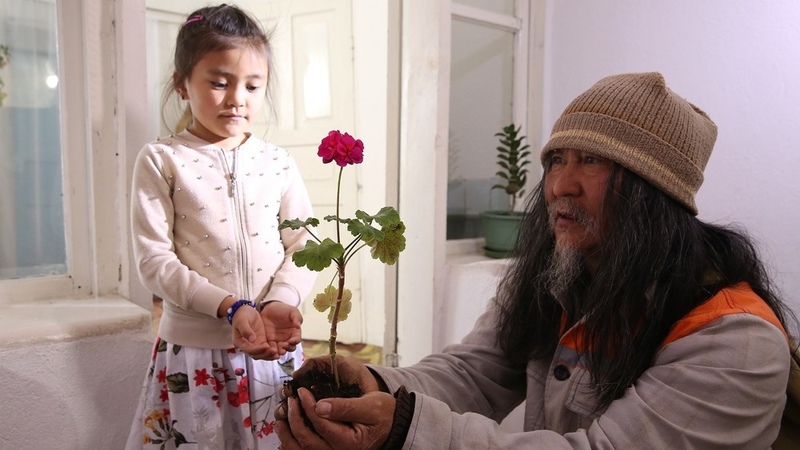 Esimde is a drama about life in a country that was hit hard not only by poverty but most of all by a ferociously imposed Soviet socialist system that, regardless of economic and social development, turned all traditional values of these half-nomadic people upside down. Arym Kubat himself took a lead role for the first time in The Light Thief before appearing as a larger-than-life central figure in This is What I Remember. The film has the form of family saga that depicts the post-Soviet era in a small provincial village somewhere in the vast land of Kyrgyzstan. A mysterious and mute man appears in the village after over two decades of absence. As it turns out, he is the father of a family that believed him dead. Actually, he was labouring as a garbage collector in Russia, as so many of his compatriots did in that time. His son spotted him among announcements of missing persons and brought him home. His desperate wife has remarried a local tycoon, into a family run by strict Islamic rules. The ground for a Greek tragedy is prepared, when all the villagers get involved in a drama about what his former wife should do, if anything at all. There are also friends of the garbage collector, ageing men of the village and other characters, all very carefully chosen and led through their roles regardless of their importance for the story. The director claims that the majority are non-professional actors and that he let them find their own way how to embrace the role. If this is indeed the case – and there is no reason to doubt the director's words – the collective achievement is even more impressive. The group of the elderly and the wise, with their traditional gowns and hats, resembles a Greek choir, leading the people through troubles and reminding them of morals and ethics. Arym Kubat, in the role of the mute returnee, appears to be the central axis of the wheel of destiny that started to turn towards a solution that no one knows or dares predict. His character brings unearthly dignity and meekness, but above all a steel persistence that finally prevails. No big words are needed, just common sense that has little or even nothing to do with religion. The atmosphere in the village changes and everyone – including his former wife – knows what to do.
As it turns out, the memory of collecting garbage is not the only memory that kept the mute man going, but it is above all the love for his family. Arym Kubat's message stands in strong opposition to the post-Soviet era that devastated people, land and values. It convinces us that the most important human values still exist. Carefully crafted, beautifully shot and stoically paced in its rhythm, This is What I Remember is a film to be remembered.
Živa Emeršič
Edited by Birgit Beumers
© FIPRESCI 2023