Frédéric Jaeger looks at the stylistically and politically multifaceted program of the 24th edition of a film festival that specializes in documentaries and short films with a wide array of experiences from all over the world.
Ismailia, a humble, middle sized city in the northeast of Egypt, located on the Suez Canal between Cairo and Port Said, hosts the longest standing film festival for documentary films in the Arab world and is also one of the oldest on the African continent as a whole. In its 24th edition, it delivered a feature competition showcasing an astonishingly rich and wide array of experiences from all over the world, including stories with queer protagonists or others criticizing the patriarchy both in Egypt and elsewhere.
Inclusiveness and openness are the cornerstones of the program's allure, both in the film's perspectives and their formal approaches. The festival's programmers have done an impressive work in assembling a stylistically and politically multifaceted body of work, including recent festival premieres from Dok Leipzig, IDFA and Visions du réel, amongst others. Some of the most memorable experiences stem from reportage-style documentaries with very straight-forward storytelling, as was the case with South African entry African Moot, directed by Shemeela Seedat. In her portrait of a young generation of law students from different African countries gathering to compete in a mock human right's trial, she spotlights a group of idealistic, smart and activist people striving to change the face of Africa. Having all been born after the various colonial regimes in their home countries, these young women and men are hoping for a future with open borders, freedom of movement for everybody, but most of all humane living conditions and rule of law. Seedat's documentary, which is already available in a shorter TV version on Al Jazeera's homepage, is a fast paced drama (with a big competition element to it), advocating for human rights in a very light hearted way.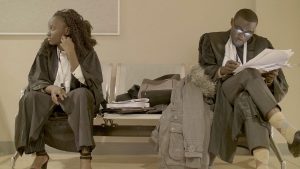 On the other end of the spectrum two very heavy hearted films stood out from the program: Palestinian refugee odyssey Notes On Displacement takes a plane to join a Syrian family on their journey to Germany. In a unique mix of embedded journalism, activism and cinema vérité, Khaled Jarrar communicates his growing rage against the way refugees are treated, but also against their lack of revolt. As an outsider and insider at the same time, he tries to bring the camera as close as possible to an experience of being a refugee, an impossible task and one hard to endure.
Another overtly and insistently dramatic entry was The Life of Shadia and Her Sister Sahar (حكاية شادية وأختها سحر), which had its world premiere in Ismailia. Egyptian filmmaker Ahmed Fawzi Saleh co-directed it with Menna Elshishini, who also edited the film. Putting women front and center, they never leave a family of two sisters, their five daughters' and their sick mother. Having all been abandoned by the men in their lives and fighting for alimony, the film dives into the very private and intimate suburban lives they lead, almost without ever running into men or leaving their houses. The "huis clos" (no exit) very quickly becomes claustrophobic and one can only imagine how much so for the protagonists themselves, as they are going through loss and nervous breakdowns.
Personal perspectives and autobiographical stories were at the core of the festival's program, with, notably, A Life Like Any Other (Une vie comme une autre), which won the award of the international jury for best feature documentary. Filming her family and using home video footage from her father, himself a filmmaker, Faustine Cros dives deep into her family life, searching for a truth which emerges as she discovers more and more traces of her mother's depression, culminating in a heartbreaking scene of her standing next to the fridge, the shopping bags in front of her, and out of her means, explaining to her husband filming her that she simply can't go on. As we watch her putting the groceries away, all the heaviness of her everyday life becomes palpable. By way of an intimate look at what moves her mother, Cros manages to evoke what it meant to be a woman/mother in the 1990s and 2000s, emancipated but still caring for all, overwhelmed with the many expectations.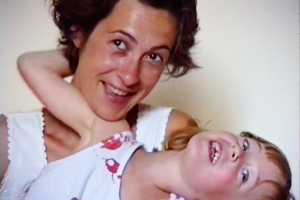 My Lost Country (بلادي الضائعة) by Ishtar Yasin Gutiérrez, which won the FIPRESCI Award in Ismailia, is a beautiful example of the formal freedom a filmmaker can reach while telling a personal story. Biographical elements inform a meaningful story of crossing borders and finding a home with culture, body and mind. The director weaves together different strands of geopolitical history from Chile to Iraq to Russia and a personal family history of Iraqi theater. The film also achieves a poetic understanding of the relationships humans can have with what seems foreign and familiar, through humor, listening to each other, creating together and for one another, with a deep belief in justice and openness for what might not be real.
Ismailia's documentary competition was also the home to overtly political works, such as the beautiful essay The Eclipse by Nataša Urban, starting out from a personal questioning of the director's parents, who don't want to remember the crimes of the past, and slowly but surely turning into a questioning of societies turning a blind eye to terrible histories of genocide and trauma in Serbia, Kosovo, Croatia, and Bosnia and Herzegovina. Linking back to many other endeavors of political filmmaking, both at the festival and the history of cinema, The Eclipse offered a refreshing formal freedom of showing without explaining and explaining without showing. It added a different prism through which to better understand the world. As did the Ismailia Film Festival as a whole with its diverse and unique programming, allowing for an enriching, thrilling, wild cinematic ride.
Frédéric Jaeger
Edited by Steven Yates
© FIPRESCI 2023