That my FIPRESCI colleagues and I should decree Olga Chajdas' Polish post-punk-steeped Imago the winner of the FIPRESCI Award for the Proxima competition seems especially apt in a year where KVIFF foregrounded intersections of cinema and rock music.
These intersections can be split into two distinct camps.
In camp A, the A-list stars of the silver screen keen, in middle age, to assert themselves as rockers. Most conspicuously, there was Opening Night's post-screening party headline act, Indoor Garden Party, who would surely enjoy no name recognition from rock cognoscenti whatsoever were it not for their being Russell Crowe's vanity music project.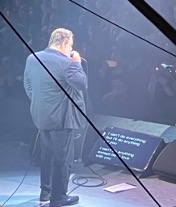 Photo: Linda Studená
However, Crowe belting out the words to Dire Straits' "Romeo and Juliet" off a teleprompter before a competent backing band with a voice, even if built for purpose, not conditioned for it, doth not a rock show make! Nonetheless, the audience politely applauded each and every song, his movie star wattage sufficient to keep a large crowd out front of the eternal Hotel Thermal engaged with a mix of originals and covers, including a workmanlike take on Johnny Cash's "Folsom Prison Blues." But the less said, let alone sung, of his cover of The Bangles' cover of Simon and Garfunkel's "A Hazy Shade of Winter," the better…
Then there was this year's KVIFF trailer, preceding many a feature presentation throughout the festival, in which the 2021 festival's biggest Hollywood get, Johnny Depp, makes a shambolic, slapsticky entrance into a hotel lobby for an interview, struggling to manoeuvre himself and a guitar case through a door. Where does the line separating his Captain Jack Sparrow's channelling of Keith Richards end, and Depp's own on- and off-screen persona now begin?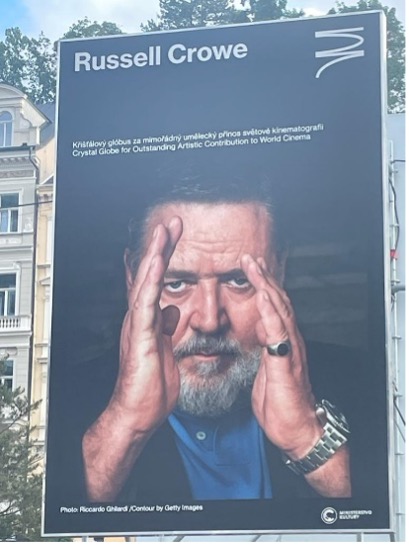 Photo: Victor Griss
Just as with the risible publicity headshot Crowe promoted his KVIFF appearance with, which graced a prominent billboard in front of the Thermal—he's seen posing with a wrist raised erect to either side of his now beardy, weathered face, as if summoning a preternatural level of focus available only to him—the line for Depp between parody and self-parody is increasingly indeterminable.
But hooray! for the antidote to these movie star millionaires earnestly tilting at rock star windmills, in the form of a) Imago which, in the words I prepared for the Non-Statutory Awards Ceremony at KVIFF, is
an immersive, transportive depiction of a rudderless young woman prone to mental health episodes whose impulsivity proves a boon artistically but a challenge to tame when accommodating an unplanned pregnancy and the societal norms attendant upon it. Set in Poland's Baltic Tricity against a backdrop of the burgeoning Solidarność movement led by local hero Lech Wałęsa, its febrile evocation of a late-'80s post-punk scene bristles and throbs with a grimy authenticity through a perfect yoking of era-perfect sounds and restless cinematography and montage. Co-writer Lena Góra's embodiment of her own mother in the lead role of Ela is wholeheartedly committed; the ensemble supporting her are all perfectly matched to the time-capsule narrative universe this film so compellingly conjures.
And b) Eugene Hütz BRINGING IT on the Thermal Grand Hall stage with just an acoustic guitar, a gravelly voice, tons of innate charisma, and a massive stage presence (even when uncharacteristically constrained to singing on the spot, owing to a short guitar lead), or: four songs, several chords, a whole lotta frantic strumming and caterwauling, and the truth. A truth inclusive, of course, of tributes to the resilience of his Ukrainian compatriots and acknowledgment of the terrible hardships they're enduring at the hands of a neighbouring despot.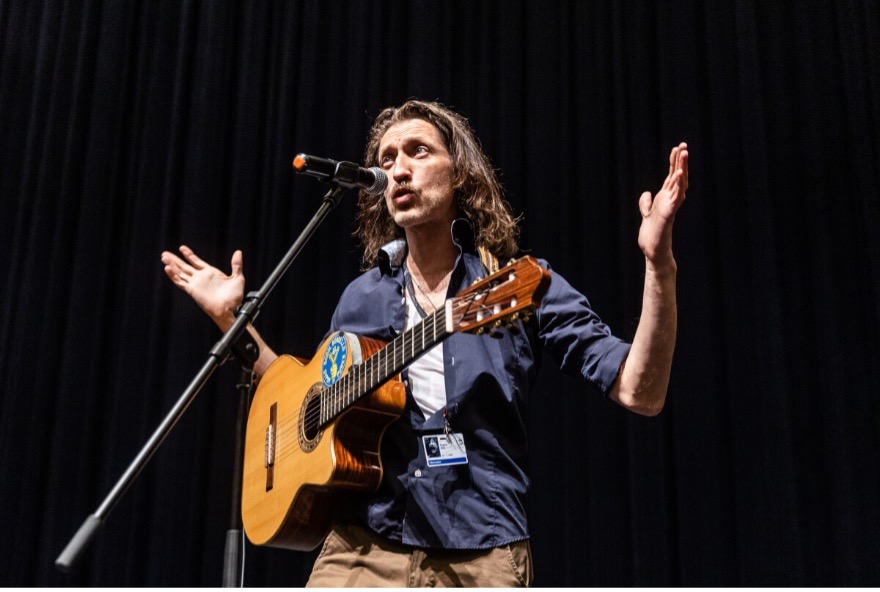 Photo: Film Servis Festival Karlovy Vary
What a way to chase down an international premiere screening, announced only two days prior to the festival's opening, of Scream of My Blood: A Gogol Bordello Story, a terrifically entertaining and appropriately lively and activist, if formally conventional, documentary about the band Ukrainian émigré Hütz founded in the U.S. and leads, across an ever-evolving line-up, to the present day.
Hütz's performance gave the festival the authentic rock n roll shot in the arm it needed, more than making up for—and I'm reading between the lines here—the festival's honoring Russell Crowe's wish that he'd appear to accept a "Crystal Globe for [his] Outstanding Artistic Contribution to World Cinema" only if his band could close its European tour with an Opening Night gig at the festival. For a wannabe rock star, Crowe sure makes a great actor…
By Cerise Howard
Edited by Robert Horton
© FIPRESCI 2023