''The Self Portrait'' - Sickness and Art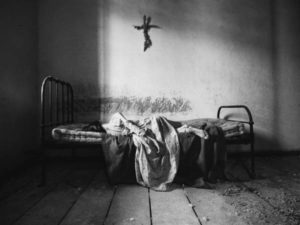 The Self Portrait (2020) is the kind of movie that hits you hard from the beginning and stays with you. It's a perfect example of real-life cinema, boasting both authenticity and esthetic vision. Heartbreaking and relevant, both brave and emotional, it is a powerful documentary about illness and art, where photography can change our vision of life.
The late Norwegian photographer Lene Marie Fossen, who suffered from anorexia, is the subject of this documentary, co-directed by Margreth Olin, Katja Høgset, and Espen Wallin. The camera follows her as she tries to explain both her passion for photography and her misunderstood disorder. "People think you just have to eat to get better, but it's not true", says the artist who photographs herself to accept her body. It's a body that she has hated since the age of 10. She explains that she didn't have the chance to grow up or to go through puberty. Instead, she spent all her time being sick.  When she found her passion for photography, she felt alive for the first time, wanting to get better and to think of a future. It's the feeling that the viewer gets as she prepares a photoshoot or spends hours taking photos. We forget the illness. Only art exists. "I realised that by photographing, I can freeze time," says Lene, who managed to transform hate into love. Her hate of her body suddenly becomes love and admiration when it turns into an image.
 She found an old hospital in Greece where she gave birth to these striking black and white self-portraits, with the help of her mother. A kind of revenge on the hospital where she spent so many months when she was a child.
The Self Portrait is an emotional work, sensitive and artistic in its treatment of the Lene's art. A skeletally thin woman, with buck teeth and a powerful look, fighting for her life. At the beginning, the audience may think this work is only for her, as a personal step. Through the pictures, she is seeing herself differently, as a piece of art and not as an ill person anymore. But it's more than that. Lene has this dream of showing her art to the world. That's how she caught the eye of famous Norwegian photographer Morten Krogvold, who convinced her to exhibit in one of the biggest galleries in Norway.
A dream come true. The scene of the Oslo Exhibition is very powerful – the audience is amazed by her talent and her photos, and she can't believe it, trying to hide. At the end of the event, she starts to believe that maybe happiness is near. And so does the spectator, when an accident changes everything. A car crash interrupts her rise. Pains in her neck make her stop taking pictures. Probably the most heartbreaking part of the documentary, where faith can't let her do what she loves the most. She has to go back to the hospital and plunges into a spiral of depression. Lene can't stand the illness without her art.
The Self Portrait is based on interviews and footage from different places and time, a character-driven documentary. But what a character. The emotional power of Lene, her story, her fight, and of course her undeniable talent, make us forget the weaknesses of the movie.  Only the wise words of a beautiful human being and the inspiring portraits of a talented artist remain with the viewers.
Jihane Bougrine
© FIPRESCI 2020
Edited by Yael Shuv