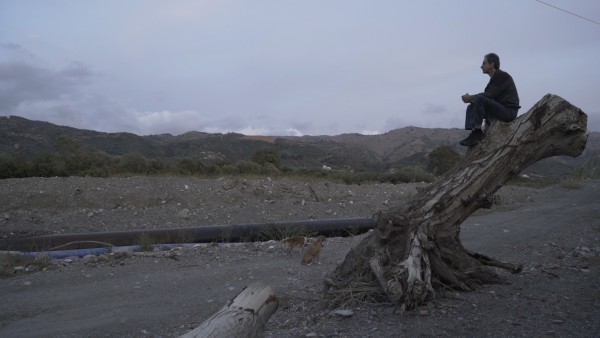 There are films that, beyond offering information, pave the way for new realities and help us develop a sensitivity for space and time, for sounds, images and materials. These films let us discover the beauty and strangenesses of our surroundings. The world right next to you becomes alive, vibrant, and a challenge to explore. Imagine how much less people would need to consume, if they would evolves these capacities, and how delicate our life could be. The Music of Things by Menios Karagiannis is such a film.
A man discovers a dead insect in the upper corner of an old window. He carefully picks it up to bring it in his photo studio.  In another moment we see him grating tree barks to find another creature in its deeper structures, or walking through the to nature to capture microstructures of plants, water surfaces and whole landscapes in glowing lights. This is only one of the universes which the Greek documentary The Music of Things, presented as world premiere in Thessaloniki´s Documentary Festival, invites us to enter.
Simultaneous we follow another researcher, looking for sounds wherever he can, moving slowly around with his portable battery, microphone, and recorder, often with more equipment. From time to time he is not only capturing the sounds, but adds prepared ones. Using indoor echo effects, like churches for example, as the same time open air spaces like a restaurant, he discovers new sounds wherever he passes. Clocks, bells, jarring doors…
Still there is another universe waiting. In a remote house, we see a man lying on the floor surrounded with the sawdust of his wooded works. Later we see him sitting on a chair meditating the structure of a simple table he is going to build. The silent movements of his cats and dogs, which by the way share a funny intimacy, are surrounding him. His water he takes from a nearby river. Some fruits he picks up during his walks.
Changing between these universes, we follow each of these endless seeming discoveries together with these three quiet men on their solitary walks. Consequently Karagiannis gives the same space for his capturing camera to the surroundings as to the protagonists' activities. The nature's waves are the source of their inspiration. Therefore, also he presents the proceeding of the art works at least in the same intensity as the visual, artistic or material results.
Only in the credits of his documentary Karagiannis delivers the names of the three protagonists, the musician Yiorgos Katasanos, the photographer Homer Vlaxos and the carpenter Giannis Giannoudakis, each of them presenting what we really can call a lifestyle. In this way, Karagiannis creates along the way an ode on artistic life and perception.
Menios Karagiannis, born in Greece, today working and living in Sweden, in 2016 directed  33,333 The Odyssey of Nikos Kazantzakis, following the poet's translation made by a 102 years old man who had learned Greek to have an understanding of the unknown masterpiece. 2018, in Marble Homeland (Patrida apo Marmaro) he portrais another protagonist who finds his freedom in being a stranger. The sculptor Ingbert Brunk speaks about loss and existence and about the love entailed in creation. Nothing can sum up Karagiannis most recent film better than the sculptor's words:  "Whatever exists on earth is somehow alive, it has a spirit inside. The material is a piece of us, it speaks to us."
The Music of ThingsIn Deadline (2017) he asked, how we stand against the unknown, how we ease our fear of death and how we can create a relationship that renders us free and responsible before the mystery that surrounds us.
In The Music of Things he doesn't need words anymore to communicate. There is only one sentence, which opens the film: "When loosing yourself in a moment, you exist outside of time and words, you are free."
We can call Menios Karagiannis´ work an invitation to transcendence beyond religion.
Dieter Wieczorek
© FIPRESCI 2020
Edited by Karsten Kastelan