Cutting through the age of social distancing, romance was in the air at the 66th Valladolid International Film Festival's official competition.
After almost two years during which we were asked to stay at home by ourselves, to isolate and distance from each other, some of the first (great) films out of the gate to grace our screens seem to have one thing in mind: romance. Lust. Desire. Love. Characters that long to touch and be touched, to connect, to reach out and find someone who sees them. At least, that is what most of the best features in competition at the 66th Valladolid International Film Festival appeared to suggest.
In a very strong lineup, that combined 20 titles from Cannes, Berlin, Venice, Locarno, and Sundance, love was clearly in the air, and romance was a recurring narrative tool. Which is noteworthy, if only for the fact that the so-called "festival film" is usually stern, austere, socially-minded, a bit cynical, dealing with serious topics of the here and now. Romance, which – especially in its lighter forms – is nowadays relegated to forgettable streaming productions, does not usually have space in this arena.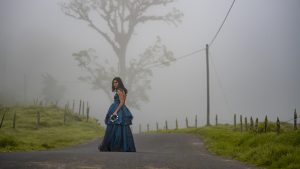 Yet, we have been alone for too long. And we miss being touched – in particular, sensually, and lovingly touched. That is clearly the case with the protagonist of the fantastic Clara Sola (in my opinion, the best film of the lineup). Director Nathalie Álvarez Mesén's first feature film is obsessed with images of limitation and imprisonment. The purple ribbons are used by the mother to determine how far Clara (Wendy Chinchilla Araya) can go when she leaves the house. The insects the protagonist keeps underwater are glasses and bowls. Her own body, with a spine deformity, that her mom refuses to operate on, constrains the desire and the wholeness of the woman Clara wishes to be.
The camera of cinematographer Sophie Winqvist, however, rejects any limitations. It places the viewer right next to the protagonist, with uncomfortably close and unusual frames, that make the audience see the world through the character's peculiar point of view. It almost feels like the camera wants to touch Clara. Because the protagonist touches everyone: she is a kind of healer that her pious mother (Flor María Vargas Chavez) sells as a "reincarnation of the Virgin", able to aid the sick and cure ailments. But who touches her?
Clara longs to be touched. She touches herself, experimenting with masturbatory gestures while watching a soap opera with her young nephew María (Ana Julia Porras Espinoza). That is why her mother makes her apply hot pepper on her fingertips, in an attempt to burn the daughter's "sin" and latent desire. But the sexual needs of an adult woman, close to her 40s, cannot be contained, so they are rewired toward Santiago (Daniel Castañeda Rincón), a young man newly hired to help with the farm animals in the remote lands of Costa Rica, where the protagonist lives along her family.
In her first feature, Mesén resorts to a series of symbolisms – water, fire, body, soul, nature, religion… – not afraid of taking risks, making the less obvious decisions, and delivers an original and sensually mesmerizing production. If A Tale of Love and Desire (Une histoire d'amour et de désir, 2021), another title in Valladolid's competition, also dealt with a protagonist sexually repressed by religion, but disappoints in playing it too safe, in not letting its character break free, subvert, make mistakes, subjecting a movie about erotic Arabic poetry to the same sexless repressive ideas it portrays, Clara Sola is unabashedly unafraid to be bold, sensual, dangerous, disturbing, mixing an Apichatpong Weerasethakul universe with references to Carrie (1976) that may not work for everyone – but that shows an excitingly brave, original, and promising filmmaker.
However, not only of completely subversive and original ideas lived the exercise of lust and romance in Valladolid. There was also the German I'm Your Man (Ich bin dein Mensch, 2021), which gives the classic romantic comedy formula a new spin by asking: in a world where everything is managed by computers, phones, apps, and social networks, can love also be engineered by an algorithm?
Director Maria Schrader creates a stark and entertaining contrast between the lush visual world of the genre – enviable, state of the art production design, golden and luminous cinematography, including a romantic idyll in the woods – and the prickly relationship between the two characters played by Maren Eggert and Dan Stevens. Their polar opposite acting styles – Eggert is loose and irascible, imperfect, and organically impulsive; Stevens is robotic and stilted, charismatic, but unnervingly inhuman – put the comedy in romantic, and show there is still intelligent life in the genre, approaching contemporary and relevant themes with depth, without losing its entertaining charms.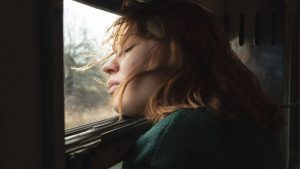 Another title in the Valladolid competition that reworked a previously known formula, but with original and surprising results, is Compartment Number 6 (Hytti nr. 6, 2021). The premise of two young travelers falling in love on a train will always recall Richard Linklater's Before Sunrise, but Juho Kuosmanen's second feature not only adds class commentary and culture clash to the mix. It puts it in dialog with cinema.
One of the most interesting aspects of the film is that the protagonist Laura (Seidi Haarla) – a Finnish archeology student traveling from Moscow to Murmansk hoping to see the local petroglyphs – is always carrying a video camera with which she films most of her trip. And using some shots from her "material", Kuosmanen illustrates very clearly that, for him (and his movie), film and traveling share the same active ingredient: the idea of opening oneself up to a new experience, a new universe, of searching for new ways to see, new images, a new form of interacting with the world and of being open to it.
And, yes, under these layers of subtext, Compartment Number 6 is a delicious and unexpected romance, grounded in two excellent performances – and built exactly around the willingness and challenges of this "openness" between Laura and Vadim (Yuriy Borisov), her fellow Russian traveler in the title's location. Through their initial tension, their dancing around each other, their surprising connection, Kuosmanen and his film show that, if you set out on a journey with determination, planning, and courage, you can reach your destination. Now, if you do it fearlessly and with an open heart to what it might offer, willing to embrace the unpredictable, something even better might happen: you may arrive somewhere completely unexpected. Talking about traveling, talking about filmmaking.
But: will all this romance, and touching, and longing, and desiring really solve our loneliness, our needs, our feelings of social dysphoria? That is the question put by The Worst Person in the World (Verdens verste menneske, 2021). Despite the premise of a young Norwegian woman, Julie (Renata Reinsve), torn between two men, Aksel (Anders Danielsen Lie) and Eivind (Herbert Nordrum), Joachim Trier's movie is less a romantic comedy than an anti-romantic comedy. In the sense that these two lovers help Julie find out what she does not want, but they are never really the answer she is looking for.
Julie is a classic example of the late millennial/Z generation, suffering from the excess of options at her disposal. She can be at the best party, with the best companies, and it only takes looking at one Instagram photo to make her feel the anguish that someone is happier than her, better than her, having more fun. She can be in a stable relationship, with a great person, but… Tinder seems so fun, doesn't it?
So, what Julie actually needs is to figure out who she is – and that answer no one else will provide her. With Aksel and Eivind, the protagonist is always defining herself in relation to her partner. Trier suggests that visually in subtle ways: notice how Aksel's apartment is big, nice, and elegant, but looks like him, and him only, while Julie is always framed at the margins, halfway to the side, never on the center, a "supporting character in someone else's story", as she puts it herself. On the other hand, when she moves in with Eivind, their place is smaller, a little more like the two of them, cozy – up to a point, when the protagonist starts to feel it might be too small for her aspirations.
By allowing a female protagonist the same uncertainties, idiosyncrasies, and imperfections historically reserved for Woody Allen & the boys club, Trier proves, along with the strong crop of films in Valladolid in 2021 – Ballad of a White Cow and Mali Twist (Twist à Bamako, 2020) are other examples of troubled and impossible love stories –, that it is still feasible to create interesting, original, and fun stories in the genre. And that, even though we can be the worst people in the world sometimes, we still want to be with, desire, and touch each other. We still want to try love.
Daniel Oliveira Silva
Edited by José Teodoro
© FIPRESCI 2021