Autobiography by Indonesian filmmaker Makbul Mubarak was awarded the FIPRESCI prize for a first feature at the 79th Venice Film Festival. Besides receiving its world premiere in the Orizzonti section, Autobiography will also have its North American premiere at the Toronto International Film Festival.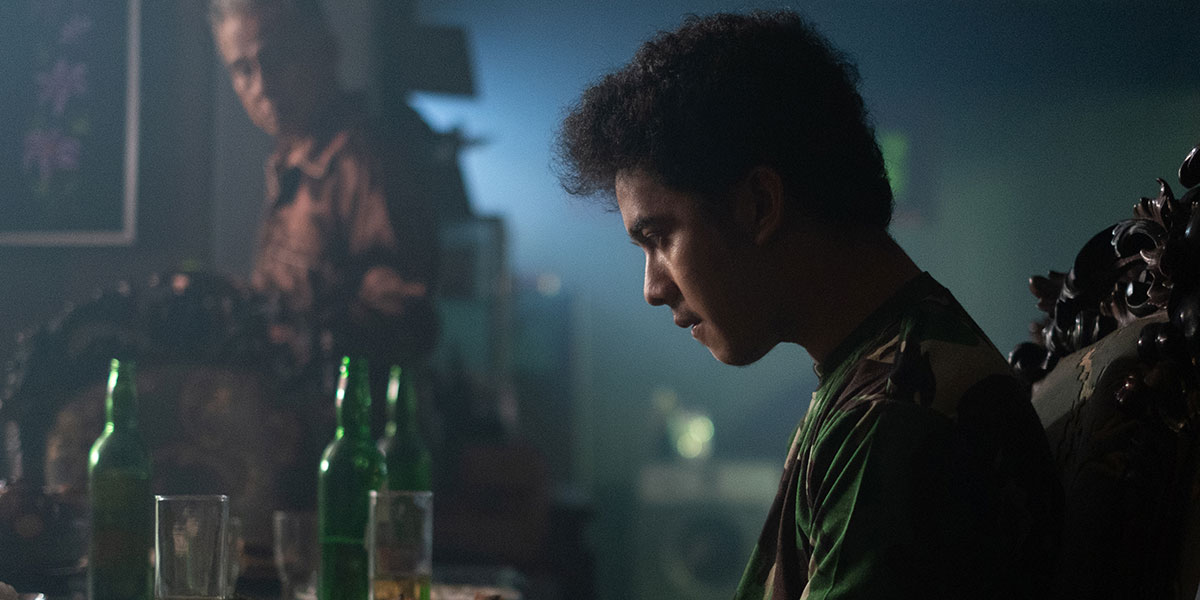 The film's atmospheric style and elegant cinematography provide an unflinching interrogation of Rakib's work as a housekeeper for General Purna, the mansion's owner. Rakib's father is in prison while his brother has gone overseas to work, leaving Rakib virtually isolated in Purna's vast mansion. Reflective of the reality in many wealthy households in Indonesia, Rakib's father and grandfather have all served Purna's extended family through the years — each generation inheriting a complicated web of economic inequality, disempowerment and pseudo-familial relationships. While Rakib's brother has seemingly "escaped" his family's inherited servitude by pursuing work in Singapore, this detail also points towards the uneven labour conditions globally which produce and sustain remittance economies. 
The work of a housekeeper is inherently an awkward arrangement — to be a confidante yet stranger, friend yet labourer. A housekeeper, like Rakib, inhabits the same space as his employer — becoming intimately familiar with his routines, habits, demands and rhythms — yet remains firmly an outsider, vulnerable to dismissal at any moment. Rakib also offers companionship and a listening ear to the lonely Purna, almost becoming like a son to him — yet their bloodlines will forever remain separate, like they have for generations. 
What adds another forceful layer to Autobiography's narrative is Purna's mayoral election campaign, which thrusts the quiet domestic life between Purna and Rakib into the harsh, unforgiving glare of politics. Scene by scene, director Mubarak uncovers the dirty secrets of politics — full of bloated egos, questionable morals and relentless quests for power. The unequal power dynamics renders a disempowered Rakib, who has little choice but to become complicit in the chain of violence which ensues after Purna sees that one of his election posters has been vandalised. 
The images lensed by Polish cinematographer Wojciech Staroń are often dark, lending an air of secrecy or even illegitimacy to the activities between Purna and Rakib. The turning point of the film comes when Purna unleashes a terrifying moment of violence, killing the vandal. This forces Rakib to contemplate the price of loyalty and his entanglement as both perpetrator and victim, propelling him into a seemingly inescapable moral crisis. 
Autobiography is inspired by Mubarak's reflection and ethical inquiry into his father's work as a civil servant under Indonesia's violent regime which ran from the 1960s to 1990s. Themes from his own personal ruminations on loyalty, justice and complicity resonate throughout Autobiography's conflicts. Prior to making his debut feature, Mubarak worked as a film critic and journalist. 
The polished narrative and sharp sensibilities of Autobiography are testament to the many productive excursions that Autobiography's screenplay and work-in-progress have made across the international circuit of film labs in the last few years. Autobiography's producer, Yulia Evina Bhara, also recently won another FIPRESCI prize as a producer — at the Locarno Film Festival for Malaysian film Stone Turtle. Starring Kevin Ardilova and Arswendy Bening Swara, Autobiography's co-production countries include Indonesia, France, Germany, Poland, Singapore, the Philippines and Qatar.
Sara Merican
© FIPRESCI 2022