Anna Sołowiej's and Antoni Konieczny's Interview on "The Herd"
Sisterhood Founded on Blood, Sweat & Tears: an Interview with Monika Kotecka and Karolina Poryzała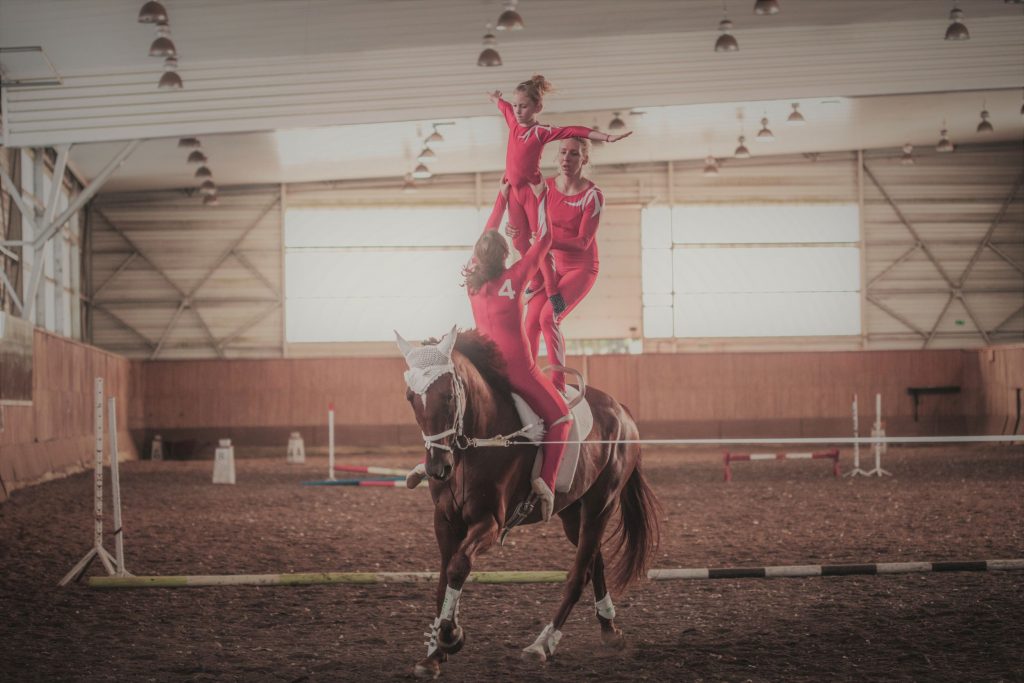 The Herd (2021) is a tender look at sisterhood and committed examination of the ups and downs of a competitive sport. Its protagonists are members of an amateur female equestrian vaulting club Volteo and we follow them on their journey towards the Polish national team. The directors, Monika Kotecka and Karolina Poryzała, come from diverse academic backgrounds: Kotecka graduated from the Łódź Film School in DoP studies and from the University of Wrocław in sociology. Poryzała studied zoology, directing, photography and screenwriting. In our discussion, the artists touched upon their influences, the idea's development, their aims and challenges that they faced, and the appeal of their mode of storytelling.
You've worked on the project for five years. Could you tell us about its inception?
Monika Kotecka: Our journey started when EN2AK, a contemporary jazz musician, asked us for a video clip. We decided it would be great to go for something abstract. Equestrian vaulting felt that way to us, but we didn't know anything about it. Once we had found the girls, we sensed a chance to make a film about humanity, girlhood, and sisterhood. The age differences between them meant that we also had a chance to make a film about growing up. We realised there was potential for a feature-length documentary and spent over five years with the girls, first making a short film, then a music video, and finally, the feature-length project.
You've mentioned the coming-of-age aspect of the film. Could you talk about the girls' relationship with the camera? In the film, we see them waking up in front of the camera.
MK: It was easier to get across to the younger girls. With them, it was all organic. They appreciated our involvement in the process and our interest in their stories. There was also the factor of time. We were essentially living their lives – crying with them, laughing with them. That is why the interactions feel so authentic.
Karolina Poryzała: Everyone from the equestrian vaulting world knew us. I still think of how we managed to invite the girls to open up so much to us. I think much of it was because of how naive and enthusiastic Monica and I were as beginner filmmakers. The girls treated us as friends who carried cameras.
And this closeness finds its confirmation in the cinematic language of your movie. What was its aesthetic premise?
MK: It was not always possible to have it look beautiful. Sometimes it felt as if we were on a battlefield, especially during the championships. It was also important that we found a balance between observing the girls, and observing the horses. Bill the horse is a protagonist, too. We noticed how the girls' emotions translate onto him. My father's greatest dream was for me to become a psychologist. Once I told him, 'I'll be going to a film school', he saw me as the second David Attenborough and his was the style we wanted to draw on. We decided to think in a way in which we'd be close to the girls and the animals, and for nature to give rhythm to the story.
Were there any moments when shooting became difficult for you on an emotional level? I specifically have one scene in mind, the one in which Bill steps on Ola's foot.
MK: The scene is not in focus because I started crying. When you're so close to the characters, you are conflicted. There were a lot of moments where it was that kind of schizophrenic emotion. Is it better to have it on the screen or not? It was very difficult during the editing process to decide what not to use and how to end the film.
Did you feel at a loss at any point while looking over your substantial material?
KP: With content from five years, we had many alternative plotlines to pick from. To us, the uncertainty that accompanies the making of a documentary movie is its greatest quality. You want to learn from your characters and you know very little at the start of the process. It's an opinion shared within the community of filmmakers who begin their careers in the documentary: the mystery that surrounds the ending is the best motivation.
Anna Sołowiej
Antoni Konieczny
Edited by Amber Wilkinson
© FIPRESCI 2021