Maria Tokmasheva's Review on "I am Fine, Thanks"
I am Fine, Thanks (2021), dir. Ernestas Jankauskas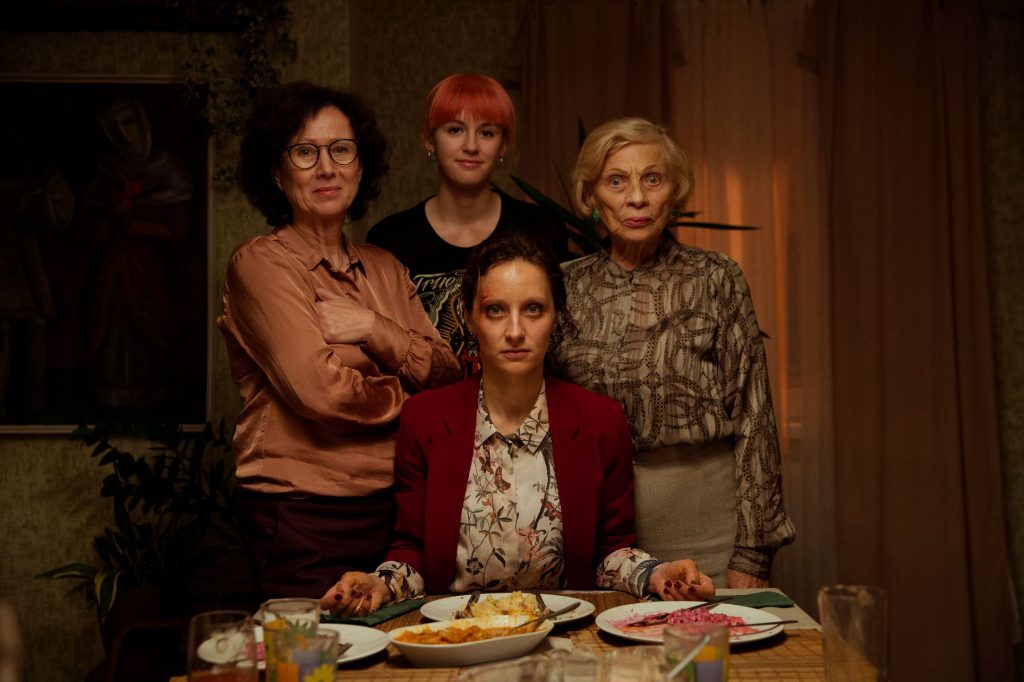 I am Fine, Thanks: Ted Lasso's Lithuanian female ​​lookalike
The fans of the brilliant AppleTV+ series Ted Lasso know how often behind the external positives are hidden different psychological problems. Lithuanian director Ernestas Jankauskas obviously knows it, because he has dedicated his second feature film I am Fine, Thanks to panic attacks and focuses on strong weak women.
I am Fine, Thanks – is not only the title of this film, it is also the long-time favorite phrase of Maria (Gabija Siurbyte). She may be a successful woman. She works as a scientist, gives interviews to important journals (the local version of The Lancet – in pandemic times, we all must understand what it means), has an intelligent lover and a mother who is a university professor. But maybe not. One day she checks into a psychiatric clinic after a panic attack for two months. And after this period she tells her family that she was in India, with a positive and natural smile. Seemingly rested, Maria tries again and again to save her positive outlook and relationship with her family, lover and colleagues.
Jankauskas shoots a lot of commercial videos and his main heroine looks as she's from an advertising clip for bored housewives. The cute, slim woman without children and with very simple work – observation of mice, just imagine! Outwardly she is not stressed but for some reason, she needed psychiatric treatment.
After she is discharged she sometimes sees strange visions: ghosts in black hoods, kinds of gothic horrors or the huge corn field recalling films based on the novels by Stephen King. There are also huge yellow ducks a clear reference for the post-Soviet 45-year-old director – who was brought up on Alexander Vampilov's play Duck Hunting or its film adaptations Vacation in September (1979), with Oleg Dal, and Flights in Dreams and Reality (1983), with Oleg Yankovskiy, (who some might know from The Mirror and Nostalgia by Tarkovsky). Duck Hunting was written at the end of the 1960s but not staged until 1976, in Riga, in Lithuania's neighbour Latvia, after Vampilov's death. The Soviet playwright wrote about – non-typically for the USSR – a tired egoist with a good job, good wife, good mistress, and a monotonous hateful life. But he concentrated on men. Years later, Jankauskas with screenwriter ​​Birutė Kapustinskaitė focuses on the woman. This female theme also features a mix of post-Soviet archetypal nostalgia and American mass culture genres that drives the story and gives this dramedy a special charm.
Indeed, the main heroine of Jankauskas' film sounds different, as in more and more current films by female directors. Maria can be strong and solve many everyday problems, but she is an ordinary person with her weaknesses, and gender is not an important factor in this. Today's women and men can cry and be vulnerable. The Beatles sang All you need is love, but as the Lithuanian Maria says, at the beginning you need to love yourself. Her soulmate – American Ted Lasso from Great Britain – supports this credo.
Maria Tokmasheva
Edited by Amber Wilkinson
© FIPRESCI 2021