Leopoldo Muñoz
Film Critic, Chile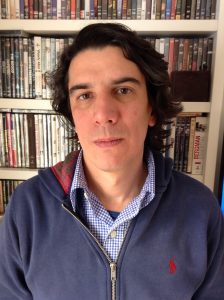 Born in Santiago de Chile, 1973. Film critic, journalist and filmmaker. He began writing about cinema in 1994 and for more than 23 years he worked as a weekly critic and journalist in the most prestigious Chilean media, such  as the newspapers El Mercurio, El Metropolitano, Las Últimas Noticias, on the radio stations Tiempo and Zero and on the channels of TVN (public TV station) and CNNChile. He has also done weekly criticism in the magazine Qué Pasa and has been a contributor to the digital magazine mabuse.cl, the Encyclopedia of Chilean Cinema cinechile.cl and the specialized Peruvian magazine godard! Former member of the Circle of Art Critics of Chile.
In addition to being a FIPRESCI jury, he has also been a jury at the festivals of Gramado, FEM Cine, CineLebu, Manaus, Viña del Mar, Florianópolis, Cine Fantasy, Cine Ceará, Cine Pe, Fesancor and for the Canal Brasil and Caleuche awards. As a journalist he has covered the festivals of Cannes, Paris, Franco Mexicano de Acapulco, Bafici, Punta del Este, Valdivia, Patagonia, and others.
In 2007 he made his directorial debut with the documentary feature film Diario de Vida which had its world premiere at the Valdivia Festival. As a fiction filmmaker, he has directed 6 short films: Historieta Amarga (2022), Daydreaming (2021), ¿Te puedo llamar? (2020), Mal Viaje (2019), Marea Alta (2019), Adiós (2018).
He currently teaches film workshops and is working on his first fiction feature film, the thriller Ayer mataron a mi hermano, a project produced by Infractor Films (Perro Bomba) and Saudade Films.
Author of Reports