In this remote yearning for everyone being together, Seray Genç looks at films of enforced separation, in tandem with the current world crisis, and discovers that there is much hope in the dream of envisioning a new world.
What makes the Schlingel Film Festival special? I guess this question can be easily answered, as we consider that it's an international film festival for children and young audiences. However, we have to add that kids are not only the audience in this festival but also the heroes/heroines, super-heroes/heroines of it! They're also the interviewers and creators, too, like the young filmmakers of Made by You, a section of the festival. Children both enjoy and create in this festival.
The Club of Films inspires Life and the Joy of Life
There are many similar films to attract the kids: Big productions, made by big studios… The really big amount of money is spent for the market under the 'genre' of family movies. But if you choose to take one step forward you get to discover another world of making films, built with diverse artistic, aesthetic and intellectual worries, and realized mostly under difficult conditions. There are and will always be some people who make these kinds of films to bring us a window opening up to the different corners and colors of the world. It has never been that easy to reach these films, which are outside of mainstream cinema, but in today's extraordinary conditions it has become even harder.
In Schlingel, there was a special award this year: The Club of International Children's Festivals Award for films that were categorized as children, juniors and youth. This selection showcased films inspired by, "the club of life or joy of life," which appreciates the power of life, sticking to life, solidarity, curiosity and resistance. Although the characters in these films face all kinds of oppression, exclusion, deportation and even danger of death, what surfaces is a strong kind of solidarity that can exist between friends, sisters and brothers against the authoritarianism, dogmatism, or against the current official politics for refugees… Let us introduce some of them in this short report.
The Club of Ugly Children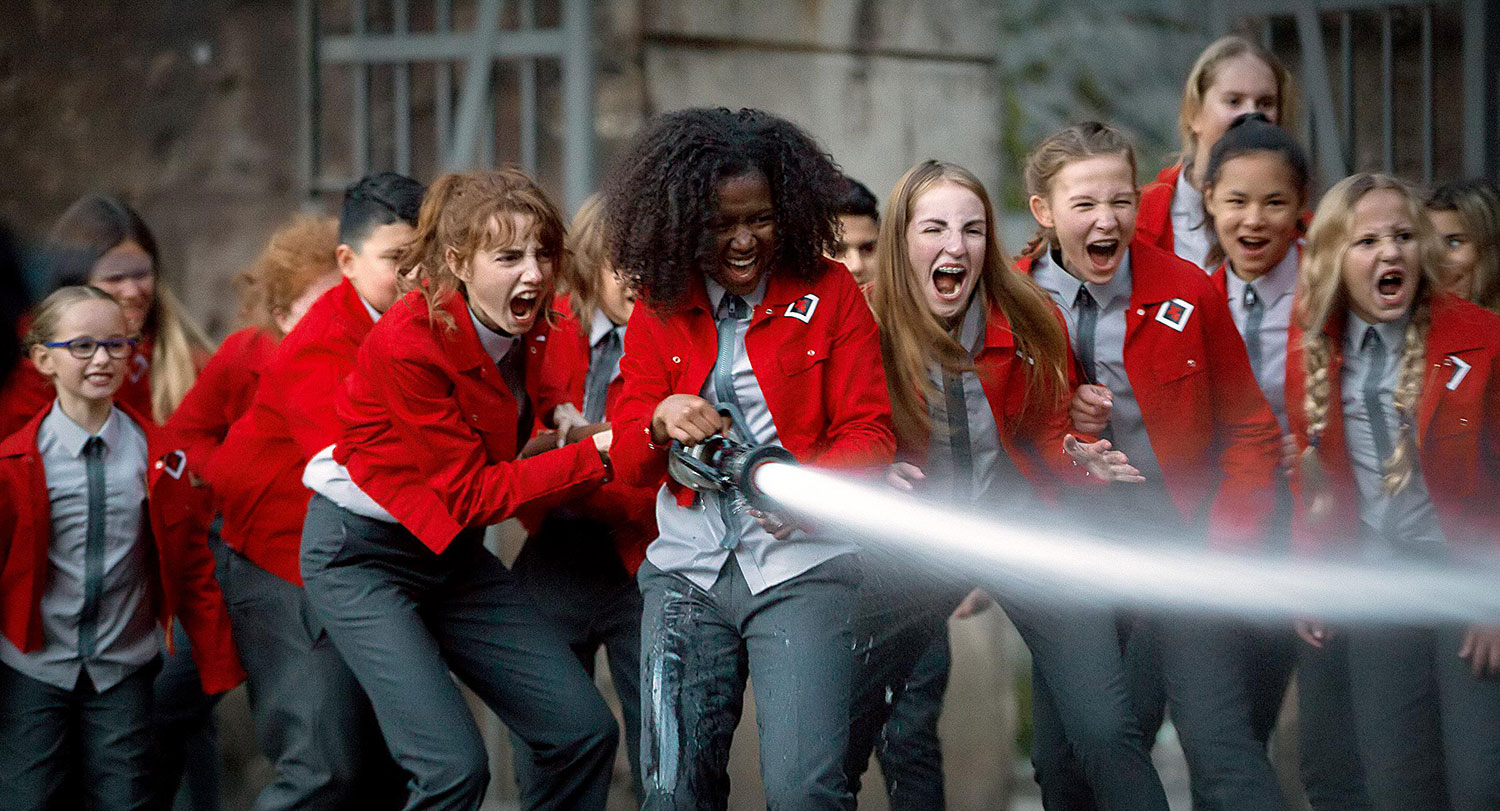 One of the festival awards went to the film The Club of Ugly Children (De Club van Lelijke Kinderen, 2019), which was directed by Jonathan Elbers from The Netherlands. It is a dystopian science fiction set in a 'grey' society ruled by Isimo, whose slogan is "Keep it clean!" Everybody wears grey except the security forces who wear white, since they're the 'cleaners' of the society. All the people, buildings and streets are predominantly a grey-color in Isimo's world.
In this grey state the slogan "Keep it clean!" doesn't of course only refer to the streets but also to the people and even to the kids. The film starts with a photo-taking scene in a much disciplined school. Later we see a group of kids invited on a trip by Isimo. At the beginning, the selected children are happy to be chosen and families are waiting in line with the invitation. However, this is just the beginning of a deportation process. The children will be soon collected and sent away from the country in containers. The media repeating what Isimo has said does not show the true facts.
When he learns that President Isimo plans to deport all the 'ugly' children to keep the schools clean, Paul succeeds in escaping just before reaching the concentration camp. Paul and his friends later become one of the symbols of the resistance in the country. They name themselves as The Club of Ugly Children and became a club of resistance. They use Isimo's 'ugly' against him and his regime.
Although it calls itself a dystopian science fiction, the film is really inspired by the current leaders of the world. Isimo is unfortunately not the result of the director's imagination. He is very, very real. Like the director says, "Reality caught up with us and this has made my film more political and harsher. All President Isimo's speeches literally quote the words of Trump, Erdogan, Putin, etc. We have added our own notion of beautiful versus ugly but those lines are all stolen from leaders who are currently in power." (See: ECFA Journal)
My Little Sister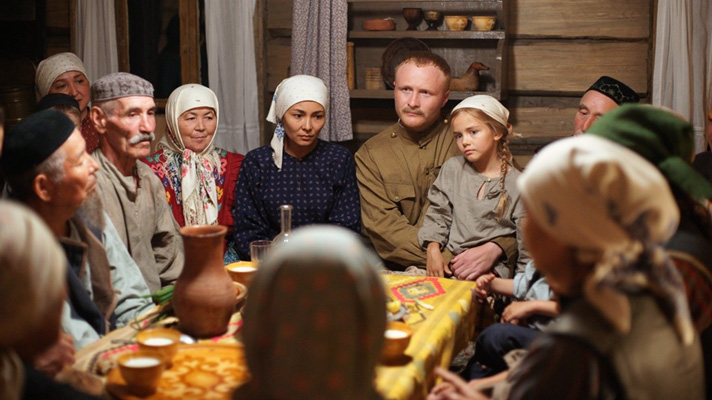 My Little Sister (Sestrenka, 2019) by Aleksandr Galibin is a screen adaptation of one the classics of Soviet Literature, the novel The Joy of Our House by Mustai Karim. As a viewer, you can feel the sense of the literature in every single frame of the film.
My Little Sister is about a little boy called Yamil who is living in a village in Baskhir with his mother. Yamil's father Karim is away from home because of World War II.
Karim rescues a small girl called Oksana who was all alone, hidden behind a wall with dead bodies in the middle of the war. Karim takes care of her and brings her to his family home in Baskhir. Encountering a new language, culture and geography makes Oksana confused and timid first; on the other hand Yamil, the little boy, is more than ready to accept and love Oksana as his sister.
During the war, Oksana has a new life with Yamil and his mother. This new life, incorporating his granny and other villagers, develops despite the reality of war, the reality of poverty and death. Both seven-year-old Arslan Krymchurin (who plays Yamil) and nine-year-old Martha Timofeeva (who plays Oksana) are quite impressive as movie characters and as little-but-great actors… Maybe it might sound nostalgic or naive but Ukrainian and Baskhir children were once sisters and brothers of the Soviets. The film ends with the same nostalgic, naïve and, in a way, surprising closing scene.    
Moon Rock for Monday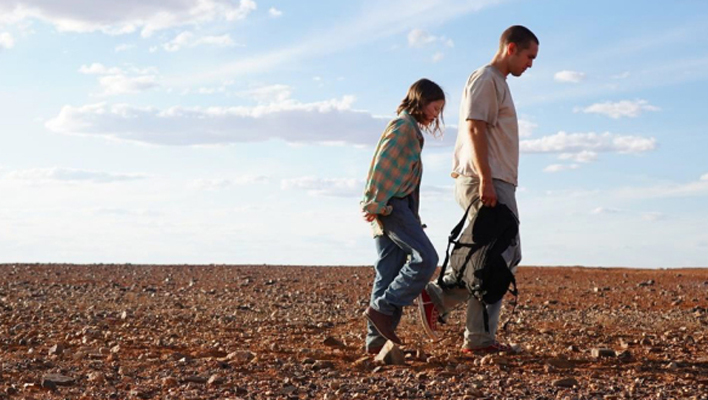 Moon Rock for Monday (2020) tells the story of a girl named Monday who was born on a Monday. The path of this little girl, who did not live her childhood normally due to her terminal illness, will one day coincide with adventurous young Taylor. Taylor will take her on a journey towards the interiors of Australia, not only in terms of geography but also human soul. This journey will be a curious discovery and a fun friendship for Monday who leaves her home for the first time but will also be transformative for Taylor and for Monday's father. The rabbit travelling with them also gets his share of experiences; starting his life with the standard and soulless name "Rabbit II" it will be taking a new name at the end of the journey: Bacon. Moon Rock for Monday, from director Kurt Martin, is a road movie that brings hope and joy for a life full of death, disease and violence. A journey to the moon rocks has been an obsession since the early years of cinema… but this time the moon is in this planet, in our world!
The Prince's Voyage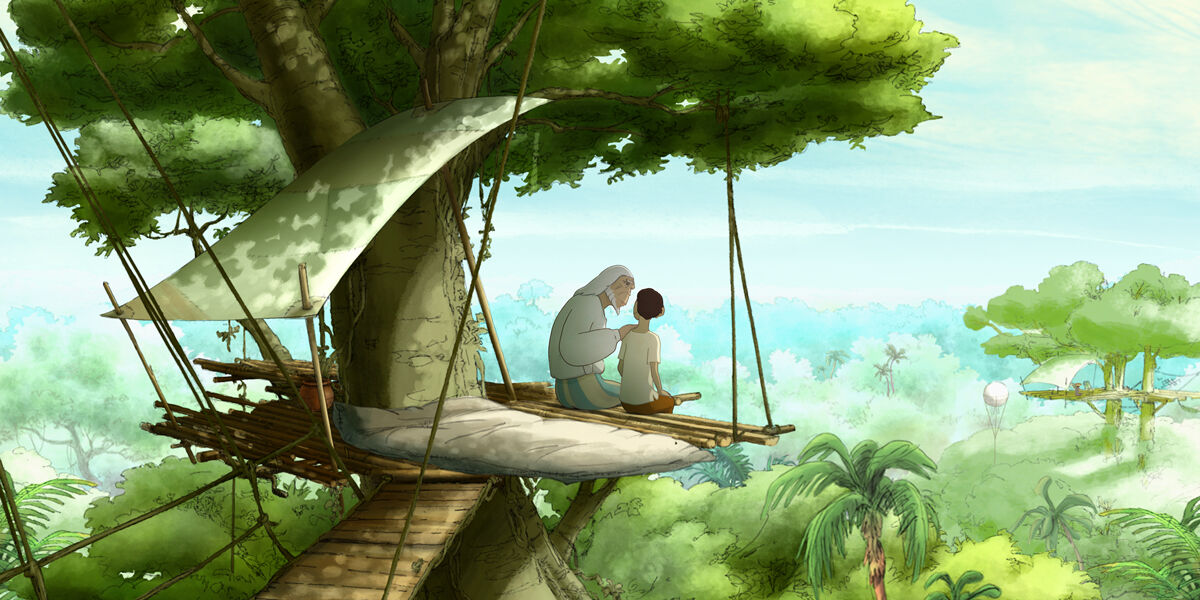 One of the most impressive films of the film selection was Jean-Francois Laguionie and Xavier Picard's 77-minute handcrafted animated film, The Prince's Voyage (Le voyage du prince, 2019), which is full of echoes of cinema classics, epic stories and mythologies. French writer, animator and director Jean-Francois Laguionie, with his unique world of animation, poetically and politically addresses the themes of voyage and identity in a very powerful way since he believes that, "the animated film is an extraordinary medium of expression: it brings together a lot of things that we would have wanted to do separately that we might not have dared to do."  (See: Institut Francais)
The Prince's Voyage begins with a monkey prince called Laurent and his armed soldiers being dispersed to the edge of an unknown land. Dragged and exhausted, the prince is found at the sea by a 12-year-old boy named Tom. The boy saves the prince and takes him to his family. Tom's family lives in a big house in the forest and work on some scientific research. The professor, who was excluded from the academy while trying to improve the existence of other countries and other monkeys, sees the prince as a chance to be accepted again by the academy. Elisabeth, the wife of the professor prefers to keep a distance from the foreigner prince while she is busy with her contradictory task, which is about nature as a botanist but is essentially fighting against nature for their 'civilization' at the same time.
The people of the island-country live in their round circle, full of fears and refuse the existence of others. As an intellectual, creative, stylistic and artistic film, The Prince's Voyage offers us a multi-layered narrative on xenophobia as well as a criticism of it.
Besides the fear of the other, strangers and unknown lands, it also shows us what feeds this fear and how to overcome it. With an intergenerational friendship, being at peace with nature and brotherhood, dystopia and utopia will oppress and flourish co-currently. The message is that we can fly with our wings, can go to other lands and even go back to our homes, just like little Tom and elder Laurent did.
Oskar and Lilli – Where No One Knows Us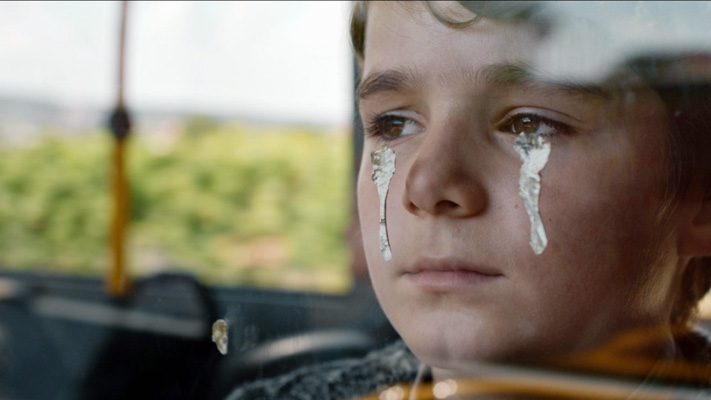 Based on the novel Oskar and Lilli, written by Monika Helfer, the film Oskar and Lilli – Where No One Knows Us (Ein bisschen bleiben wir noch, 2020, directed by Arash T. Riahi) tells the story of two refugee kids living in Vienna with their mother under the threat of deportation. The deportation, which was temporarily postponed due to their mother's suicide attempt when the police raided their house, ends with the family's breakup. Not knowing where their mother is, the two children are first sent to the conservation center and then to two different Austrian families. Two interconnected siblings will not stop looking for their mothers or longing for each other.
The relationship of the children with the families they are given shows how they become healers with their simple and direct approach and also how they are the most seriously affected by the problems of this age. Despite this, Oskar and Lilli are children that, regardless of their age, show they are more mature than the adults.
This refugee childhood film about Ostar and Leila, (to give them their Chechen names) includes separation mixed hope, humor and resistance. It's interesting to note also that director Arash T. Riahi is himself an Iranian exiled in Austria.
Epilogue
These films depict stubbornness, life against death, peace against war, and the authenticity of the world of childhood, one full of curiosity and originality until the adults intervened. Yes, the world is full of problems like we're currently living in, but it is still possible to struggle and envision a new world.
We witnessed the brutality of war and destruction of families (My Little Sister), xenophobia (The Prince's Voyage), the dictatorship (The Club of Ugly Children), the problems of being immigrant children (Oskar and Lilli), the expectations of the elders and the discovery of new things (Into the Beat, God You're such a Prick, Moon Rock for Monday) and all these films are urging us to say "No!", just like the kids.
There are many sayings about childhood, but I believe in the phrase: "Our life is a kind of struggle to regain childhood somehow taken from us." Now is the time to struggle with the kids like we saw in the films, to make our life resistible, questionable, dreamable and beautiful.
I dream of going to the festival of this city, Chemnitz, which we couldn't do due to the pandemic, and to watch these films with the children one day. I dream of taking back our time that we have spent virtually. I dream of time travelling but more so of physical travelling which has also become a dream of today.
As a last word, like my Iranian colleague Hamed stated and German colleague Holger gave as our voice on the festival stage, "Cinema is a window to the world". I would like to open this window in different cities to look out at the world in different ways and perspectives…
Seray Genç
© FIPRESCI 2020
Edited by Steven Yates