35 sweet goodbyes, 35 shots of rum—there must be other cultural references to the number 35, but those two (from Steely Dan's "My Old School" and Claire Denis' 35 Rhums, respectively) are the first that come to mind. I'm still trying to get my head around how big a number that is, after the FIPRESCI jury for the 2023 Palm Springs International Film Festival watched 35 films in the annual Best International Film competition.
That's a lot of movies, but the list was drawn from the Best International Film Oscar submissions, and the quality was high. Exposure to that many movies in a short period of time provides a snapshot of what the world's cinema is thinking at the moment, and it's difficult not to see the echoes, the through-lines, running through these films. Pull a thread and you can find conversations going on: ideas on war, on Covid, on sexuality, on childhood. One of the most striking themes within the work is a major reconsideration of family, as though filmmakers from every part of the planet were catching radical changes in how family is defined.
Granted, "family" is a vague enough term that almost any movie can be said to make some sort of comment on the subject. But in this group, we have a bunch of strong, specific references to the changing landscape of the family unit. The FIPRESCI winner for Best Screenplay, for instance, Carla Simón's Alcarràs, is about many things, including the economic realities of farming in the 21st century, and the way that old codes (such as a verbal promise) are no longer respected. A crisis occurs when a Catalonian family, having raised peaches since the Spanish Civil War, is informed by the actual landowners that they will have to move—the land will be repurposed for erecting solar panels.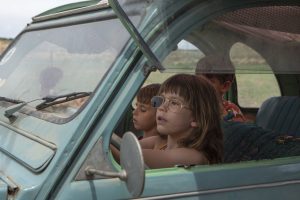 The family has a few months to determine their future, but the sorting-out goes well beyond their peach business. Although the elder (Josep Abad) still presides over family events, the business is run by his harried and hardworking son Quimet (Jordi Pujol Dorcet), who is stuck between the bossy habits he inherited and the shifting roles of men and women in modern Spain. The family dynamic here is anything but settled: a teenage son acts out, and an adolescent daughter quietly, gradually emerges as perhaps the center of the movie. And there are in-laws and cousins and assorted others, all rearranging their roles within a family dynamic that no longer holds. Everyone must adjust; everyone must try on new behaviors; everyone makes mistakes and finds a new way. The movie lets us interpret all this, without explicitly-labeled heroes and villains: As much as we may cringe at Quimet's blunt touch at first, we also witness his fleeting joys in family life.
What puts Alcarràs in a league of its own is the way Simón explores this subject not merely as an idea but as a remarkably livewire experience—for instance, the fresh presence of a large group of non- (or first time-) actors, who are not merely convincing in their characters but in their interactions with each other; these people move, bicker, and drape themselves across each other as though they really are family. You can easily believe they've been together for decades.
There is also a complex family dynamic in Saim Sadic's Joyland, which took the FIPRESCI acting prize for Ali Junejo. The movie is about a Pakistani man, Haider, coming to terms with his sexuality after a) securing a much-needed income by becoming a backup dancer in an erotic stage show, and b) falling for the trans woman who headlines the show. But the film is also a dense portrait of Haider's household; he is the second son of a religious, tradition-minded patriarch, and Haider's long unemployment (and suspicious sensitivity) has long been a disappointment to the other men in the family. For a while it seems Haider's place will be redeemed because his wife is pregnant with a male child, a measure of the misplaced priorities under this roof. Sadic takes care to survey how the various family members weather the changes that blow through the house, so that the film isn't finally about one person's journey but about an entire system being questioned and altered.
The re-defining of family is also explicit in Return to Seoul, Davy Chou's ambitious tale of a young Korean woman whose almost casual search for her birth parents (she was adopted and raised in Europe) results in a decade-spanning series of ups and downs. Displacement also figures in Colm Bairéad's The Quiet Girl (An Cailín Ciúin), a visually lush Irish tale of a little girl whose chaotic rural life is interrupted when her childless relatives take her in for a summer.
You can stretch the point across other PSFF offerings, like the subject of what one mother will do for her son in Michal Blaško's complicated, arresting Victim (Obet), or the multi-generational reach attempted by the modern grandson in Alejandro Loayza Grisi's breathtaking Utama, when he visits his grandparents in their llama-ranching life. At their best, these films question the nature of family, not in the sentimental sense of family being maintained against all odds, but how it can be changed, expanded, re-invented, which seems like a positive and new position to take.
Robert Horton
© FIPRESCI 2023