The 55th edition of the Karlovy Vary International Film Festival ran from 20-28 August 2021, later than the usual July slot because of the pandemic. The traditional black-and-white design for posters, catalogue and merchandise playfully used the form of the digits "55" and abstracted them into a charming pair of eyes with eyebrows. And, of course, these were also our eyes, watching films with only eyes visible from behind the now habitual outfit of face coverings.
The FIPRESCI jury, composed of Adéla Mrázová from Prague and Eirik Bull from Oslo, as well as the author of these lines, watched and "juried" the Crystal Globe competition, which included 12 films. This competition has had a reputation for being not the strongest, and this year's edition confirmed that judgment. The programme included a quarter of films produced in or co-produced with the Czech Republic, which would seem a little heavy-handed. Moreover, two of those films were documentaries, and they were the only documentaries in the competition. Such a disbalance works not to the advantage either of Czech cinema or the documentary genre, since both films were not riveting. The Czech-Slovak co-production Every Single Minute (Každá minuta života, 2021) by Erika Hníková portrays the Kamevéda approach to raising a child as established by Pavel Zacha. The film uses the example of a couple with their son Mishka and follows them through the first four years of the boy's upbringing, as they do everything to promote the child's body and brain development. Mishka becomes successful at sports competition aged 4, but he has no friends; and in places, the film approves this devotion to a child's development that for some might look like an advertising campaign for the Kamevéda method, with little scope for critical reflection on the absence of parental love with hugs and cuddles, a dimension entirely absent not only from the family, but the world as seen by Hníková. Similarly, the second documentary, also a Czech-Slovak co-production, At Full Throttle (Laska pod kapotou, 2021) by Miro Remo, lacks any distance to the man observed in the film, the former miner Jaroslav who lost his job after the closure of the industry and now tunes cars for banger racing driven by his new girlfriend. Set in a remote area of Moravia, the film concerns itself with people who feel rejected by society, neglected by the system, unjustly treated in the courtroom (over a divorce case) and ultimately driven into right-wing groups. The film compassionately, but also uncritically observes his subject; the filmmaker also has to blur the faces of some people who refuse to be shown, which opens a disturbing ethical dimension: at what cost is the documentary footage taken? And ultimately, the film is cliched in its division of society into victims and winners (where the winner would be the boy Mishka from Every Single Minute). I trust there is more to gain from the documentary genre, which the festival hopefully develops to a full-blown strand in future, especially since there were a good number of documentary films in other programmes – if we only think of the Serbian documentary Roots (Koreni, 2021) in East of the West section.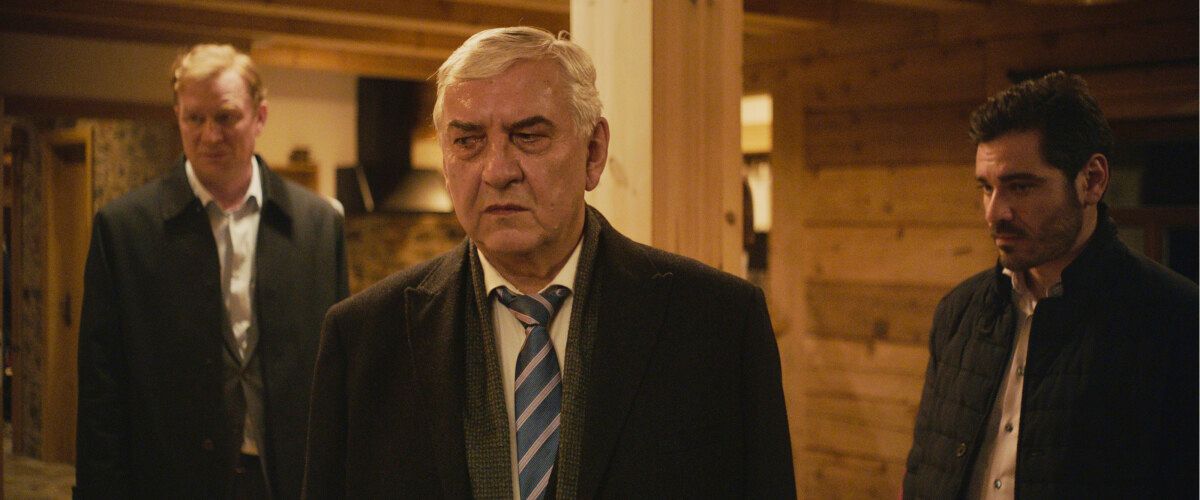 Sadly, the other two Czech contributions to the competition were not much more inspiring: Saving One Who was Dead (Zprava o zachrane mrtveho, 2021), a Czech-Slovak-French co-production directed by Václav Kadrnka, offers a portrait of a wife and son unable to accept that their husband and father remains in a post-operative coma and try painfully to force him back into life. The film Bird Atlas (Atlas Ptáků, 2021), a Czech, Slovak and Slovenian co-production by Olmo Omerzu, follows on from the director's impressive Winter Flies (2018). A professionally told and competently made film, it focuses on a wealthy factory owner and his children, who discover the father's infidelities as they check the address book of his mobile phone, where mistresses are logged under the guise of bird names. One of his "birdie" mistresses is the accountant in his firm, who has been caught up in an internet scam that brings down the family business. The story has its peculiar humour, enhanced by the witty device of bird chatter commenting on the unfolding betrayal and developing crisis, but it is a film that tries too many other things as well.
Of the "western world", the competition included the British-made Boiling Point (2021) by Philip Barantini (reviewed here by Eirik Bull), shot in a single take and set in the restricted space of a restaurant, capturing a man who is out of breath – and reminiscent of the turbulences captured in Victoria (2015) by Sebastian Schipper. Chef Andy is in dire straits, splitting up with his wife, looking for new lodgings, trying to stay in touch with his son, and running a top restaurant on borrowed money, with the health & safety inspector breathing down his neck. The Canadian film Wars (Guerres, 2021) by Nicolas Roy offers an equally disturbing view on an individual in crisis, but differently: it is an almost wordless portrayal of the young Emma (played by Éléonore Loiselle, who won Best Actress award) trying to live up to what she imagines would be her father's (military) values and committed to serving in the military. Her relationship with her commander, Captain Richard, is complicated: he knew her father and demands of her particular discipline, but he also has more than paternal feelings for Emma. A debut film, which is very well-acted and impressively structures.
The two German films, Nö (2021) by Dietrich Brüggemann (Best Director), and Le Prince (2021) by Lisa Bierwirth, both portray the inability of people to form stable and lasting relationships. Nö adopts, in more than one way, a similar approach to a relationship over several years as did Joachim Trier with his Cannes competition title The Worst Person in the World (2021), both in terms of the analysis of a relationship (here focused on a stable relationship rather than changing relationships as in Trier's film) and in terms of the episodic structure and halting time, so impressively done in The Worst Person… when Oslo freezes as the protagonist runs in her imagination into her new life. Here, the device is used for comic effect to freeze time and allow imaginative conversations with a patient on the operating table. The film contains numerous funny and absurd situations which will surely make it an audience pleaser. Le Prince is more complicated: at times, it seems as is the director is not sure where to take this story about an illegal migrant from Ghana and his relationship with a frustrated and undervalued exhibition curator (played impressively by Ursula Strauss), as they both cling on to illusions that will ultimately be disappointed over and over again.
The Italian film The Land of the Sons (La terra dei figli, 2021) by Claudio Cupellini stands on solitary ground in the competition with its apocalyptic story about the loss of humanism and values. A stunningly shot and well-composed film with religious metaphors and fairy-tale elements to illustrate the journey between the land of the dead and the world of the living, with a gate guarded by a "witch", this is a fine sci-fi movie without special effects, and one creating a dull and dire view of the post-human world.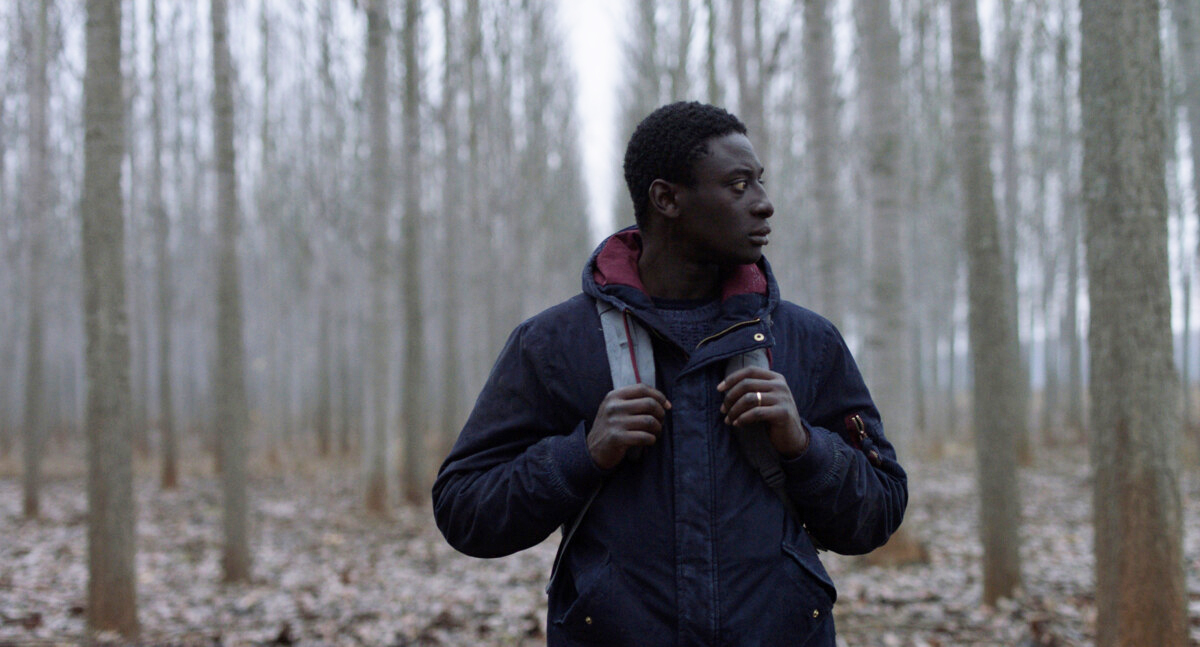 The competition films from Eastern Europe included the Crystal Globe winner As Far as I Can Walk (Strahinja Banović, 2021) by Stefan Arsenijević, co-produced by Serbia, France, Luxemburg, Bulgaria and Lithuania. The film draws on the epic poem about the legendary Serbian knight, fragments of which are inserted in the form of songs throughout to comment on the parallels between the adventures of Strahinja Banović and the journey of an African migrant (played by the French actor Ibrahim Koma, recipient of the Best Actor award) who just made it into a Serbian football team, which will grant him legal asylum status. In the meantime, his wife Ababua has lost the hope that they will ever get out of the camp, where they have been stuck for two years following deportation after an unsuccessful asylum application in Germany. It is a story of ambition and frustration, about wanting to achieve something in life whilst caught up in migration. From Croatia hailed the school story The Staffroom (Zbornica, 2021), a debut film by Sonja Tarokić, which stands in such sharp contrast to the documentary Mr Bachmann and His Class (2021) that played at the Berlinale earlier this year. Here, the story concerns school councillor Anamarija (portrayed convincingly by Marina Redzepovic), who tries to handle "difficult" children and support the staff. The rhythm of her actions is extremely fast-paced with a soundtrack by Borna Buljevic, so fast that often the viewer misses plot details, as she faces children, parents and colleagues, pressure and bullying, and of course corruption. A comparison with the quiet demeanour of a Mr Bachmann, however, would not do the film a favour.
Amongst this rather low-brow selection of films, it was easy for us to reach a decision: The Exam (Ezmûn, 2021) by Shawkat Amin Korki is a film that raises ethical issues of cheating and deceit – by teachers to take revenge on life and by pupils to get a chance of an independent life; and that addresses issues of women's rights in a society that accepts forced marriage. These themes resonate strongly in this week at the end of August where on the little blue screen of our television sets another drama is playing out. Moreover, The Exam handles issues of finding a role in life with a fine balance of humour in the hopelessness of the situation, bringing out both the universality of these dilemmas and their absurdity. Our winning film is reviewed in full by Adéla Mrázová.
Birgit Beumers
© FIPRESCI 2021