Chef's hats off to Philip Barantini's new kitchen nightmare.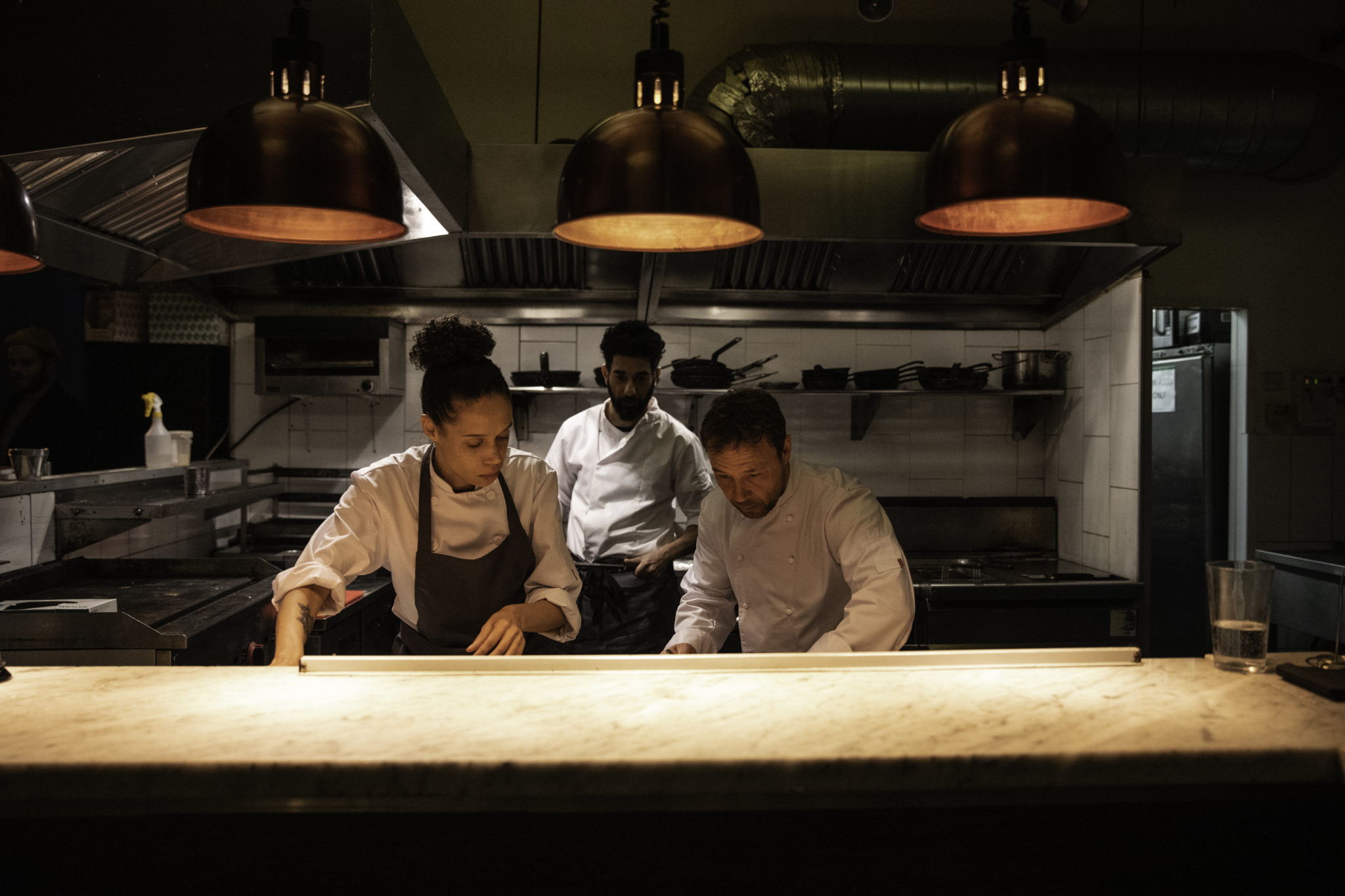 Let me admit straight away: I'm not a very good cook. If pushed, I can make a fairly decent pizza from the ground up. But that is really the limit of my abilities. And even after that, I'm usually covered in flour, fairly stressed out and reprimanded by my wife for spilling pizza topping everywhere.
I do, however, realise that many carry within them a deep passion for the preparation of food and only get fired up by the stress and excitement of a busy kitchen. And I've watched enough Gordon Ramsey to know that it can easily go sideways for even the most professional of chefs.
Stress, then, is also the main ingredient in Philip Barantini's feature length version of his 2019 short Boiling Point. This new feature version premiered at the 55th edition of the Karlovy Vary International Film Festival in August 2021, and here we were treated to a huge helping of stress with a side order of angst, conflict and drug abuse, all set during a single night in a high-end London restaurant.
We are introduced to head chef Andy (played by the always excellent and often sinister Stephen Graham), while he is on his way to work, smelling of alcohol and regret. Andy is the kind of guy who buries his angst and trauma deep inside while letting work take over. And throughout the evening, with the preparation for opening up the restaurant and the steady stream of guests pouring in, we follow the action, the conflicts and the frustration in one single shot.
Yes, you read that right. In the 94 minutes runtime, the story is told through this single shot. We have, of course, seen this before, maybe most recently, or at least most famously, in Sam Mendes' war epic 1917. But where that film, and others shot this way, often makes it feel like a gimmick, Boiling Point draws you in. I quickly forgot about the fact that the whole film was once single shot (with no "cheating" like in 1917). In a way, I felt that I had become the newbie on the kitchen staff, and I had to follow the more experienced cooks and waiters around, all the time dodging insults and the occasional flying cutlery.
Just like 1917, Boiling Point quickly becomes somewhat of a war zone, with in-fighting among the staff and the diners as "enemy combatants". There are injuries, shell shock and maybe even a casualty or two.
The diners themselves are an eclectic bunch. There are couples in love, influencers, a desperate rival chef (played by Jason Felmyng) and even what seemed like some malicious gangster crawled up from the deepest pits of the London underworld to get at the house's most expensive wine.
So, it doesn't take a lot of imagination to see how this will go. What begins with a reprimand by the food inspector devolves into an evening full of desperation. We see Andy's life quickly unravelling, and we learn not just about him, but his kitchen staff as well.
At first glance, I was a bit sceptic about Boiling Point. With my interest in cooking and cooking shows being what it is, a feature film about the drama behind the scenes of a luxury restaurant did not seem very appealing. But I heard about the one-shot style, and I did like 1917, so I found myself watching it. And I was wrong. What I thought would be some sort of dramatized version of a Gordon Ramsay show turned out to be a dramatic, moving and often darkly funny film about one person's downfall into stress, alcoholism and drug abuse. The pacing did not falter, and the drama kept me invested into the characters and their stories.
Boiling Point is a treat, and one that I would gladly have a second helping of.
Eirik Bull
Edited by Birgit Beumers
© FIPRESCI 2021