The entry Let it Be Morning by director Eran Kolirin is a brilliant comedy-drama about a small Arab-majority village in Israel. Jihane Bougrine explains the tragedy and the desperate hope for humanity to be found here.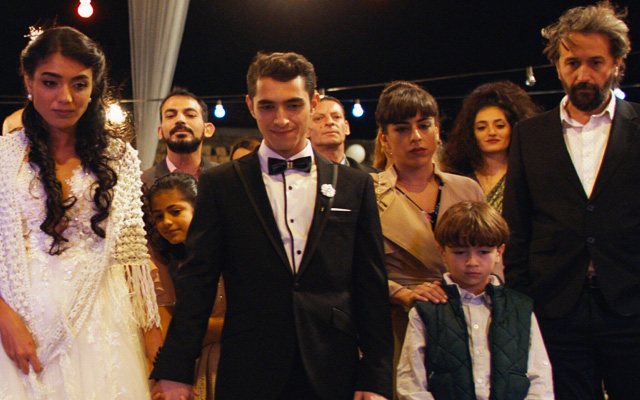 With a sarcastic and artistic eye that reminds us of director Elia Suleiman, Eran Kolirin draws a portrait of several characters who are living in between freedom and jail, love and hate, happiness and sadness. It's the story of a normal family who isn't that normal, who are fighting for love and peace. The story begins with a wedding with sad people trying to be happy, trying to make a commitment for the future in a land where we have been fighting for centuries. The director of the iconic The Band's Visit (2007) is keeping his eyes wide open over the reality and the pain of this claustrophobic situation: "You're not home anywhere". That's the feeling when the main character is trying to cross the border to go home after the party but can't. "Why?" Because "…it's not possible for the moment". That's how a life can be changed, in a few minutes.  
Isn't it ironic?
The irony could have been the main character of the movie. It is probably because the Israeli-Palestinian collaboration in this film or the source novel written by the well-known Palestinian author and journalist Sayed Kashua in Hebrew as a politicized gesture. The adaptation of Eran Kolirin is sensitive. The emotion is here and we can feel how hard it is to live under constant military rule, surveillance and disruption through this family and friends who have all secrets that were going to be revealed when the borders closed. Sami, a handsome and brilliant Israeli Arab tech worker is living in the good part of the border, has a good job, a perfect wife and beautiful son. But all these are appearances: Sami is cheating, is not happy and may lose his job because he couldn't go back home after his brother's wedding.
Social taboos
This situation reveals that Arab society can be cruel, especially towards women. The wife, Mira, has this fire in her that she can't express. Sex is taboo, even with the husband who's conducting an affair with an Israeli woman. Women's voices in this movie try to be raised but are still a little bit cliché. The newly wed bride is too fragile, the mother submitted, the father traumatized. But it's also the reality, with sad situations, like when the electricity is shut off or when supply runs are banned from entering. Between social and politics, this movie is about love and the need for love. It's also controversial at various stages of the story when it comes to the auxiliary border and the military. Let it be Morning reminds us of a sad reality with grace and sarcasm, in a movie where we can laugh and cry at the same time. It's also about braveness and solidarity within Arab and Palestinian communities. And it's a beautiful reminder in these sad days…     
Jihane Bougrine
Edited by Steven Yates
© FIPRESCI 2022