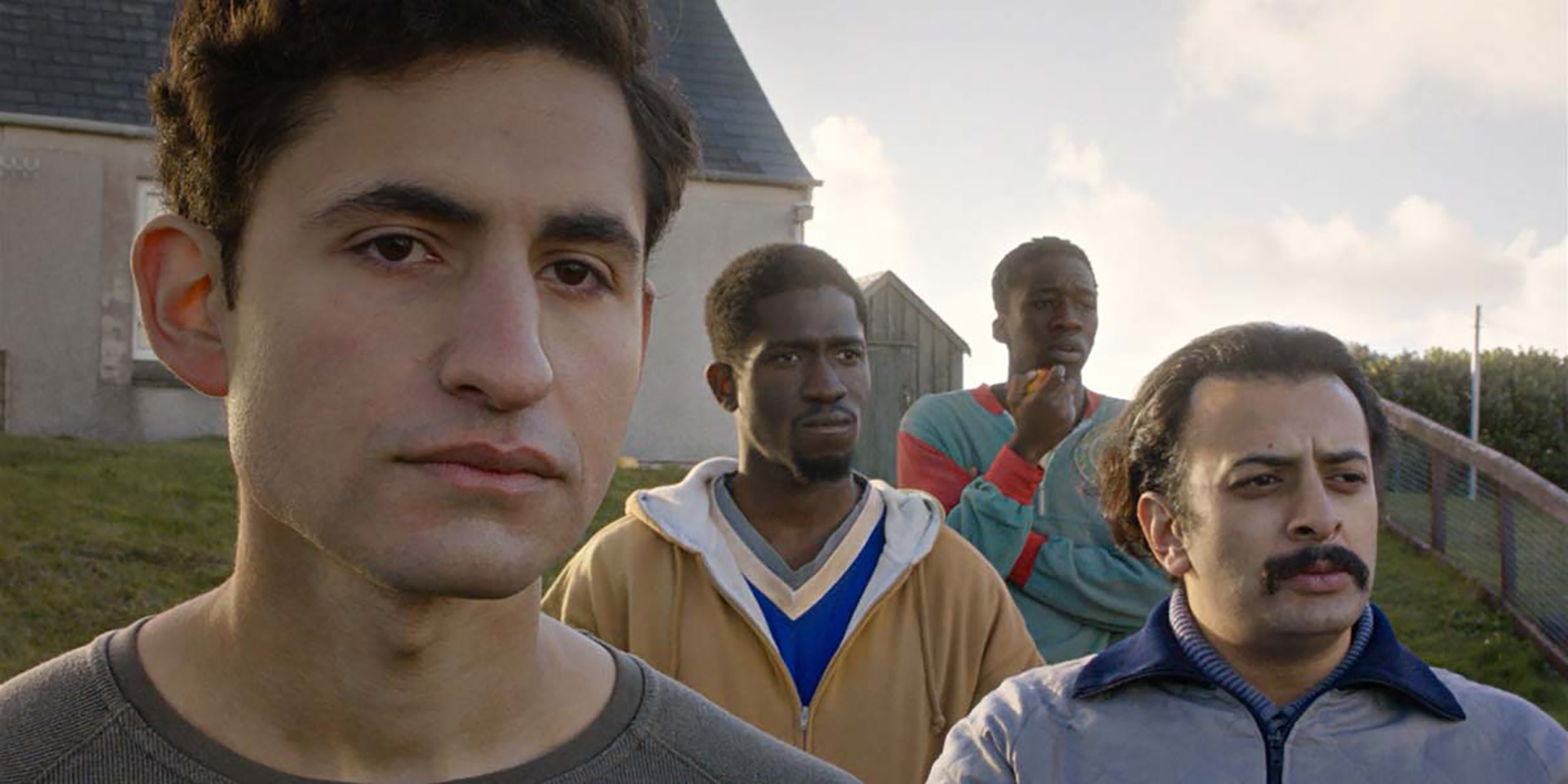 Limbo (2020) is a beautiful and humane work about refugees, a thoughtful film about how Britain and the world in general treat immigrants, people who have stories and sad pasts in their countries of origin. It's satirical and brilliant. Director Ben Sharrock managed to tell everything and to go deep with the essential. The young director makes his points by staying faithful to the story, the emotion, the power of the characters. That's probably how he managed to seduce Cannes Festival Selection label and be welcomed to the Toronto International Film Festival before heading to the San Sebastian Film Festival.
Poignant and beautifully composed, Sharrock gets you to invest in Limbo while caring about the characters and what happens to them. It's the story of Omar, a quiet refugee from Syria who arrives in his promised land: Scotland. He is waiting for his integration and can't travel or work, waiting in a community center to learn how to be a "good English citizen." Ironic and sharp, the film shows how someone from another country can become a no-one from one day to the next. Omar is a famous and talented musician, known and respected in Syria. But in Scotland, he is just an immigrant. With no story, no history, no past, just a body. He is played by the amazing Amir El-Masry, who delivers a tremendous lead performance full of complexity and light, even though his character is broken. He is a musician who can't play anymore. His oud is always with him—it seems to be a continuation of his body—but he can't use it. Omar has a trauma, a secret; he seems to be dead inside. He is creatively blocked.  Sharrock used a lot of images and double meanings to tell the story and it's brilliant. A mix of Eastern poetry and mystery with Western pragmatism and realism. Sharrock puts his actors as the center of the emotion.
This is a poetic, political movie told from the refugee's perspective. Some scenes are powerful, like the first one, set in one of those "cultural awareness" classes hosted that are both funny and pathetic. Actors Sidse Babett-Knudsen and Kenneth Collard are very convincing, as is Vikash Bhai as Omar's new best friend, whom he meets in a class where racist stereotypes and prejudice are being taught.
Sharrock renders Omar's period of waiting in refugee limbo as a Waiting For Godot experience. We don't know what these refugees are waiting for; they don't seem to know either. Will the next place be better or worse? Seeking asylum in the UK is a gamble for Omar, who left his family in Turkey. His phone calls with his mom are powerful.
Limbo is Sharrock's second film and confirms the talent on display in his debut, Pikadero (2015), which won a prize at Sans Sebastian in 2016. His is a peculiar vision, telling stories about society's injured with poetry and humour. A young, comic and fresh variation on Ken Loach's sensibility, or that of Elia Suleiman. Some slow passages notwithstanding, Limbo is one of the most refreshing British movies this year.
Jihane Bougrine
© FIPRESCI 2020
Edited by José Teodoro