"I can't go on like this. Life goes by as if I weren't there. […] As if I were waiting for something to start, or to end."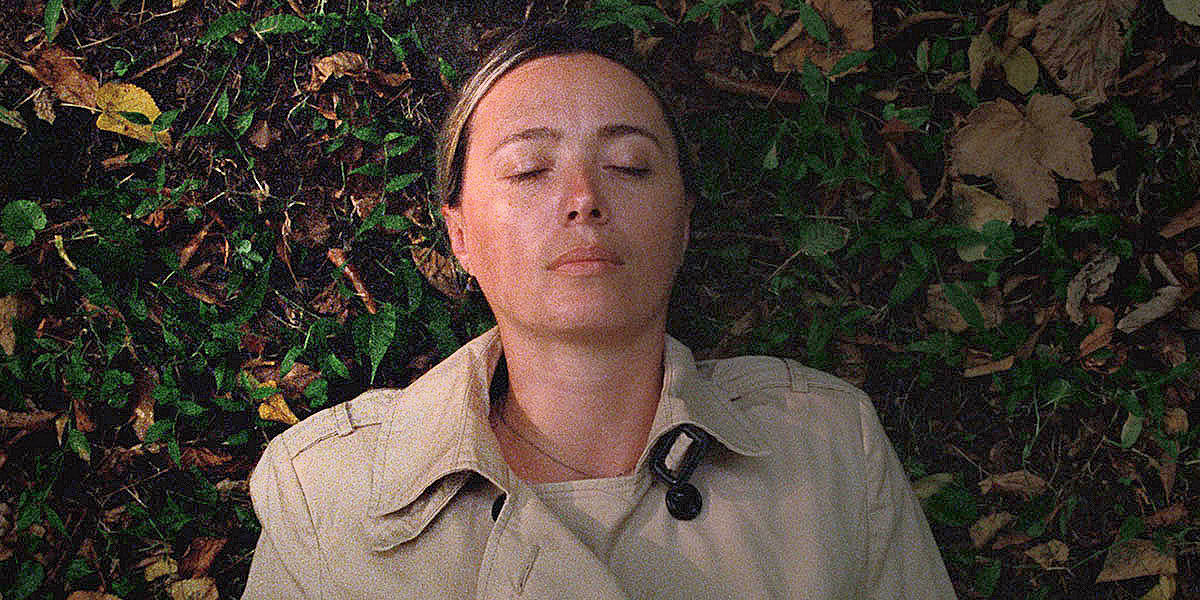 Yana lives with her son and her husband in a remote Georgian village, as we understand later, in the surroundings where she once grew up but which she left for Tbilisi, the capital town, aspiring for an acting career. Whereas her husband now is a fully dedicated priest of Jehovah's Witness, a missionary giving sermons for the small community, she and her son don't have many friends. Yana is not able to connect to daily life, now a former actress who finds herself rootless, without meaning in life. 
So, what is she waiting for, for a fresh start or just the life to end? "You should get a job?" her husband tells her, certainly not the best life coach, even if also he can see something is wrong.
Beginning is Déa Kulumbegashvili first feature film, winning the Discovery section at Toronto Film Festival, where it world premiered in September. The week after it scooped no less than four top prizes at San Sebastián Film Festival, out of the hands of Luca Guadagnino: the Golden Shell for best film, best directing and best script to Kulumbegashvili. Competing with the new works of Thomas Vinterberg, François Ozon, Naomi Kawase, Sharunas Bartas – many of the convincing – the jury's handout testifies to a film that did make a great impact. Additionally, Ia Sukhitashvili, whose quietly arresting appearance gives an equally strong impression to the film, won the award for best actress.
The Georgian director Kulumbegashvili, educated at Columbia University, has already made herself a name at the festival circuit. In 2014, her short film Invisible Spaces (Ukhilavi sivrtseebi) competed at Cannes Film Festival, the official competition; in 2016 the even more remarkable short Léthé – shot lyrically in long takes – was screened in the Director's Fortnight.
Thus, many have eagerly awaited Kulumbegashvili's first feature – and not in vain. Beginning has the looks and the maturity of a more established director, echoing of a voice that already feels naturally anchored. Even if one can scent her inspirations, the director comes across with something that feels fully of her own.
Strongly reminiscent of Invisible Spaces, about an oppressing family father and priest, Beginning starts out with a long fixed take on the Jehovah's Witness church, where the community is gathering for a mess. One after another arrive, young people and old people, before the husband starts his sermon with steadfast authority. It's a stunning prologue, building up the tension of what is yet to come, another – we understand later – attack on small, stigmatized group. Suddenly, a bombshell is thrown into the church, which burns to the ground. An investigator from Tbilisi is sent to the crime scene, but not as much in order to find out what has actually happened and who's responsible – everyone already knows – but to interrogate (and to oppress) the subjected Ia, whose despair and whose feeling of meaninglessness increases after the latest incident.
Masterfully shot on 35mm by Kulumbegashvili's collaborator Arseni Khachaturan; edited by Matthieu Taponier, who is known for editing László Nemes's Son of Saul (Saul fia, 2015); scored by praised experimental electronic composer Nicolás Jaar – all key elements to the film's prosperity. With Carlos Reygadas' as executive producer, the film bears not only resemblance to the Mexican visionary works: patriarchal oppression, small communities and long, explicit and challenging shots. It is also a film that echoes of Michael Haneke, worrying sequences with masochistic dialogue reminiscent of Funny Games (2007) or a more generally unsecured feeling as in The Seventh Continent or Hidden (Der siebente Kontinent, 1989).
Beginning has the quality of depicting a unique, particular environment, yet it is a film that comes across as something deeply universal and human. The film's precise dialogue is perfectly balanced by an ominous silence that creates a full sensory experience. As stated in our motivation: "This is an emotionally compelling debut feature by a filmmaker whose voice feels established and one to watch".
Jon Asp
© FIPRESCI 2020
Edited by José Teodoro