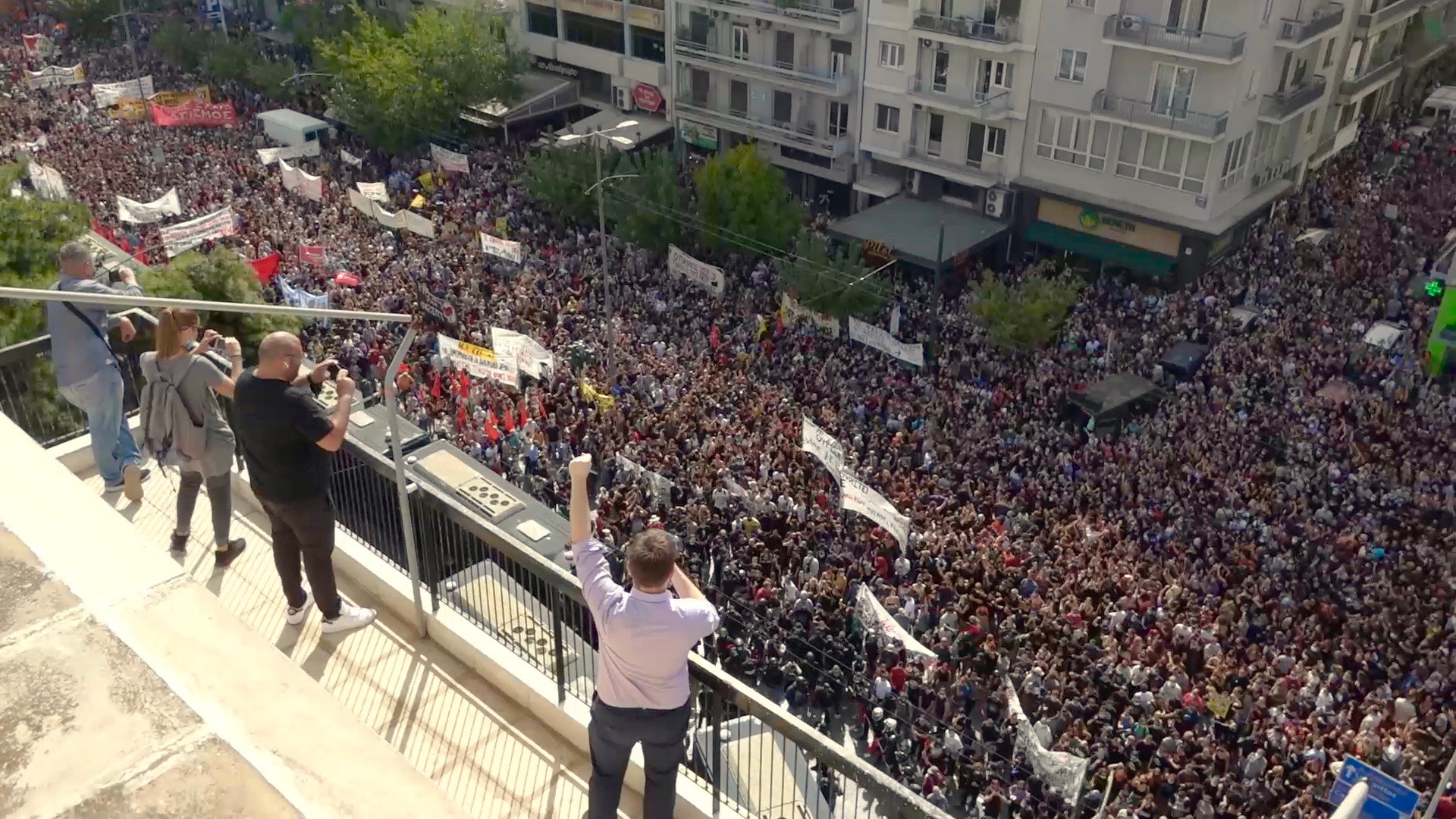 The Golden Dawn a Public Affair (Χρυσή Αυγή υπόθεση όλων μας, 2021) is a film of historical importance that we all have to see.
Nine months after the Golden Dawn sentence, the documentary by Angélique Kourounis Golden Dawn a Public Affair comes to remind us of the end of a nightmare period for Greece and the struggle of a family for justice. After a lengthy trial that lasted five years, with countless witnesses standing in front of the judges and tens of thousands of documents, the Golden Dawn neo-fascist party was convicted as a criminal organization. Its leading members are already locked up in prison as perpetrators of murder, beatings, threats and other criminal acts. Angélique Kourounis' camera has been present in trial since day one. As has Magda, the mother of Pavlos Fyssas, who was murdered by a member of the Golden Dawn. Unflinchingly, she stood before her child's murderer, as well as his accomplices and those who gave orders.
The image of Magda Fyssas raising her hands to the sky and shouting her child's name when the court ruling was announced is a shocking redemption that will remain in the minds of Greeks for many years to come. Through the documentary, we get to know Magda Fyssas. We follow her at home, in court, on protests, on the streets, bus routes and the metro trains she took early every morning to always be first in court. Her confessions about her son and her condition after this unspeakable loss are shocking scenes. Through Angélique Kourounis's camera, we also get to know the lawyers who succeeded in putting the Golden Dawn in prison. Through their descriptions, we have a better understanding of what was going on in the trial. In their words, more light is shed on the organization's action that terrorized immigrants and refugees for years.
The film by Angelique Kourounis is like an epilogue to this dark period experienced in Greece. It is a film of historical importance worth returning to, not forgetting and not repeating the same mistake in the future. A film that you do not need to be legal experts to watch as the aspects of the trial are presented simply and clearly for everyone. Audiences of all ages must watch this film to ensure that phenomena such as the Golden Dawn belong to the past. That human life has value regardless of color, religion, social class and origin. The Greek Parliament uprooted Golden Dawn, but they still need to be uprooted from people's consciousness.
I would also like to highlight the excellence of Greek films screened at the 23rd Documentary Festival of Thessaloniki. I was really impressed by the Greek directors who, under difficult circumstances, with little or no support from the state, manage to make films that exceed expectations. The Golden Dawn a Public Affair has stood out, but competition has been fierce. Days and nights of Demetra K. (Μέρες και νύχτες της Δήμητρας Κ., 2021) by the experienced Eva Stephani and Through the glass, three acts (Μέσα από το τζάμι, τρεις πράξεις, 2021) by Christos Barbas are also two great documentaries worth your time. These two films explore completely different aspects of modern reality, but both were filmed with love and great interest for the topics they deal with. The same thing applies for other Greek films that we saw at this Festival like Gabriela-The German with the bicycle (Γαβριέλα-Η Γερμανίδα με το ποδήλατο, 2021) by Dominikos Ignatiadis, A beautiful day (Μια όμορφη μέρα) by Danis Caraisaridis and Yorgos Paterakis, which fills us with hope that another world perhaps eventually is possible, Newborn sky: Women in the Democratic Army of Greece Women (Καινούριος ουρανός: Οι γυναίκες στον Δημοκρατικό Στρατό Ελλάδας, 2021) by Yannis Xidas and Tasos Konstantopoulos with unmatched narratives of elderly women who fought in the country's mountains for democracy and freedom almost 80 years ago, Lakmos (Λάκμος, 2020) by Panagiotis Papoutsis and Kehajas-Man of the land (Kehajas-Ο άνθρωπος της Γης, 2021) by Υorgos Comakis, two films about breeders in Greece a few decades ago and today. Nikos Ziogas' Memento (Ενθύμιον, 2021), which, with black and white subdued film, takes us to a village in Epirus to watch a distinctive custom of the inhabitants related to the dead and the clarinet.
Greek documentaries have made strides forward in recent years and are calling for our attention. They deserve it.
Kostas Zaligkas
Edited by Justine Smith
© FIPRESCI 2021