Berlinale Talents 2015 – Day 1
Alonso Díaz de la Vega, "Herzog in Love"
Julia Cooper, "Dashboard Dispatches from Iran"
Michael Guarneri, Not Your Typical "Portrait Of The Artist"
Monty Majeed, On a Quest for Black Gold
Oriana Franceschi, Learning the Colour of Money
Oriana Franceschi, Behind the Volcano
Oris Aigbokhaevbolo, Love In The Time Of Opera
Herzog in Love
By Alonso Díaz de la Vega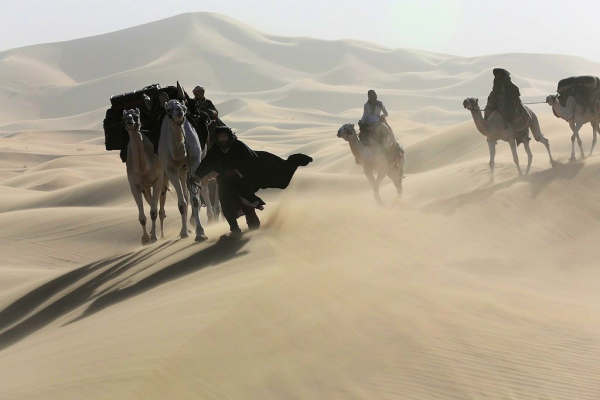 The idealism in Werner Herzog's directing in Berlinale Competition film "Queen of the Desert" (USA, Morocco) suggests something beyond its director's lifelong identification with his main characters: his infatuation with this one. Herzog has shown in the past a narcissistic romanticism when contemplating megalomaniacs like himself. From the optimistic Fitzcarraldo to the tragic Lope de Aguirre and Bruno Stroszek, dreamers and adventurers have populated Herzog's consciousness almost to the point of archetypal possession. Yet these men were rarely portrayed to appear as flawless as real life explorer, writer, and spy Gertrude Bell (Nicole Kidman) is in "Queen of the Desert".
A rebel facing the early 20th century British patriarchy, Herzog's heroine is a female chevalier, her stature stressed by Klaus Badelt's overly decorative musical cues, which betray the formal sobriety of Herzog's early films. The orchestral arrangements he employs here transform the actions of the characters from brave to grand, so Bell is seen by Herzog and her fellow explorers as a towering image of audacity and virtue – she's even more dignified than the film's clumsy Winston Churchill. We might assume, then, that at least one of the men who love her is the director's onscreen surrogate.
According to legend, Herzog pretended to be a veterinarian in order to steal the monkeys that appear at the end of "Aguirre, The Wrath Of God" (Aguirre, der Zorn Gottes, West Germany). Charles Doughty-Wylie (Damian Lewis), one of Bell's lovers, claims to have done the same to kidnap a horse he offers Gertrude as a romantic gesture. This reveals Herzog's idea of Bell: the film's romantic tone makes us wonder about that similarity between the director and Doughty-Wylie and also explains its simplistic approach towards its morally perfect protagonist.
The images of the barren desert underscore Bell's romantic misfortunes and, along with her underdeveloped character, make her seem more pathetic. Herzog approaches her with the grief a lover feels when impotently watching his other half in pain.
Dashboard Dispatches from Iran
By Julia Cooper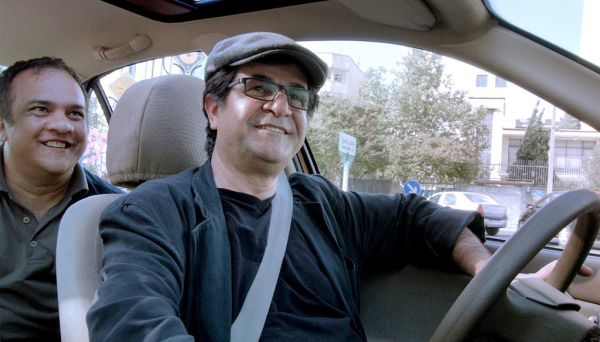 If Sundance had "Tangerine", a fêted feature that caused a stir for having been filmed entirely on an iPhone 5S, then the Berlinale Competition has "Taxi", a street film captured on Jafar Panahi's dashboard camera. The medium is the message as Panahi films the streets of Tehran in real time picking up a motley string of passengers along his way. These companions hold forth on an array of issues central to life in Iran, from Sharia law and capital punishment, to film piracy and a woman's right to inherit her husband's property. "Taxi" is funny and sweet — the camera is often looking up into the twinkling eyes of its filmmaker — with coy references to his earlier films throughout. I found myself so enthralled by the absurdity of the film's comedic banter that I forgot, until the empty credits, that "Taxi"'s idle chitchat is also the stuff of life and death.
Shedding the claustrophobic constraints of his last two features "This Is Not A Film" and "Closed Curtain" (both filmed under house arrest, the former smuggled out of the country on a USB stick) Panahi's "Taxi" is a fluid film that is rarely still. Rather, the artist is back in the world having taken his camera to the streets. Days after "Taxi"'s world premiere, it remains unclear just how this banned director produced the film and under what circumstances it hoodwinked its way past Iranian officials and to Berlin. In it, Panahi does not shy away from depicting the "sordid realism" that Iranian censorship forbids—instead, he welcomes into his meandering cab both the grit and banalities of life under Islamic regime.
Beyond the dashboard, the film also relies on iPhone footage and digital video — the latter is shot by Panahi's young niece who comes along for part of the ride, wielding a small video camera of her own. Earnestly, she asks her uncle how to make a "distributable" film and becomes fixated on what precisely is meant by this restriction "sordid realism." With a backpack almost as big as she is and an Angry Birds notebook containing class notes on the rules of cinema, she becomes frustrated (tight lipped, furrow browed) when the world she films from her uncle's car window does not conform to the censorship rules she has been taught. Her frustration is the film's gain, for it is with this little stubborn director that we glimpse the future of Iranian cinema after Panahi: questioning, critical, and impossible to shut up.
Not Your Typical "Portrait Of The Artist"
By Michael Guarneri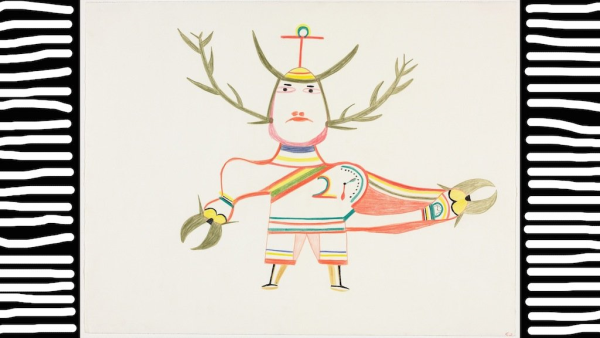 If you're planning to watch Arvo Leo's "Fish Plane, Heart Clock" (Canada, Switzerland) in the Berlinale Forum Expanded section hoping to learn about the late Inuit draftsman and painter Pudlo Pudlat, you're likely to be disappointed.
Leo is not interested in shooting a biopic or making a biographical documentary: he simply means to use images and sound to plunge the spectator into the magical world of Pudlat's over 4,000 drawings and paintings. "My hands go wherever they want, I just follow them," Pudlat states in some undated archive footage recorded at his studio in Cape Dorset, on Canada's Baffin Island. That enigmatic sentence is basically the only art-related information provided by a film that fails to offer even the most basic factual data. For example, no date of birth and death are ever mentioned, nor is Pudlat's taking up painting in his forties, after an injury made it impossible for him to continue earning a living as a semi-nomadic hunter in the Canadian Arctic wilderness.
"Fish Plane, Heart Clock" starts with a metaphorical immersion: after a circular pan showing a 2014 Inuit village of prefabs facing the frozen sea, Leo himself crawls toward the camera completely naked, and says: "Here we are in Cape Dorset, on the top of the mountain, waiting for the sun to rise." The theme of immersion is referenced again in a weird sequence at the end of the film: a pair of hands emerge from an ice bank to grab several traditional Inuit objects (little totems and amulets) as well as modern Western tools (a joypad, pliers). Between these two immersions Leo shows us the ethnographic material he gathered during his stay with the Inuit community of Cape Dorset throughout Spring 2014, interspersed with Pudlat's works and punctuated by a massive sound design that mixes natural sounds and traditional throat-singing. By resorting to a wide variety of digital effects ranging from split screens to superimposed images, Leo constructs a twilight zone where the real-life, an increasingly westernized Inuit village of Cape Dorset merges with Pudlat's watercolour fantasies populated by pipe-smoking bears, jumbo-jet fishes flying in the air, and a seal that keeps time with a waterproof watch-scarf.

On a Quest for Black Gold
By Monty Majeed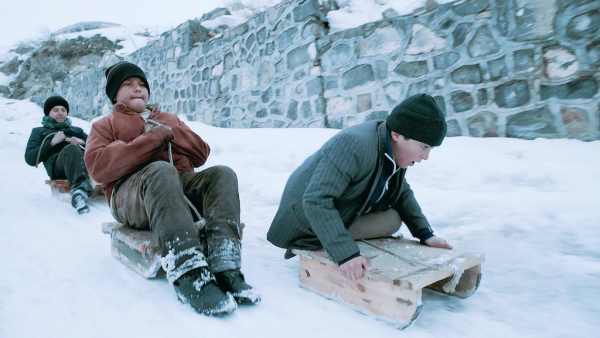 "I wish I was an oven and you would heat me like coal," says 12-year-old Gurbuz, the chubby and mischievous back-bencher, to his classmate, the beautiful Ebru, in a love letter he writes to her. This sentence encompasses the true spirit of Turkish filmmaker Faruk Hacihafizoglu's debut feature "Snow Pirates" (Kar Korsanlari, Turkey, 2014), part of this year's Berlinale Generation Kplus. Like the three main protagonists of the film, Gurbuz, Serhat and Ibrahim, every child growing up in Kars in the 1980s knows the real value of coal. It is more than just a beautiful metaphor for them. It stands for survival. With the harsh winters taking a toll on their lives, it is their most prized possession. And thanks to the curfew imposed due to the military coup d'etat, and the corruption in the system, it has become almost unattainable for poor families in their neighbourhood.
None of this stops these boys from setting out on an adventure hunting for black gold in the endless sea of snow. And nothing can discourage Gurbuz from pursuing Ebru, who doesn't even take a second to reject his invite to a date. Hacihafizoglu's protagonists are filled with hope, optimism and cheer even when the going is tough. Neither the bleak weather nor the authoritarian ways of their schoolteachers bog them down. The bad news pouring out of radio sets seem irrelevant to them when they face immediate problems like the peeling plaster of the walls and empty stoves in their homes. They find happiness in small things, be it reading a comic book under the table, walking like ducks on the snow or sledding at high speed down the many snow ramps. Their main source of entertainment is Serhat's retelling of the tall tales from the movies he watches on the tiny black-and-white television at a neighbour's house and they picture themselves as superheroes of their own fantasies.
Unlike most coming-of-age stories, the beauty of "Snow Pirates" lies in the fact that Hacihafizoglu manages to retain this spirit of optimism right until the end, in a way, compensating for the lack of colours in the landscape. This also ensures that the film never becomes preachy in its approach. The static shots elegantly photographed by Turksoy Golebeyi sucessfully bring out the contrast between the uneventful and oppressed life in the neighbourhood and the vigour of the boys who inhabit it. What, however, doesn't work for the film is the scant use of background score which slows it down in parts and does not match up with the light-hearted and energetic performances that the young actors deliver.
Learning the Colour of Money
By Oriana Franceschi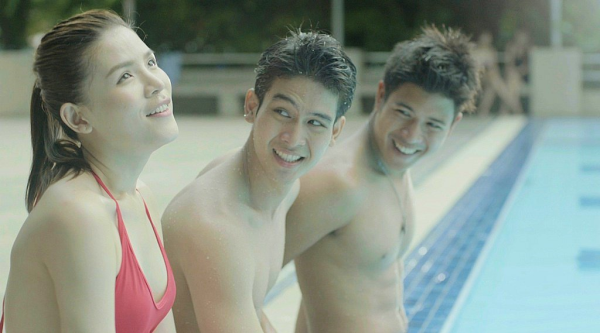 Oat's childhood is made up of baby-pinks and blues: a boat slipping down a still canal, flitting fish in a strip-lit tank, a sleepy Thai sun setting over the banana plants. The Berlinale Panorama film "How To Win At Checkers (Every Time)", Josh Kim's adaptation of Rattawut Lapcharoensap's book, takes us back to that twilight period between Oat's boy-and-manhood, before he "knew the colour of money".
It's a time when the colour red makes a bold intrusion into Oat's life; red is the colour of the ballot that could force his older brother, Ek, into mandatory service to the Thai military. At 21, every male citizen in Thailand is subjected to a random draft lottery: if a man draws a black card, he is free to continue living as a civilian; if he draws red, he says 'goodbye' to his loved ones, cuts his hair, and serves wherever his country needs him. Oat's brother Ek, whose poverty forces him into sex work, is drafted, while Ek's wealthy boyfriend Jai bribes his way to a black ballot.
At home, red, white and blue blasts from Oat's television, peaking his interest in American popular culture and diet. At first, "How To Win At Checkers" even mimics the music and narrative style of American gangster films like "Goodfellas" and "Donnie Brasco".
This technique peters out a little clumsily in the middle, though, and the film's strongest moments are when it draws on the visceral experiences of childhood. These are made up of plastered fingers toying with the edges of leaves, the image of a precious object broken in play, and Oat's first bite of a cheeseburger in a scene that moves quickly from bliss into tragedy—as is the way before one's feelings develop beyond the all-consuming—when the taste of cheese makes him vomit.
In the steely grey of his future, adult Oat—who tells us he has found wealth through cheating, lying and winning—rides away from drawing a black ballot on his motorcycle, with his hair slicked back and a leather jacket on, James Dean-style. The exact details of how he became so affluent are never divulged, but we have seen Oat learn the hard truths that poverty is a trap, wealth is the master of justice, and nobody is blind to the colour of money.
Behind the Volcano
By Oriana Franceschi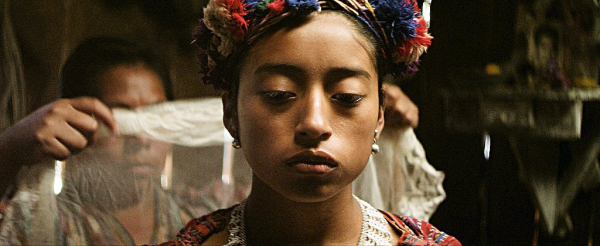 The earth around the volcano is thick and black. Seventeen-year-old María and her mother Juana kneel in it to pray, wrapped in colourful hand-me-down fabrics that extend intricately into their hair. They light candles and stay there through the sunset, while the volcano sprinkles its dark, dry rain over the Guatemalan coffee plantation on which they live and work. "Ixcanul" is the name of the volcano, and of this first feature from writer/director Jayro Bustamante that premiered in the Berlinale Competition.
Some tell-tale months later, hot and swollen with pregnancy in the steamroom, María, played by a sullen but luminous María Mercedes Croy, resembles the volcano: full of life and, Juana tells her, of magic. Magic that can heal a sick chicken with the touch of a finger and expel snakes from an unsewn field of corn. But, like the volcano, María's pregnancy poses the possibility of both magic and destruction.
María is to marry Ignacio, a local widower, surveyor of the plantation, and owner of the village's only car. In truth, María is less like the volcano than she is the pig that she and her mother slaughter to feed her would-be husband and his family. Bustamante critiques a society in which women are still raised to breed, sacrificed to secure the prosperity of her family. When Ignacio learns that she is pregnant by a local boy, he will doubtless cancel the wedding and force her father off the land.
But María's lust is for adventure, her desire to escape drives her every action. "What's behind the volcano?", she asks her mother. She has heard that it is a place where everybody has a car, even the streets are lit with electricity, and money is abundant as the long green leaves of the coffee plant. María will learn that it holds nothing but cold weather and an incomprehensible tongue. Making contact with it will drive María back among the pigs, crouching over the slaughtered mother's offspring with her hair hanging loose around her white nightdress. And before her Ixcanul, that magic mountain, that malevolent idol, will groan on eternally.
Love In The Time Of Opera
By Oris Aigbokhaevbolo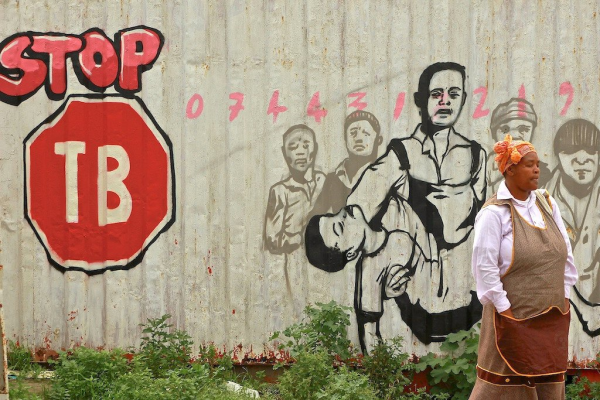 Arriving, perhaps unwittingly, to correct one stereotype and confirm another is the Berlinale Special film "Breathe Umphefumlo", the fourth feature from director Mark Dornford-May. His characters are African, poor, and one has a terminal disease. But—wonders!—they sing opera. Nevertheless, the heavier weight of the association of poverty with Africanness skewers the operatic goodwill.
(South) Africans singing opera is familiar territory for Dornford-May who scored the Golden Bear with "U-Carmen Ekhayelitsha", his adaptation of Bizet's "Carmen". In "Breathe Umphefumlo", highly competent performers sing in Xhosa Puccini's acclaimed opera "La Bohème". Four young people go through life in Khayelitsha, buoyed by the assurance of their specialness and the intoxications of youth. One speaks of future stardom, another is called a diva; they all find out that life happens without regard for dreams, without regard for youth.
The stereotype is not Dornford-May's doing. Based on "La Bohème", Puccini's tragic opera, death, disease and poverty are unavoidable in any retelling. Yet "Breathe Umphefumlo" is problematic, if for beginning on July 16, the date in 1976, when protests against Apartheid spread through South Africa, leaving a multitude of deaths in its wake. Somehow the virtue of a narrative and environmental specificity is burdened by an existing stereotype. And the unavoidable result is that Africa remains the land alloyed with violence.
A talented director, Donford-May's film has great photography — the grit of the suburbs is palpable. His actors are about as able to pull off fine acting as much as is possible when it appears one is yawning in another's face. Unsurprisingly it is when the actors shed the western singing for some South African song and dance that the screen bursts into pixels of joy, separate from the stridency of opera in Xhosa. But who can blame them? South is not exactly opera country.
The casualty of every adaptation is suspense. So deprived, the film comes out announcing to its audience that Khayelitsha is one of the worst hit places with tuberculosis. People still die of that disease. In "Breathe Umphefumlo", one wishes a continent didn't have to.