Reviews, Part 1
• Finding Yourself – Hair Dye After Air Dye
By Jakob Åsell
• Cultural Trauma Through the Generations
By Debbie Zhou
• Where Life Though Joyless Still is Calm
By Adina Glickstein
• The Line From Past To Present Is a Spiral
By Savina Petkova
• To Open, To Haunt, To Excavate
By Adina Glickstein

Finding Yourself – Hair Dye After Air Dye
By Jakob Åsell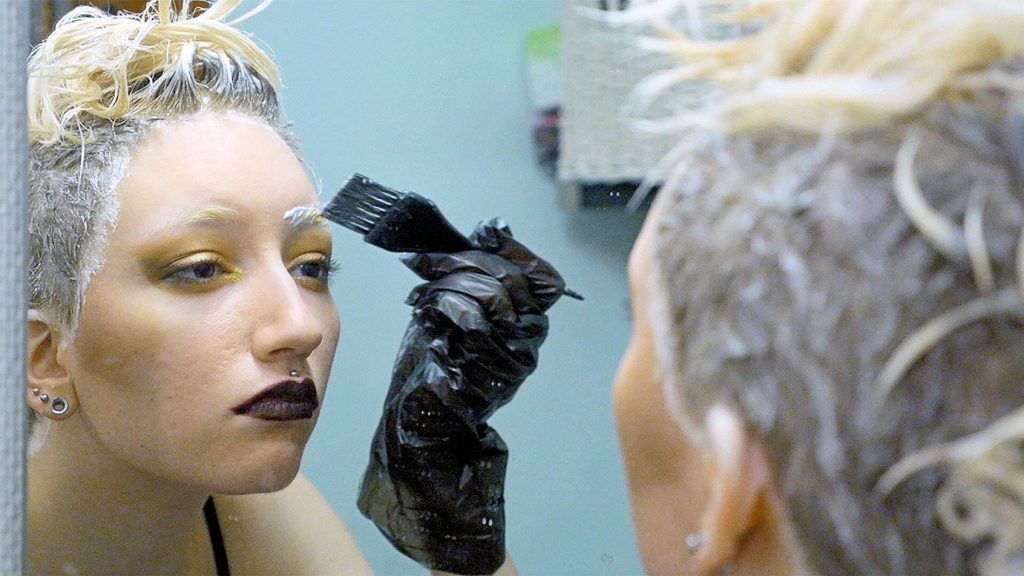 A kaleidoscopic collage of various video formats, Always Amber (Alltid Amber, 2020) beats in synch with the restless hearts of its teenage protagonist.
The buzzing sound of a haircutter is a recurring theme in the Swedish documentary and Berlinale Panorama Dokumente entry Always Amber, where the non-binary teenager Amber keeps shapeshifting through bold hairstyles and make-up. But is Amber truly ready to change beyond that? "How much do I have to change because society doesn't change fast enough?" they wonder while considering gender reassignment surgery at age 17. "I can't change others, I can only change myself".
Told from Burger King booths, bathtubs, and messy kitchens, Always Amber is the story of every teenager, and at the same time, it's really not. "We were two freaks who didn't fit in anywhere, but together we were a great fit", says Amber about Sebastian, the only other non-binary student at their high school. We get to follow Amber and Sebastian's experimental years as part of a new generation of inner-city Stockholm kids, well versed in and open to the notion of fluid gender identities. Filtered through Snapchat, Instagram videos, and observational footage, this punky portrait captures three years of transition, parties, and teenage angst.
Crystallizing their trial and error process of forming a teenage identity through a restless collage of various video formats, the film's experimental style has a strong sense of its own identity. Although the zoomed-in smartphone footage can sometimes feel jarringly grainy on a big screen, the heartfelt message of acceptance always shines through. Through rapid shots of 90's home video footage and a seductive punk rock score by Stockholm-based musician "ShitKid", Always Amber finds its own unique rhythm in synch with the anxious beat of its teenage protagonists.
The production company "Story" has served as a megaphone for talented new voices and a creative force in the Swedish documentary scene for the past twenty years, of which Lia Hietala and Hannah Reinikainen, here at their feature film debut, are emblematic cases. One has a documentary background, and the other comes from theatre and fiction, but they both share an eye for intimate moments while leaving part of the authorship in Amber's social media-savvy hands.
At its best, Always Amber is a tender and unfiltered (save for its own Snapchat filters) love letter to that period of youth where love and friendship mean everything. And while there are moments when the film feels somewhat unsure of where it may be heading, in the end, so does Amber herself. During the Q&A that followed the world premiere at the 70th Berlinale, a spectator thanked the filmmakers "for bringing a normalized perspective" on queerness, as opposed to the way the latter oftentimes traverses films as a mere provocation. It should be acknowledged that some might feel that a part of queerness is about not being normalized, but this idea wasn't brought up in the Q&A. While visits to a transgender care clinic play a part in the film's scaffolding, being heartbroken, smoking cigarettes, finding new friends, and cutting one's hair are just as essential vehicles to queer representation, which the filmmakers themselves seem to have longed for in their own teens.

Cultural Trauma Through the Generations
By Debbie Zhou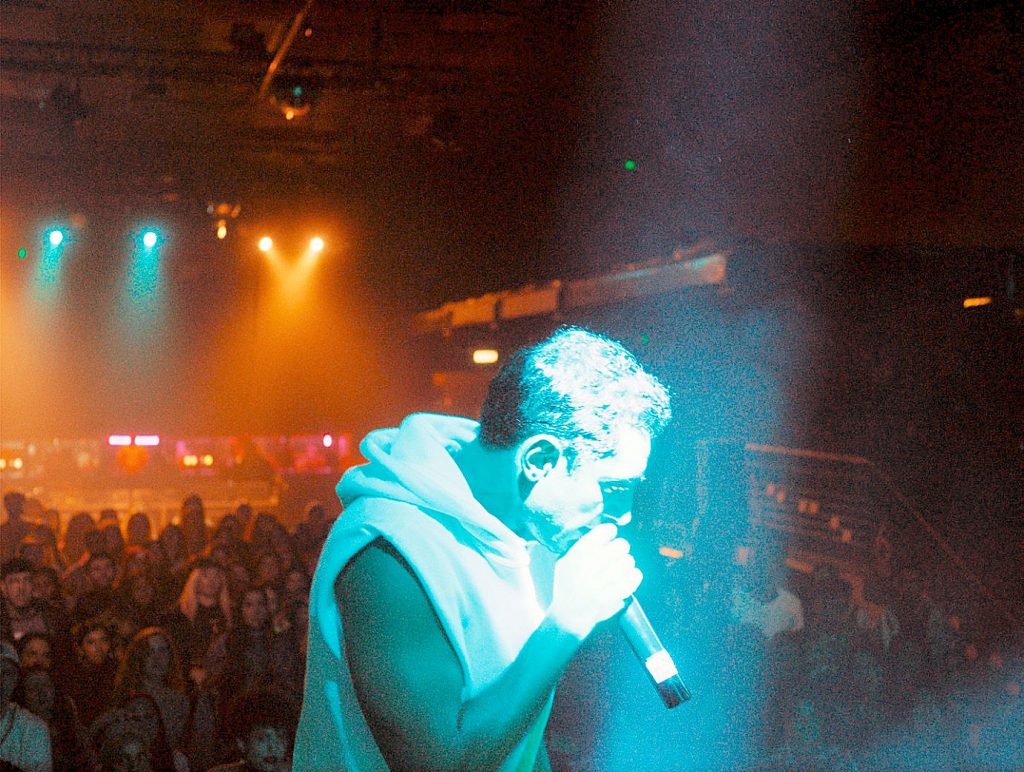 An affecting if somewhat safe family drama, Mogul Mowgli (Mughal Mowgli, 2020) prods into the deeper, darker realms of a traditional father-son relationship.
The effects of cultural divide always come with a story, and often with many sides to it. In Mogul Mowgli, which world premiered at the 70th Berlinale in the Panorama sidebar, actor-rapper Riz Ahmed (Nightcrawler (2014) and one half of the hip-hop group 'Swet Shop Boys') stars in and co-writes an affecting albeit safe family drama that prods into the deeper, darker realms of a traditional father-son relationship. Riddled with cultural misunderstandings and the inter-generational traumas that threaten to widen the rifts between them, the connection between body and mind rip open like a wound.
"They wanna kill us all…this is for the mosque and the mosh pit," raps Zed – a Pakistani-British musician, played by a dazzling Ahmed, who spits out searing words with propulsive rhythms. He's on his way to reach the top of his music career; and the crowd cheers up at him, feeling the words move them in their soul. Zed's integrated into the Western world with his hard-hitting notes as a first-generation immigrant (his real name is Zaheer) – the lyrics of injustice, sadness, and anger cutting through the air. But that same world also led him astray from his own culture and family who helped him form those experiences: the fractures between his mother, who leaves his gifts unopened after six months, and his father (Alyy Khan), who quietly disapproves of his career choice. The diagnosis of Zed's illness – an autoimmune condition that leaves his body and muscles physically impaired – throws up everything he thinks he needs and wants into question, leaving him to relinquish the self-absorption that has clouded his family ties with his own ambition.
Director and co-writer Bassam Tariq, who has primarily worked in the sphere of a documentary, yields his feature directorial debut with a gentle hand — handling the tension of Zed's obsessive desire to create a musical legacy, and his father's more traditional religious rituals and expectations, with an eye for detail. Anika Summerson's camera focuses on the small particulars of Zed's dwindling health; in constant close-up, we see his crooked feet patter the ground, legs, and arms too weak to push himself off the toilet seat, earbuds lying unclaimed on the hospital floor.
As Zed chooses to take part in an experimental therapy that may leave him infertile, the film fluctuates tonally between gritty territory – the consequences of bearing familial disappointment – and a surrealist nightmare – which feature fragments of curly-haired Pakistani mythological figure 'Toba Tek Singh', and rap battles that chew over the cultural appropriation of that musical genre. Paul Davies' immersive sound design, which embeds the clacking, screechy noise of the trains Zed's father found refuge in while fleeing from the Partition of India, blurs childhood memories between father and son to an emotional degree.
It's obvious that the script sketches out Zed's journey from diagnosis-to-recovery as a metaphorical subtext for his own reconciliation with his father's past. And though it comes from a place of personal meaning, it also lends the film an on-the-nose approach. This straightforward physical healing doesn't automatically flesh out a more needed complex reconciliation of Zed's cultural history, and in fact renders its optimistic ending all the more passive and merely illusive. But where the writing lacks in nuance, Ahmed delivers the show-stopping moments: his raps, crackling with bountiful energy, are the heart of the movie.
Where Life Though Joyless Still is Calm
By Adina Glickstein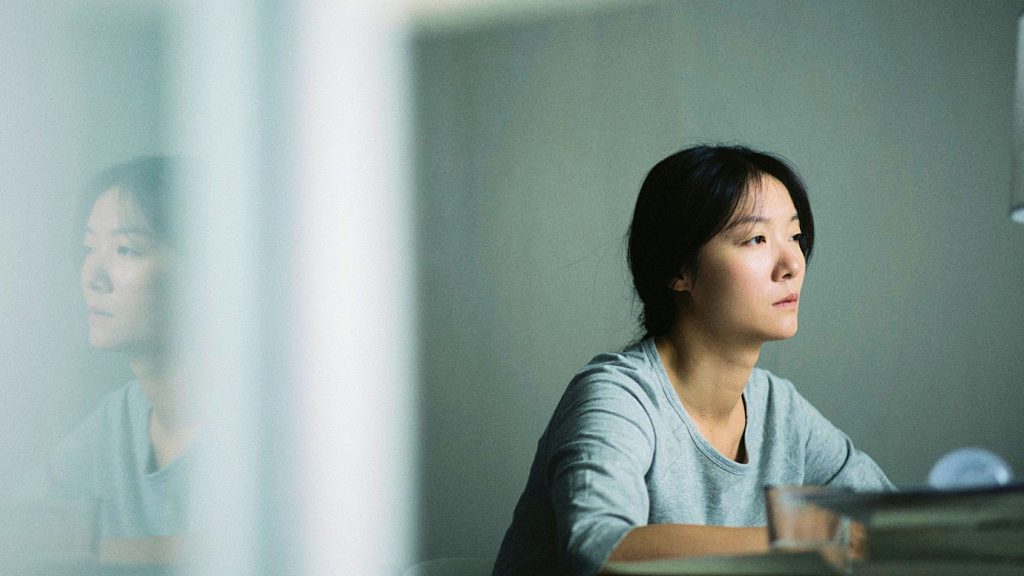 Expansive beyond its 90-minute runtime, Song Fang's The Calming (Ping Jing, 2020) highlights the rarity of drawn-out depictions of feminine anhedonia.
Song Fang's second feature and Berlinale Forum entry The Calming is a drawn-out account of sadness stilling in slow evaporation. Forgoing the sexist fixation on passive female distress, the film foregrounds Lin, a documentarian, recently-single, and fighting through the creative stagnation that appends her affliction. Lin's exterior stays stoic as she travels throughout China, Japan, and Hong Kong to exhibit her latest film, but anguish threatens to crack through the composure she maintains around her parents and professional counterparts. This facade, reiterated by a recurring procession of close-ups, becomes the film's narrative locus: Lin's travels fade into the background as an inner journey – the slow but active re-ignition of her capacity for joy – registers in her face's gradual softening.
At times, The Calming's lingering long-takes test the viewer's attention span—but beyond the default art-house contrivance of Slow Cinema, there's something forceful about this ruthless emphasis. Seemingly expansive beyond its 90-minute runtime, the film highlights the relative rarity of such protracted depictions of feminine anhedonia. The Calming offers slowness as an act of generosity: departing from the tired beats of a conventional break-up film, it prioritizes breathing room overdramatic reckoning. I counted at least six long takes lingering on Lin as she stares out the windows of various cab backseats. By the third of these shots, I noticed a hackneyed pattern, but by the fifth, the change clarified: the accretion of similar shots frames the minutiae of Lin's emotional warming, indexed so subtly in her expressions and mannerisms that their transformation is nearly impossible to detect from one scene to the next.
Just like healing in real-time: only in retrospect, after the pain is afforded space for processing, can we notice its gradual resolution? Near the film's end, Lin sits in a cinema—this time, as a spectator rather than a presenter—a single tear of catharsis on her cheek. We never see what she's watching, just like we never see her bygone boyfriend: the instigators of her tears evade our grasp as Lin remains the sole subject of our witness.
In this insistence, The Calming works towards a new understanding of romantic mourning, recasting a universal ache that's frequently essentialized as "feminine" into a potential route of resistance. In her pop-Lacanian "Sad Girl Theory," Audrey Wollen postulates that the pain so often dismissed by being coded as female demands depiction so that it can be reframed as an active articulation. Wollen's stepmother, Laura Mulvey, diagnosed how women onscreen were once doomed to passivity. Could reimagining girly melancholy as a process of active agency open up more progressive readings of feminine longing onscreen? Closely attending to the mechanics of Lin's emotional upheaval, The Calming seems to suggest this possibility. In all its spaciousness and repetition, it focuses, unrelenting, on the microscopic changes—the affective labor, to borrow that tired term—that constitute active healing. Familiar emotional alchemy, but work nonetheless: in real-time, change feels impossibly slow, but hindsight reveals its totality.

The Line From Past To Present Is a Spiral
By Savina Petkova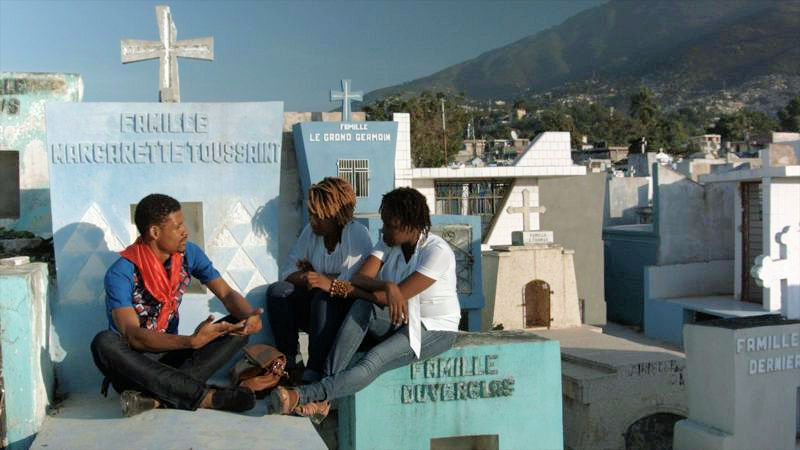 In retrospect, it's easier to structure the past in fragments, consequential entities that encapsulate singular meanings. National past laden with trauma, on the other hand, is highly susceptible to homogenous narratives based on who tells the story. Louis Henderson's Ouvertures (2019) started as an exhibition project, and its film form challenges flat narratives using filmmaking practices reminiscent of Third cinema, combined with sensitive interrogations of Haitian culture. This reflective pilgrimage from France to Haiti does not leave the spectator's mind to wander, as a narrator whispers the words of Toussaint Louverture – leader of the overlooked Haitian revolution – verbatim from his letters, intertwined with quotes from Aimé Césaire. The film's poetic breath is felt throughout, in the brazen unscripted acting, in the immersed handheld camerawork, and in the ghostly presence of the past.
A film deeply embedded in its historical context, Ouvertures maps out a timeline of more than two centuries since the Haitian revolution (1791–1804). However, as a project written and conceived by the Haitian, French, and UK collective The Living and the Dead Ensemble, the film suggests that the present could explicate the tangled relationship with the past. A tripartite structure splits the runtime in equal sections, each one themed and titled separately. The uniting thread is of a slam poetry performance of Édouard Glissant's play "Monsieur Toussaint" after the protagonists have collectively translated it from French to Creole. The camera's attention to the written word in these sequences enhances the film's critical understanding of language in reshaping history. In a similar way, the film's beginning brings historical documents found in the National French Archives up close to the spectator's look, the lines of handwriting brushing against the screen.
For a film that relies heavily on articulation, language difference, and explications of generational trauma, Ouvertures surprises with a tactile, elemental technique of historical retelling. Tracking shots bridge past and present, as they set the pace for history to unfold in the character's dialogues. Shifts between celluloid and digital video make different use of natural light – often seen as if it radiates from human bodies – shadows, and interior lighting. Without conceding to a candid anthropological approach, the camera attends to the materiality of light and darkness in equal measure. The symbol of the spiral is a recurring one that emerges quite naturally in dialogue, it takes physical shape when drawn on the sand, and also becomes historically relevant alluding to Spiralism as an artistic movement and its role of decentering cultural canons.
While nature in its geographical specificity is a recurrent backdrop (the Jura mountains, forests, and the Caribbean ocean), events also spring out of cultural topoi such as Port-au-Prince's streets and cemetery, and the aforementioned National Archives. A mixture rather than a juxtaposition consoles these two stratified locations denounces Western (and colonialist) binaries. Ouvertures advocates for collective ethical engagement in storytelling, one that transcends and transforms time and space, as a spiral does with each swirl.

To Open, To Haunt, To Excavate
By Adina Glickstein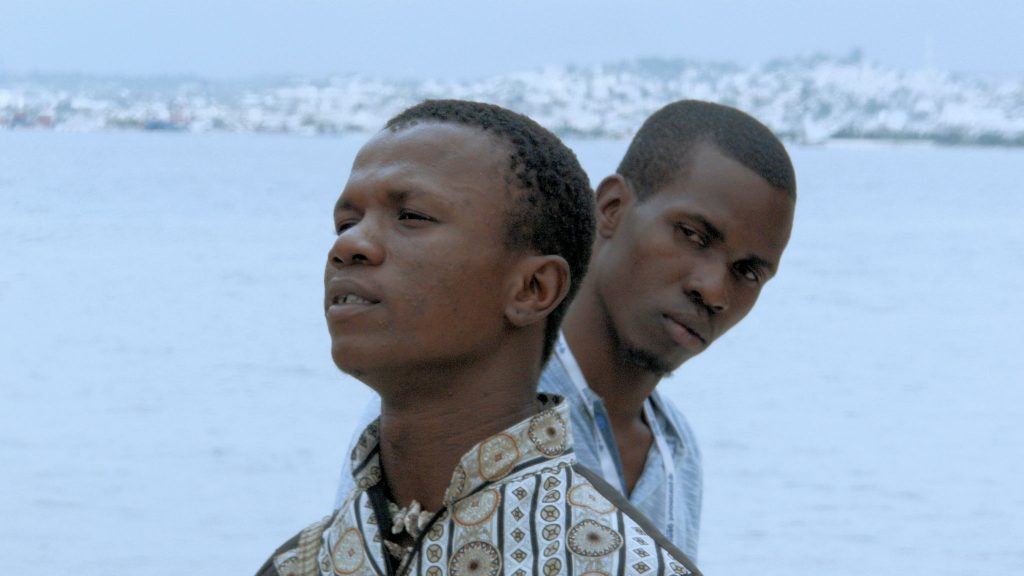 Whispering, glowing, grazing, flashing, dripping. Gentle, vibratory evocations of phantom presence – the camera caresses the cave's organic architecture, running over the rock like the hand that dips into and out of the frame. "This is the work of Memory." Eternal exteriors: snowcaps, cavern, waterfall. Luxurious long fades graft us out of nature and into the world of the rendered, the strange: the landscape morphs, warping into one of digital genesis, the solidity of an evaporated history melting and cascading into data. So goes the overture to Ouvertures (2019), a film produced collaboratively – following the model of free jazz – by The Living and The Dead Ensemble.
Presented as a progression of distinct movements, the film follows the Ensemble as they prepare a Creolized adaptation of Edouard Glissant's Monsieur Touissaint. Glissant's play—first written for the radio in 1959—tells the story of Touissant Louverture, a general who escaped enslavement to lead the victorious Haitian Revolution, but tragically never lived to see his country adopt its Constitution as the first free Black state in the Americas in 1804. Arrested by Napoleon's Army as they attempted to crush the colonial uprising, Louverture perished in exile: extradited by the colonists to the Jura Mountains, he died imprisoned in the frost-bound Alps.
The Ensemble's debates over translation and performance, which serve as the film's narrative quantum, act as a microcosm of the broader questions of postcolonial self-styling that linger in the unresolved questions of Louverture's story. Ensemble members tease out the vestiges of colonial power embedded in Glissant's play, turning a critical eye on the past to interrogate the utility – and, more often, futility – of language in conjuring the troubling thickness of history. In one moment, the camera lingers behind two troupe members as they lament the omission of women in Glissant's work; in another, actors transmute the play's energy into an exchange of freestyle raps. Among the questions that arise in their investigation: what is the utility of leading with one's heritage, of taking it up as an affirmation in a world that, just as in Glissant and Louvertures' before ours, seeks to minimize and violate blackness? Formally, the credited directors' presence is unobtrusive. The film's editing and structure arrange but decline to interject or comment on, the Ensemble's meandering exercises. Following from Trinh T. Minh-Ha's directive for the documentary "not to speak about, but to speak nearby," Ouvertures goes one step further – often, not to speak at all. Here, the film's enigmatic opening is decisive: spacious and sparsely-worded, it lingers on Jura's surface textures, probing for a material trace of Louverture's embodied existence. In moments like these, it communicates through affect what language leaves unsaid. "It's a form of poetic writing that we can't translate literally," argues one performer as the Ensemble works over Glissant's text. The same refrain holds true for the film itself: engaging full sensory spectrum, it brushes up against the outer extremes of meaning, suggesting that the most radical openness toward justice – expansive, inclusive, decolonized – lies at the margins of signification.