Reviews, Part 2
• Kelly Reichardt's Secret Ingredient
By Sadia Khalid
• Friendship That Sticks
By Savina Petkova
• Oh Lord, won't you buy me…?
By Rodrigo Garay
• Negotiating Between Propaganda and the Private
By Maja Korbecka
• A World Without Parents
By Lili Hering
Kelly Reichardt's Secret Ingredient
By Sadia Khalid
Steering away from racial stereotypes, First Cow (2019) conjures a witty and affecting portrait of an unlikely friendship.
Present day. A dog digs out what appears to be a human skull in the middle of a thinning forest in broad daylight. Its owner scurries to investigate, digging up with her bare hands two whole skeletons lying side by side. A quote from William Blake separate the present from the bygone – "The bird a nest, the spider a web, man friendship." Cut to a melancholy Pacific Northwest forest in the 1820s populated by fur trappers, cueing the audiences to brace themselves to learn who the bones belonged to, and how they met their fate.
Kelly Reichardt's Berlinale Competition entry First Cow is an adaptation of the novel The Half-Life by Johnathan Raymond who co-wrote the screenplay with the director. The film follows an unlikely friendship between a reluctant cook, "Cookie" Figowitz, and a Chinese fugitive, King Lu, in the midst of America's competitive fur trade – "soft gold," as it came to be known. A chance encounter leads Cookie to stumble into Lu, naked and trembling in the woods, and the two non-violent strangers instantly connect, sharing a common goal – to survive in a cut-throat world – which transcends cultures and values.
In a realm preoccupied with amassing maximum wealth, the lonely duo set out to make a fortune by selling "Oily Cakes," which Cookie bakes using the stolen milk of the region's first and only cow. Ironically, nobody – not even the cow's owner, Toby Jones' Chief Factor, a wealthy, snooty English businessman – ever suspects the "secret Chinese ingredient" in the cakes to be milk from his own backyard. Astonished that something so tasty can be found in a place so savage, the chief invites the pair to cook for him at a house party, placing ever-mounting orders that push the limits of the small-time entrepreneurs.
The film, which screened in competition and celebrated its European premiere at the Berlin International Film Festival, refreshingly steers away from racial stereotypes. The Chinese protagonist is not superstitious, nor is the American quirky as most East meets West films would have it. Cookie has no problem trusting Lu, even though his past is shrouded in mystery, and it's hard to say whether his backstory is completely fabricated.
There are witty social commentaries throughout the film. The cow's caretaker waits in a long line to buy oily cakes, but the batter finishes before he reaches the front, as if to demonstrate how people with limited means fall short despite their best efforts. Lu is mistaken for a Native American at times, which alludes to how little people knew about other cultures. Even women are scarcely seen in this homogeneous society, where Native Americans only appear as employees to the predominantly white capitalists.
After her 2010 Western Meek's Cutoff, Reichardt continues to reinvent the genre with two highly unorthodox heroes. This slow-paced minimalist film ultimately develops into a metaphor for the American dream reduced to tedious capitalism.
Friendship That Sticks
By Savina Petkova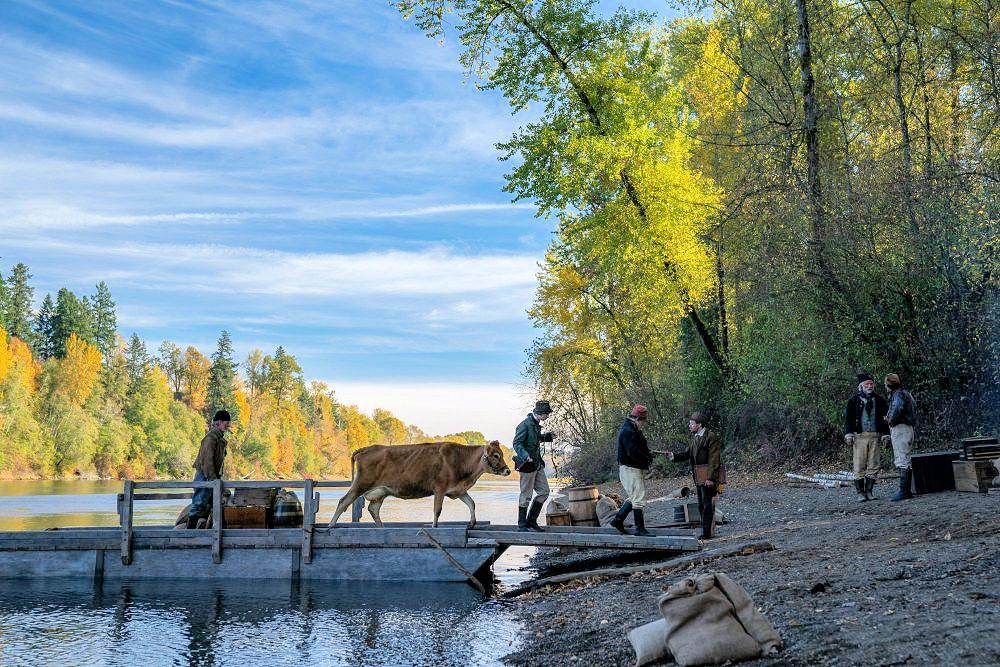 The world of First Cow (2019) is one of enmeshed existences, where solidarity to the other, human or nonhuman, is the key virtue.
At first, fingers slide into wet soil to unearth human bones. A little later, another hand picks up a lizard stuck on its back to reanimate it; that same night, a hand wraps a blanket around a sleeping body. Intimacy of man, animal, and nature permeate Kelly Reichardt's sensory-rich First Cow. After its premiere at Telluride, critics have doubled Reichardt's Berlinale Competition entry up with the contemplative director's 2006 ode to friendship Old Joy. Also set in Oregon, this time in early 19th century, First Cow follows Cookie Figowitz (a seraphic John Magaro) team up with King Lu (Orion Lee) in an affectionate bond based on the shared strive for easy fortune. With persistent tenderness, the film's haptic visuals and sound affect the spectator in a multi-sensory way, and one cannot help but feel (and feel a lot) for those small-time cons, also testifying to Reichardt's command of ethics and political undertones.
The film's aesthetics embody both the serenity and the suspense of the unfolding human relationships, captured brilliantly by longer, static takes. Together with the abundance of close-ups representing touch, the glowing warmth of its yellow and ochre palette beckons the viewer to come nearer still. On the other hand, William Tyler's tender score mingles with amplified natural sounds of fruit picking or mushroom plucking to elicit a palpable, bodily reaction – intensified, the noises allude to taste, smell, and texture. The consistent use of close-ups by Reichardt's regular cinematographer Christopher Blauvelt is both decisive and intimate, as hands are framed milking, kneading, or squeezing a ladder so a friend does not fall off it. A door and a window provide a split-screen effect as King Lu cuts up wood and Cookie tidies up a home that's not his: they are, indeed, nesting. Home, or the lack thereof, seems to unite both men as a traveler and immigrant, so it comes as no surprise when their fortune plan to sell handmade oily cakes at the market prospers greatly. The secret ingredient, milk, is also alluded to be "a little taste of home", furthering the recurring motif of togetherness against all odds.
In a spectacular long take the camera floats along tracking a raft that turns all the heads of the town, and the epicenter of attention is not the rowing human, but the titular first cow in the land. The foreign creature's bovine beauty is emphasized through faint glimmers of golden light that make its silhouette glow. What can be considered somewhat beatific, the filmmaker's attention to the animal is as far from fetishism as it can get. Reichardt is conscious of the risk of paring down animals to metaphors and instead pays homage to them precisely as nonhuman animals. Cookie addresses the cow while he milks it, and after a while the caring timbre of his whisper is rewarded with reciprocal signs of attention from the animal in one of the film's points of tension. Solidarity and attentiveness to the other, be it human or nonhuman, is the key virtue one should take away from this film. The world of First Cow is one of enmeshed existences, as the opening quote by William Blake reads over the screen's blackness: "The bird a nest, the spider a web, man friendship".
Oh Lord, won't you buy me…?
By Rodrigo Garay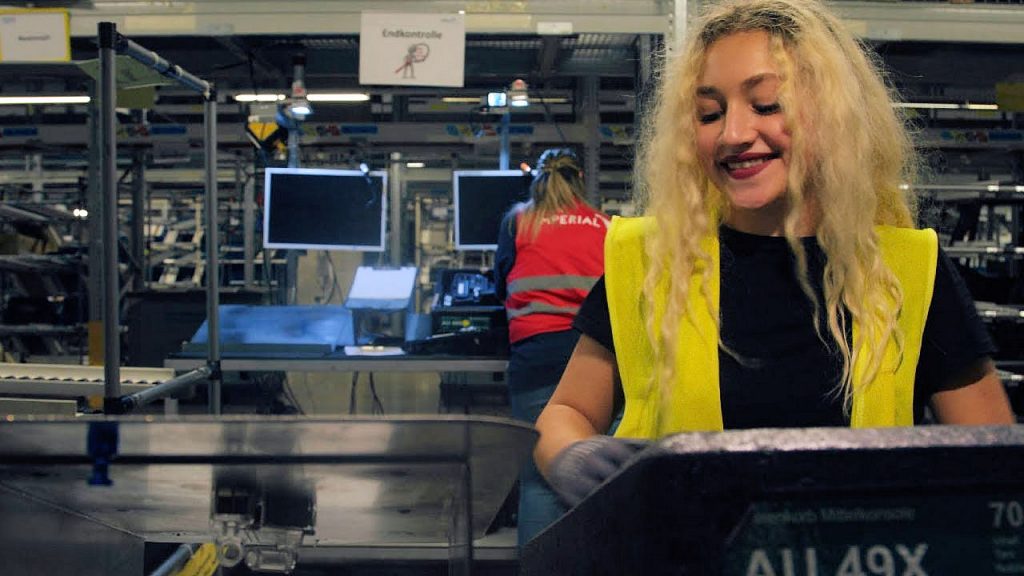 Jonas Heldt's Automotive (2020) touches on the notion of desire fading away, yielding to functionality and utilitarianism.
It is an era of huge technological advancements, and Germany is getting ready to incorporate more and more automated machinery to substitute at least 10% of all jobs in the car industry. Jonas Heldt's Automotive, screened in the Berlinale's Perspektive Deutsches Kino's program, features two women with opposing relationships to the Audi factory's ecosystem in the midst of a fuel crisis. One's lifestyle entirely depends on the other's decisions – and they don't even know each other. Their lives are a clear representation of a world torn between two eternal forces: labor and desire.
Desire, your name is Sedanur:
You're a twenty-year-old factory worker who swears would never be able to work in an office because it's boring. You're loquacious and happy. Naive and full of hope. One day you'd like to buy Janis Joplin's dream car, or have your own place to feel successful. For someone who seems to really enjoy the taxing hours spent in front of an assembly line without even having a proper contract, you're barely ready to face the change to come in the European industrial environment. Machines are taking over. You're about to be left with nothing but your charm and your laughter and your family because your job doesn't need you anymore.
Labor, your name is Eva:
You're a thirty-three-year-old headhunter looking for the sharpest candidate to complete automation in your factory. You're tireless and effective. Focused and strong-willed. You don't mind working in an office, won't even bother to take your AirPods off when you're in frame for an interview. You get things done so that when your position becomes disposable, you'll already be swimming in money. Labor nurtures a system that never stops, and your hand is the tool that enforces its evolution.
As any marketing campaign or Marxist psychoanalyst would tell you, desire plays a key part in the capitalist structure. Were it not for people like Sedanur and their constant thirst for new cars, clothes and pretty toys, the big architects like Eva would have nothing to do. Through split sequences and very obvious comparisons of the two characters' lifestyles, the documentary showcases how the role of human emotion is being pressured into an uncomfortable spot for these two women's generation. One plays along, the other is the odd one out. Automotive touches on the notion of desire fading away, ceding its way to total functionality and utilitarianism.
The movie also cheekily shows there was a time in which both desire and labor flowed more less together in harmony. In some of the most unexpected moments in an otherwise conventional and to-the-point slice-of-life documentary, the editing goes back in time to show archival footage from factory workers at the Ingolstadt Audi factory fifty or sixty years ago, well-integrated into silly social interactions (like office exercise routines), and joyfully demonstrating a collective spirit. No such thing as robots or artificial intelligence back then.
The comparison with modern times is brutal. The smooth dolly shots in the film's later parts, slowly sweeping past spaces populated by robots minding their own business, serve as an eerie reminder that cinema itself is the work of a machine. The moving image is before us thanks to the workings of a projector – not exactly the craft of humans anymore. For a brief moment during my watch of Automotive, I saw myself at the mercy of the automaton, too.

Negotiating Between Propaganda and the Private
By Maja Korbecka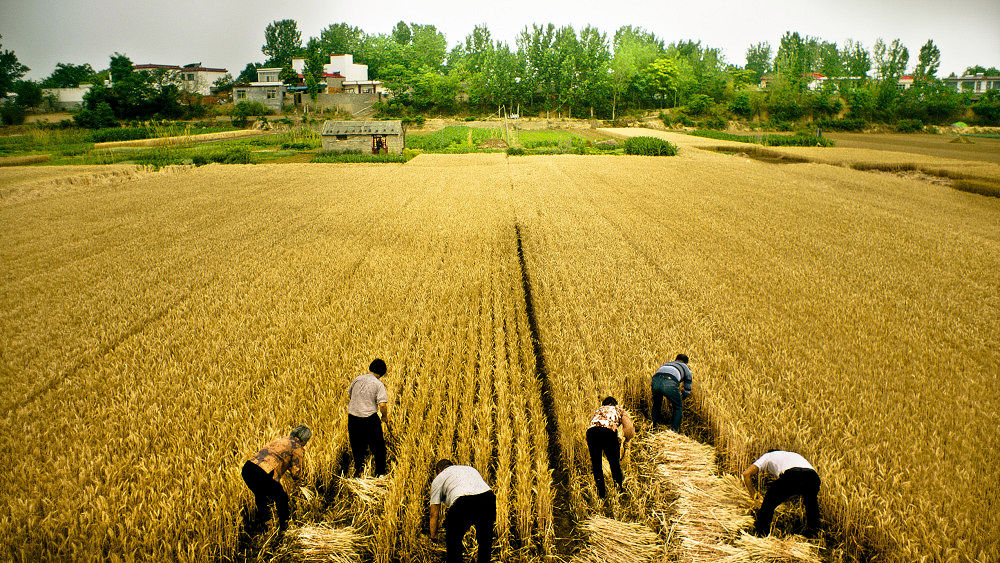 Jia Zhangke's latest offers a deep dive into personal memories within the tissue of state-sanctioned fiction.
At first, Jia Zhangke's Swimming Out Till the Sea Turns Blue (Yi zhi you dao hai shui bian lan, 2020) seems to embrace a talking-heads documentary set-up in the director's home province of Shanxi. The film, which screened in the Berlinale Special sidebar, follows Jia's career-long mission to give a cinematic account of unofficial history based on common people's memory. That said, blasting compositions by Shostakovich and Rachmaninov to score majestic shots of Chinese farmland strikes as an odd choice. How should one make sense of such extreme contrasts?
Split into 18 chapters, Swimming Out Till the Sea Turns Blue offers a chronicle of China's contemporary history as told by several inhabitants of Jia's Family Village. Among them, the daughter of a key local activist and intellectual Ma Feng, as well as three contemporary writers of different generations: Jia Pingwa (b.1952, Shaanxi), Yu Hua (b.1960, Zhejiang) and Liang Hong (b.1973, Henan). Seventy years of Chinese history spanning from the civil war years up until the capitalist reforms offer a fragmented, complex portrait of a whole nation.
Visually, the film offers a perceptive account of the contemporary Chinese reality, where a multifaceted sense of progress allows brand sneakers to coexist with traditional Chinese opera and Tomb-Sweeping celebrations. Rapid editing of footage recorded at a literary festival makes the film come dangerously close to a promotional video commissioned by the provincial government. But Swimming Out Till the Sea Turns Blue is the outcome of difficult negotiations, and a filmmaker's own aspirations that exceed film art – which prompts us to interpret it in a context that goes beyond reviews preoccupied by and large with the film's monotonous rhythms.
Although the narrative is fragmented, the common epic thread of homecoming and celebration of localism brings to mind the Chinese propaganda concept of "main melody": a state-sanctioned narrative approach that pivots on national pride, affirmed through shared difficulties and suffering, which are eventually overcome. It is an idea that infuses all genres and characterizes some of the highest-grossing Chinese blockbusters of 2019, such as The Wandering Earth (Liu lang di qiu) or My people, my country (Wo He Wo De Zu Guo).
Despite the pressures of main melody filmmaking, Swimming Out Till the Sea Turns Blue ends with a crack that destroys the illusion and breaks the narrative continuity of the fictional world. A final glitch in the presumably true documentary narrative reveals the rebellious spirit buried deep into the main melody scaffolding. Even as it engages with state-approved storytelling, Jia's filmmaking still refuses to lie.
A World Without Parents
By Lili Hering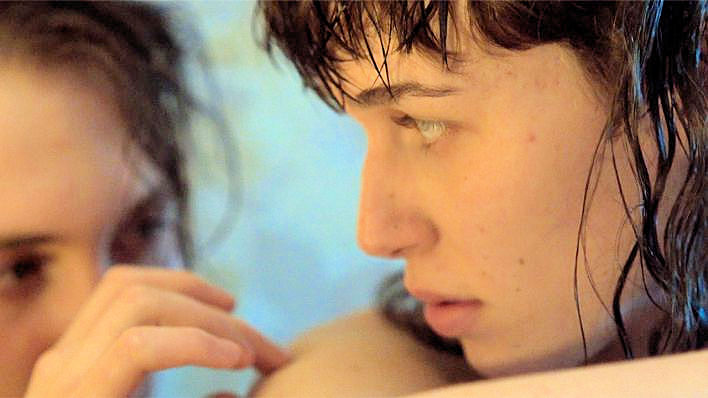 In Melanie Waelde's Nacked Animals (Nackte Tiere, 2020), a group of teens inhabits a world where adults are evanescent presences.
A world without parents, where only the children remain – would that be a scary or a better place? Screened in the 70th Berlinale's Encounters sidebar, Melanie Waelde's Nacked Animals conflates the freedom of such scenario with its solitude, the easement with desperation. In her savage debut film, a group of young people in their late teenage years grapple with most urgent questions – where do I want to go from here? And how do I leave?
Katja, Sascha, Benni, Schöller, and Laila spend their last winter holidays together before graduation. Nacked Animals, which translates to Naked Animals, is set in the middle of an unidentified somewhere – neither a village nor a town, in the midst of a featureless, dull countryside on the outskirts of Berlin. They live on their own, in a decrepit apartment filled with sleeping bags and cushions for the odd friend in need of a place to stay. Some of the absent parents play a minor role in their respective homes, while others are never talked about (and never missed either, as Katja herself puts it). The film shares the confines of the teenagers' flat. Around them, violence always lingers: from the film's opening shot, where Katja trains jiu-jitsu, to her savage friendship with Sascha, and the wounds they all carry – be they from abuse at home, accidents, or wrestling. Feelings are rarely expressed through words, but on the protagonists' bodies.
Shot in a near-square 6:5 format and mostly in close shots, the film enforces a physical intimacy that its characters cannot hold up to emotionally. In alternate shifts, they take care of Benni – prone to self-harm – share the same rooms, beds and bathtub, but find no way to articulate their feelings. If they have to stick together, it is not only to be in one frame. The story is told from Katja's perspective, acting as the group leader, and Marie Tragousti's performance oscillates between her self-assertion through physical strength and her fear of scaring everyone away with it.
The young cast (Sammy Scheuritzel, Luna Schaller, Paul Michael Stiehler, Michelangelo Fortuzzi) delivers a remarkable ensemble play, painting a gripping portrait in pointed, parse dialogue. The palpating camera work and delicate set design create a raw coming-of-age, an atmosphere of neglect bathed in greys and blues that stand at the other end of the color spectrum of Leonie Krippendorff's Cocoon (Kokon, 2020) the opening film of this year's Generation section, a yellow-lit, sun-filled chronicle of one Berlin summer. By contrast, Nacked Animals unspools as a winter tale, drenched in an all-encompassing tristesse leading to what may – possibly, hopefully – lead to a brighter season.
As a group, Waelde's teens are a herd of naked animals: no fur or feathers to protect them, only their bare skin. They survive as a pack, caring for each other's wounds, whether a cut or a broken heart. Someone is always bleeding, all bodies are being harmed: they serve as vehicles to confront life as well as shells the teens have built up, and cages for past traumas. When two classes are canceled and Katja must wait outside the school, her friend goes: "I have a car," hinting at a possible journey. She replies: "But I have nowhere to go." The only option she sees for herself is to leave the place behind – and her own herd, too.