Festival International du Film, Cannes 2023
France, May 16 - May 27 2023
Festival homepage
Awarded films
The Zone Of Interest by Jonathan Glazer


(USA, UK, Poland, 2023, 105 min)

The Settlers by Felipe Gálvez Haberle


(Chili, Argentina, France, Taiwan, UK, Denmark, Sweden, Germany, 2023, 97 min)

Power Alley by Lillah Halla


(Brasil, Uruguay, France, 2023, 92 min)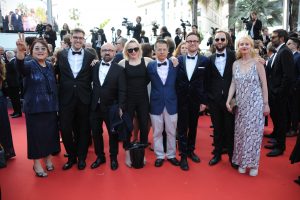 The Award Ceremony took place on Saturday, May 27, at 3:30 pm (15:30 h CEST) at Les Ambassadeurs, inside the Palais des Festivals. We did the ceremony together with our colleagues of the Ecumenical Jury. 
The jury of the International Federation of Film Critics awarded the FIPRESCI Prize to the following films presented at the 76th Cannes Film Festival.
International Competition: The Zone of Interest
"for its formal radicality, the complexity of the sound and score, and its contrast between the invisible atrocities behind the wall and a supposed paradise. By presenting the horror as something usual, and using everyday dialogues, it's a reflection on ignorance as a disease that connects the past with the present."
Un Certain Regard: The Settlers (Los Colonos)
"due to its skillful storytelling, which sheds light on significant and often overlooked socio-political conflicts inherent in the history of Latin American colonization, and its distinct approach to its theme through its filmmaking style."
Directors' Fortnight & Critics' Week: Power Alley (Levante)
"Combined with compelling performances, vibrant editing, engaging music, and a thrilling narrative, this film is making the point that abortion rights are human rights."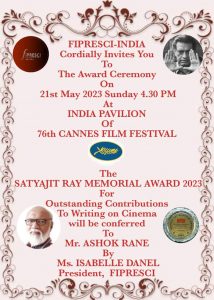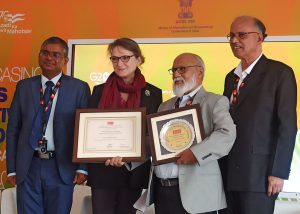 Our Indian colleague Ashok Rane received the FIPRESCI-India Satyajit Ray Memorial Award 2023 from Isabelle Danel, President of FIPRESCI, on 21st May 2023 at the India Pavilion of the 76th Cannes Film Festival.