The cinema should tell stories by images. The cinema is not dialogue with images, but images occasionally accompany some dialogue. If one wants to rely on lots of dialogue to drive the plot, one should write a novel or essay. Each medium has its own particular strength. Literary dialogues are novels; images, stripped of all subtitles, can tell stories by images themselves. Cinema is an independent stand-alone art, not attached to words. And several masters in film history have already perfectly demonstrated such.
The second standard is what Jin Yong (greatest Chinese martial-arts novel writer of all time) said: "The Tao of nature is to damage the excess while to make up for the insufficiency. Therefore, the emptiness prevails over the concreteness, and the insufficiency prevails over the excess." For the same amplitude of emotional expression, shorter works present more artistic capability for summarizing the essence of life. Longer works must be sustained by corresponding complexities. Longing for more is much better than verbiage.
From the above two criteria, I am happy to recommend Wim Wenders' new work Perfect Days. Perfect Days, written by Japanese playwright Takuma Takasaki, tells the story of a toilet cleaner played by Koji Yakusho, who enjoys a lonely life in the hustle and bustle of metropolitan Tokyo. The toilet cleaner leads a plain and simple ritual life like a Zen spiritual practitioner. He has his own interests, such as planting flowers, taking pictures, and reading books in his spare time after humble labor work, without seeking understanding from others. (Although he cries when he thinks of a dear father and sister who do not really understand him.) Facing the blandness and repetition of the trivial toilet work with smiles (other people could not endure such banality. A young colleague quit the job soon after starting), Yakusho practices his own philosophy, "Now is now, and next time is next time." No matter how the outside world changes, I can choose my own way and enjoy my own life.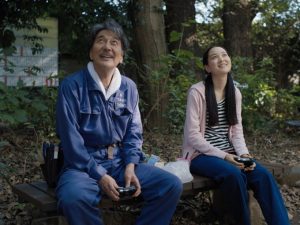 In modern Tokyo, Yakusho only uses simple non-smart phones, non-digital film cameras, listens to old songs on almost-disappearing cassettes, reads cheap second-hand printed books, cleans tatami mats the ancient way by scattering soaked and balled-up newspapers on all sides to absorb dust, and wipes dirty toilets with hand-held rags without remote tools. Like the Buddhism-dharma lifestyle "to live in the very moment," "less is more" is actually the answer to many questions.
After all these 39 years, Wim Wenders made the Japanese version of Paris, Texas. This version is more mature, comfortable and content in itself, and has reached a higher level.
Perfect Days manifests the essentiality and purity of art at the same time. Compared with Perfect Days, other works seem long-winded and kitsch. Taking Fallen Leaves by Aki Kaurismaki as an example, another excellent work that I also love, the bridge plots seemed artificially deliberated, and the traces of chiseling were heavy. The sweet and unrealistic happy ending destroyed the whole work and downgraded Fallen Leaves to a fairy tale.
Wim Wenders can still perform outstandingly in his autumn age. In my opinion, Perfect Days can be recognized as Wenders' lifetime masterpiece. I am full of joy to recommend such a pure work of art to everyone.
Hsin Wang
Edited by Robert Horton
© FIPRESCI 2023