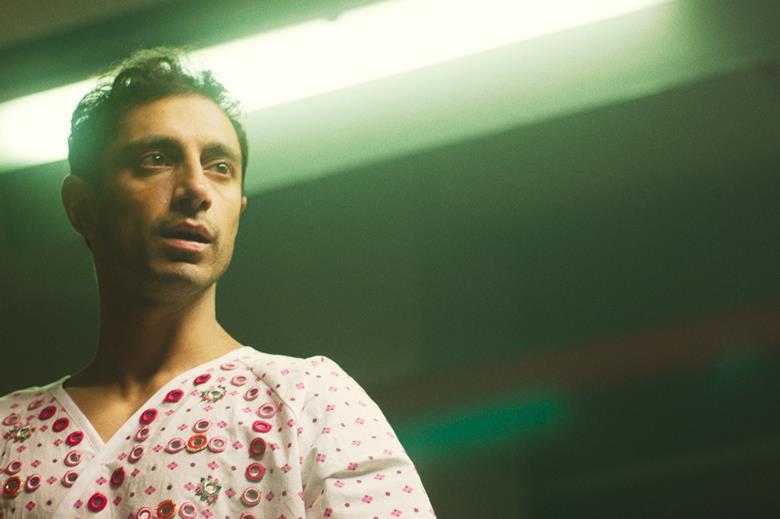 Riz Ahmed produces, co-writes and stars in Mogul Mowgli, the debut feature by director Bassam Tariq, tackling one of the subjects that concern him most personally: the relationship people who have grown up far from their country have with their origins – having been educated in a different tradition, but with a strong influence of their cultural and religious heritage.
The reflection is conveyed by a plot that tells the story of Zed, a rap singer, British of Pakistani descent, who after a protracted career finally begins to have the fame he longs for. About to begin an important tour, he returns from New York to London to visit his parents, after an absence of two years. The presentation of the character takes place in the middle of a concert, in which the lyrics of his songs describe his deep concern about the difficulty of establishing his own identity and the conflict between remaining faithful to his community on one hand and getting rid of the burden to reaffirm his individual personality on the other, moving away from the identity traits that oppress him and prevent him from growing personally and professionally.
After saying goodbye to New York and his girlfriend, Zed returns to London, to the family home and to his boyhood room, where he literally explores his memories and his past, appearing then as the elements that throughout the film will torment him, either directly or through feverish delusions.
Along with his first recordings as a singer, the protagonist rescues the merchandising that reveals his father's entrepreneurial efforts and his difficulties in acquiring a position. However, it will be a cassette with religious songs by Toba Tek Singh, whose cover is a photograph of the legendary saint of the Sihk community, which will take on a symbolism that runs through the film in dreamlike and delirious scenes, as a representation of the unbearable weight of tradition. 
In a descriptive sequence, the family reunion with uncles and cousins also serves to establish Zed's position in his family and in the world, evidencing the great distance that separates them. Unexpectedly, after a violent incident outside a club, Zed, who was suffering from a strange discomfort in his legs, discovers that he is suffering from a degenerative condition. The immediate admission to the hospital and the pessimistic news about the illness plunge his parents into despair, resorting to healers and shamans as treatment.
The scientific alternative in the cure of the illness implies the risk of sterility, which adds a new factor of mentality shock. Meanwhile, Zed, with his diminished strength and confused loyalties at a time of great vulnerability, lets himself be carried away by his parents and their way of dealing with the disease. The script brings a valuable new element (which could have been better exploited), when the singer's agent proposes another artist as a substitute on the tour. Considering the enormous significance of this appointment for the rap singer's career and the marked personality of his compositions, which are much deeper reflections than the lyrics of songs performed by his colleagues, Zed faces a shock when he has to hand over the baton to a superficial singer, all pose and the opposite of himself, when, in addition, he is asked to cede one of his most emblematic songs to him.
To the different linguistic codes and customs that confront him with his family and community, Zed adds his particular way of approaching the vindication of his own individuality, through artistic creation, which in turn separates him from his fellow artists.
This new contribution is significant, because it goes beyond the concept of conflict with cultural heritage, to broaden it with an artistic-ideological conflict. Riz Ahmed and Bassam Tariq demonstrate that the problems are not caused by belonging to a particular community (Pakistani) but to any community with which we do not identify (and above all, that does not respect us as individuals). Just as being of Pakistani descent does not make us Pakistani, being educated in Britain does not make us British and singing rap does not make you a member of that musical community, in case your work does not reproduce all the generally accepted codes in that kind of music.
Mogul Mowgli is a hymn to the right to personal individuality, to choose one's own identity, which is intoned from the deep despair of the illness that devastates us, from the absolute powerlessness before our own body and the need to make decisions when you feel most helpless.
The film shows that running away is not a solution. When Zed sets out on his musical career, he thinks he has left behind the obstacles that have prevented him from growing up, but life shows him that the task is not finished. It offers him a second chance to deal satisfactorily with his background and real maturity, finally determining who he is and what the healthiest relationship is he can have with his family and his roots.
Bassam Tariq shows in his film debut a determined hand in his narrative, especially with the use of music with a purpose, and an intensity worthy of a mature director to face a story that is classical in its subject matter, but contemporary in its treatment, to which he brings, with his personal approach, a renewed interest.
Eva Peydró
© FIPRESCI 2020
Edited by Karsten Kastelan