Reviews Part 1
• A Kingdom Crumbles in "Northern Skies over Empty Space"
By Fabiola Santiago
• The Importance of Being Julius
By Kayode Faniyi
• A Punch, an Eye, and the Sweet Cycle of Loops
By Łukasz Mańkowski
• Dwelling on Touch
By Mariona Borrull
• Queer as Form: Politics of Forgetfulness in Gustavo Vinagre's "Três Tigres Tristes"
By Öykü Sofuoğlu
• Remembering the Past, Without Repeating It
By Rebecka Bülow
• Taking the World to Berlin
By Susana Bessa
• "Die Gregors" Charms But Lacks Formal Risks The Film's Subjects Championed
By Will DiGravio
A Kingdom Crumbles in "Northern Skies over Empty Space"
Borrowing tropes from the western genre, Márquez Abella's film questions and disarms hegemonic notions and cinematic forms.
By Fabiola Santiago

There's nothing new: the mesquite and dust will stay the same once we'll vanish from the desert. A blast (or the edge of a knife, or a lie, or fire) will pierce through the air and sparkle a hasty but inevitable ending, like everything else ever created by men.
After Semana Santa (2015) and The Good Girls (2018)—both unveiled at the Toronto International Film Festival—Mexican director Alejandra Márquez Abella screened her latest, Northern Skies Over Empty Space, in the Panorama section of the 2022 Berlinale. Borrowing tropes from the western genre, the movie questions and disarms several hegemonic notions, from patriarchy to masculinity, as well as cinematic forms.
The view of the northern Mexican ranch is seen through Rosa's (Paloma Petra) ever-alert eyes; she is the housekeeper and field manager, and the air above her crackles with danger. She's the one who knows and watches the land, but this belongs to an old hunter named Reynaldo (Gerardo Trejoluna), who is adored by other men and revered as the ultimate boss of this little Kingdom, now celebrating its 20th anniversary. Northern Skies was inspired by the real-life story of a businessman who defended his ranch from criminals, a narrative that was widely praised by the media at the time, and celebrated as a heroic act.
What, however, is the price of heroism? Is it one worth paying? And on what principles is masculinity even based? The movie disputes the canon and the ties that bind these tense atmospheres by juxtaposing the warmth of the fields with a haunting soundtrack. By building a sequence that unspools like a kaleidoscope of repeated moments, Marquez' directing and Claudia Becerril's cinematography create unbearably tense moments where Don Rey and Rosa's power relationship begins to crumble.
It is not surprising that a story that took place along the border between Mexico and the US should boast so many western cinematic themes. The identity and social conflicts this side of Mexico are very specific; the Northerners boast about being "self-made". In a hot and infertile land, their settlers founded villages that became industrial or cattle cities. And the region is close to the United States, a country that glorifies cowboys and turns them into heroes through reverse shots that anticipate duels. But the many animals dotting the film, (like goats, toads and cows, often framed in tight shots) seem oblivious to the values embraced by the main—human— characters. When the villain arrives in his truck, ruining a family celebration, borders begin to blur, like those keeping bosses and employees apart.
Unsurprisingly, recurring tropes in Mexican cinema stand out, such as family or drug-related violence. But a more careful reading shows that the film also questions the representations of that cinematic hegemony. Márquez Abella is well-known in Mexico for speaking up about the hegemony of the male gaze over the feminine. Unlike other movies that exploit the female body in order to codify the machismo, Northern Skies points to the fragility at the heart of the macho dogma: a hunter with poor eyesight, an heir with no interest in the legacy, a reign to be served and protected. While other directors choose to give female domestic workers an almost ornamental role, here Rosa owns her voice, intuition, and gaze, even though her employers have her dressed in a uniform and talk about her as if she wasn't there. She is a character with lights and shadows who doesn't aspire to be like family. Her affections and loyalties give her a complexity far removed from stereotypical polarizations.
When the image breaks up into parts and we face another decisive moment, it's the bond between Rosa and Rey that prevails. Is it even possible for them to have a connection stronger than blood? How far can a man go to defend his honor? Every certainty will shatter in the northern hollow. A blast will pierce the air while insects and mesquite will witness new endings.
The Importance of Being Julius
While it has become something of a cliché to say that nothing happens in modern stories, "Axiom" breathes new life into a trite commonplace.
By Kayode Faniyi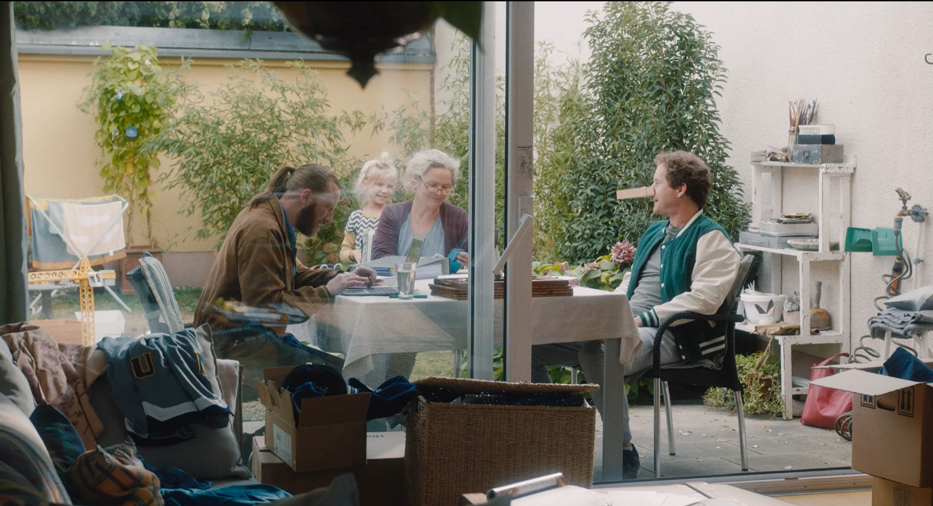 Halfway through director Jöns Jönsson's Axiom, the film's earnest protagonist, Julius (Moritz Treuenfels), is sitting at a table with his brother Franz. We have an inkling of Franz's skeptical disinterest in his brother—Julius has just pulled off several incredible fictions for what appears to be no reason at all. His mother sits at the table too, smiling, the embarrassment of an awkward encounter with Julius' friends—also the result of a particularly consequential fabrication—momentarily forgotten. Julius is playing with his niece and, by sticking a narrow box onto his nose, is transformed into Pinocchio, the classical symbol of lying.
By Jönsson's own admission, Axiom is full of similar visual references. One scene is ripped directly from Nuri Bilge Ceylan's Once Upon a Time in Anatolia, while the film's theological and philosophical preoccupations are borrowed—per Jönsson—from The Brothers Karamazov, the last of Fyodor Dostoevsky's sprawling epics. But visual cuteness or solid literary grounding does little to obscure the film's fatal flaw: we learn nothing about Julius's preoccupation with realistic fiction that we did not already know 30 minutes in.
Instead, we are subjected to a game of hide-and-seek: who else will discover Julius's peculiar pathology? And what will happen? At first glance, Julius is an affable young intellectual whose sophisticated upbringing and wealth of worldly experience appear to imbue his personality with magnetism. Soon enough, the veneer is stripped away and we—alongside a succession of characters in the film—discover that this experience is an affectation, or at best vicarious. Julius, audience and character alike discover, is a sponge, capable, like bacteria, of recombination: the DNA of one experience is transferred from one situation to the next willy-nilly.
As they unfold, these discoveries never seem to elicit any self-examination from Julius. What the source of his narcissism is, and why he goes to these lengths to exert whatever modicum of control he can over his surroundings, remains a mystery. Is the film zeroing in on the continual malaise of being unexceptional and average in today's world? That Julius is aware of his own neurosis is axiomatic, and nothing happens that seems seismic enough to shake this assumption. Julius will not attempt absolution or redemption, and so he will neither succeed nor fail at it. We cannot laugh at him or pity him. He is pathetic, but we cannot be appalled either.
In that sense, Julius is a metaphor for the film itself. It seems content to just be, to ask nothing of us but our credulity. Brave. In an unwittingly uncanny twist, Axiom makes Franzes of us all: we simply will not engage with an impostor. While it has become something of a cliché to say that nothing happens in modern stories, and while the cliché itself can be emblematic of a lazy disposition towards criticism, Axiom breathes new life into a trite commonplace.
A Punch, an Eye, and the Sweet Cycle of Loops
Shō Miyake's meditative "Small, Slow, But Steady" glances at small, quotidian rituals in the life of a deaf boxer.
By Łukasz Mańkowski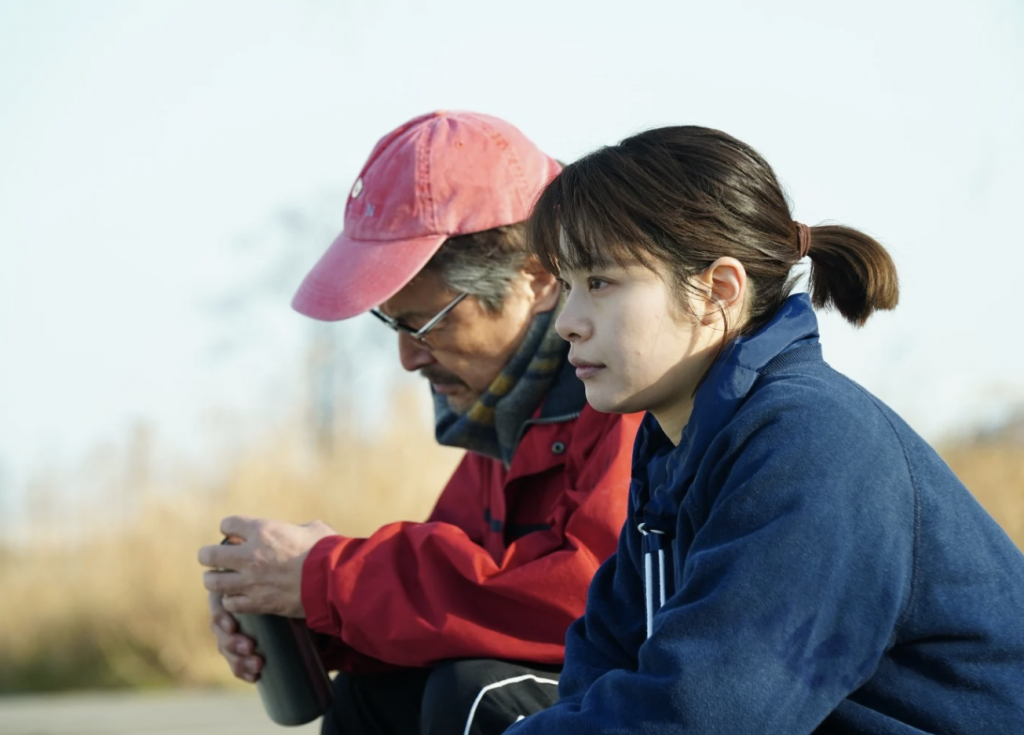 Japanese director Shō Miyake returns to the Berlinale with Small, Slow But Steady (Keiko, me wo sumasete) premiering in the Encounters section, a look at the everyday life of a deaf boxer, Keiko (Yukino Kishii). Much like And Your Birds Can Sing (unveiled in the Forum section at the 2019 Berlinale), which captured the ephemerality of youth via the tale of three friends gone adrift in Hokkaido's harbor town, Miyake's latest also pivots on a very specific locale—a boxing club soon to be demolished. Set in Tokyo's Arakawa district where Ozu shot Tokyo Story, albeit seven decades later during the COVID-19 pandemic, the film glances at small, quotidian things—conversations, daily routines, and one's will to never give up.
Loosely based on "Makenaide" ("Don't Give Up"), a 2011 novel by Keiko Ogasawara, the first hearing-impaired professional woman boxer in Japan, Miyake's narrative unravels as the slow-core image of Keiko being entangled in her daily routines. Miyake lingers on the loops of the mundane; Keiko rotates back and forth—between writing in her diary, heading to the training sessions, working at a hotel as a cleaner, with a shortstop for the match she wins, and daily interactions with her coaches and brother. The routines become a focal point for the film's rhythm—anchoring in the musicality of boxing practice, recurring glimpses of the Arakawa neighborhood or Keiko's daily interactions, Miyake meditates on the nature of transience through a modern lens.
Indeed, the narrative seems to go nowhere. We indulge in the here-and-now, reflecting on the beauty that comes with the graininess of the image and pensive layer of audiovisual textures. The sounds of the words flowing onto the diary's pages with a scratch of the pen; the punches floating in the air with the repetitive thuds of a jumping rope hitting the floor; the arrangements are done to the distant shimmering of the AC in the hotel; or the textures of 16mm filling the air with a dusty feeling—it's all tangible but somewhat fragile; the tactility of the objects is there, included in the loops of many imperfections. The film becomes all about the experience, feeling the surface, breathing the dust in, soaking in a meditative pace.
Such depiction might remind one of Ozu—another nod to the classic era are the dialogues captioned in a way silent cinema did—but the ambiance-focused snapshots of the interactions and the film's visual layer resemble Hiroshi Ishikawa's urban loneliness drama tokyo.sora. This is because Miyake, too, uses the image of the city as his vessel—similarly as in his And Your Birds Can Sing—to capture the rhythm of urban changes and those who observe them. The sounds of the city's spatiality form a detached moodscape. There is always some noise in the background, whether the relentless traffic, the cacophony of construction sites, or the flowing of the Ara River.
The change echoes in everyday life, too. The representation of the hearing-impaired in the film—a question mark above Miyake's choice, as his concern doesn't necessarily revolve around the notions of agency or the lack of it, but he includes, in fact, deaf actors in one non-dubbed scene—speaks to communication struggles in a post-pandemic world. With the face masks on, we're gazing at life in an even more oculocentric way. It's the culture of the eye with the sign language seemingly morphing into a newly-found gem for the filmmakers: one can see this in Hamaguchi's Drive My Car or in another Berlinale world premiere from this year, Hong Sangsoo's The Novelist's Film.
Miyake doesn't offer clear answers as to where one should seek solace. His way of portraying the simplicity with which people can learn from each other yields its own kind of solace. Whether Keiko wins the match or not, what's important is the experience of the effort itself, the journey she ventures on to get there, the beauty of the moments she sees, and the togetherness that we all should strive for. Is it too idealistic? Too shallow or naive? Perhaps. But it lingers in memory with a beautiful echo.
Dwelling on Touch
Instead of love, "Shall I Compare You to a Summer's Day" opts to dwell on touch. Its images can be felt but not read, scattered, shuffled and put back together with no hierarchies.
By Mariona Borrull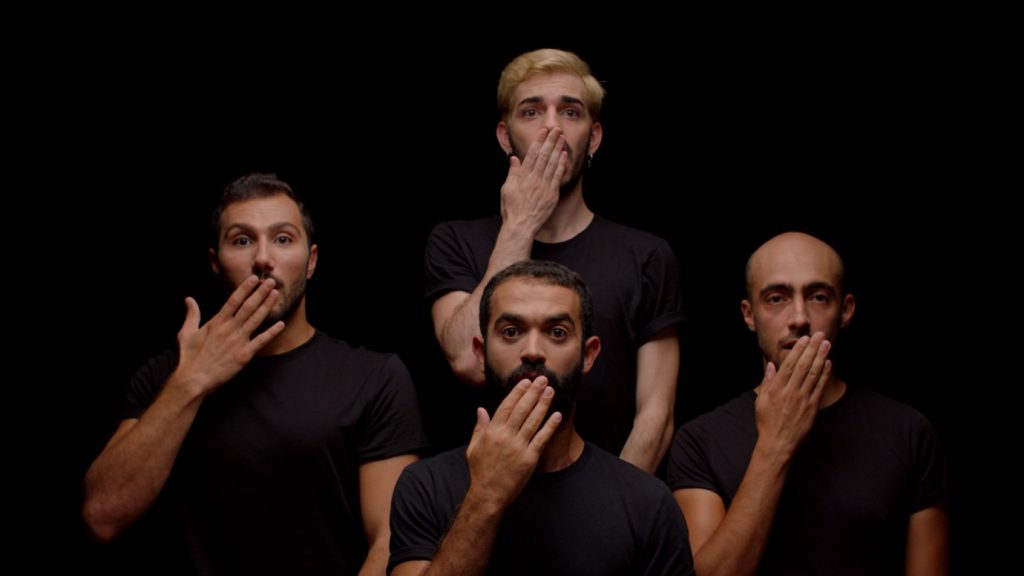 Under a sky full of stars, a woman's voice gently tells the story of a young lover from an impossible, long gone affair. The man soon appears on a field full of hand-drawn pyramids, wearing nothing but some leather boxers. He's the groom of the three brides that follow behind, men in white wedding dresses that burst into dancing to a song that is as sensual as it is tragic. It's about love, the most definitive love. Their performance is voluptuous, appealing: seduction takes time and this choreography seems timeless. Nevertheless, their bodies still are cut out of a green screen and pasted next to weird Egyptian icons. The transvestite dancing troupe ask for humor and tenderness, not the gravitas of a capital-lettered A, for Amour.
So does the sonnet Mohammad Shawky Hassan's debut feature film takes its beautiful name from. In Shakespeare's original poem, infatuation is said to grow above everything good a summer day has to offer. However, love is just a resounding word, vaguely described and far from the warm coziness of a sunbeam. Shall I Compare You to a Summer's Day also speaks of devotion as a weight we often carry too heavily, a point on the horizon we pursue, always out of reach, never to become home. Instead of love, the film opts to dwell on touch. Its images can be felt but not read, scattered, shuffled and put back together with no hierarchies, intertwined in a vaporous narrative that, if anything, is only close to Sherezade's layered storytelling, or the freedom of the music hall.
Based on the lavish poetry of Wadih Sa'adeh, Hassan looks at four male bodies with no character or name, no traits that could skew them from being pure flesh and emotion. They perform a playful recreation of the ever-changing faces of lust; they reenact the encounters one eternal night can host in an imaginary gay club. We catch the first glimpses of desire; then, an almost desperate caress. Yearning slow-mo sex à la Yann González, their encounters mingle with exuberantly animated folk-tales, but flirting is also followed by the inexplicable appetite of the monogamous partner and the violence that arises from feelings of rejection. Polyamory sets this collage apart from the baroque staging of gay love seen in 'Pink Narcissus', complicating its enactment of joy as it realizes that any fantasy made true slowly turns into a nightmare.
What was supposed to be steamy lovemaking is flooded by a thick sadness that drenches every inch of skin, already soaked in neglect and distrust. Having sex with the lights on collapses all fantasies, but when you clearly see the other, as flawed and finite as any summer's day, you can only care about them. Similarly, when that aforementioned impossible love affair becomes personal and specific, we might feel it's kind of our tale, too. In the film's final stretch, Hassan plays some homemade videotapes he recorded after his partner passed away. Just then, our cabaret of delights tips its hand: this is both a self-interrogation and a ghost story. As death comes in, it keys the film's playfulness to a past full of resentment and doubt, a darkness that's almost too real for us to stare at it. Perhaps turning people into mere bodies made for a more honest conversation about grief; perhaps it even provided some legitimate answers to doubts that were carried for too long. At least, it made us care. In the end, film might go a little further than words ever could. But that story doesn't belong to us, not anymore.
Queer as Form: Politics of Forgetfulness in Gustavo Vinagre's "Três Tigres Tristes"
"Três Tristes Tigres" transforms austere forms of traumatisms into kink, erotism and fetish with bravura, granting queer people a chance to forget so that they can remember better, and together.
By Öykü Sofuoğlu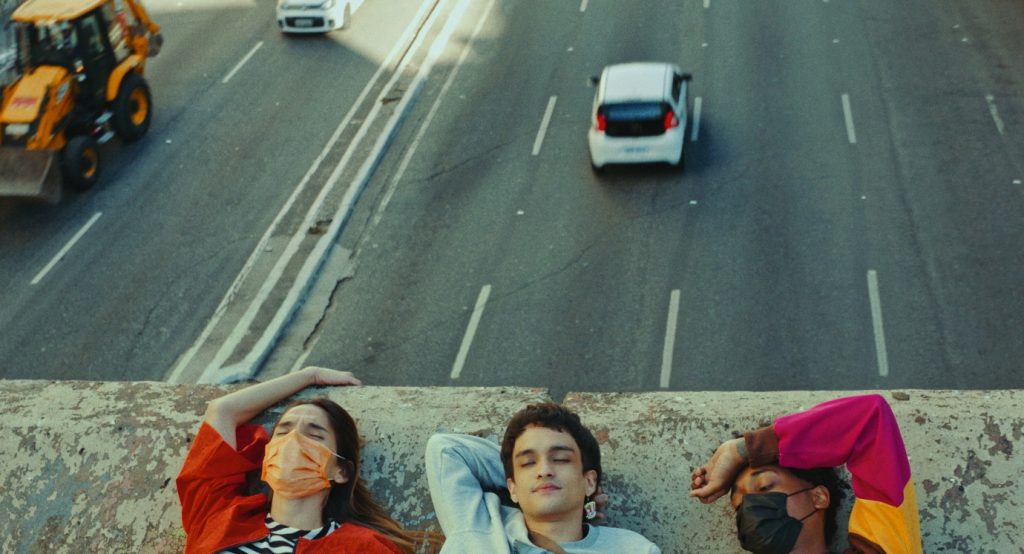 The great old days of modern dystopian narratives have long been over. The adjective dystopian itself has become a simple keyword in the search filters of streaming services, integrated into our daily lives as a filter through which we perceive the outside world. It's always waiting for us right around the corner. Horrible tragedies have become as familiar as they're unusual, so much so that making fun of them seems the only possible coping mechanism. Seen in this light, Gustavo Vinagre's São Paulo-set new feature Três Tigres Tristes is indeed rooted in a dystopian narrative. Otherwise, the director's bright and Instagram-filtered world is not so distant and different from our present. It's still a world where people try to grapple with a severe pandemic by wearing colorful, cute face masks, or celebrating each wave of the disease with a new makeup trend. In Três Tigres Tristes, the virus attacks the nervous system, causing acute memory loss in the patient. But watching Vinagre's film, it is hard not to wonder whether we've already contracted the virus of forgetfulness.
In a kitchen heavy with smoke coming from her bong, Bella (Isabella Pereira, one of our tigres tristes)repeats the same sentence in a monotonous voiceover: "Many people suffer from the consequences of great diseases." The gesture of repetition, turning the words into a meaningless hymn, somehow prefigures the overwhelming sentiment of this not-quite-futuristic world. But Bella's late-night struggles with the entrance exam she will be taking the next day are drowned out by her flatmate Pedro's sensual moans. Known also as Babyface, Pedro (Pedro Ribeiro) is an expert in faking pleasure in front of the webcam, but they too seem to get stuck in the wheel of repetition. Whether stuck in the virtual or the actual world, the lives of Vinagre's characters are always shaped by sheer labor, and efforts to make ends meet.
We learn that Pedro's nephew Jonata (Jonata Vieira) is coming to visit from Minas Gerais to pursue his HIV treatment. Jonata's arrival marks the trio's first interaction with the outside world. The pandemic precautions they take–which are also repetitive in a significant way—and the safe environment they try to preserve in the apartment, allude to an oft-unrecognized configuration of the queer space. Vinagre's treatment of the interiors subtly hints that the lockdown experience was never truly alien to queer people's lives. Not only Pedro, Bella and Jonata's attention but also the very tangible fear for their safety illustrates the double-edged nature of the restricted queer space: feeling safe but at the same time constantly being wary.
Três Tristes Tigres depicts a freewheeling and playful expedition into the outside world, where different forms of loss are always looming. Pedro's grief over the death of their lover follows them everywhere. Their old and cheerful client Omar frantically clings to life with the tenacity of someone who's on the brink of death. And Brazil itself registers record-breaking death tolls every day. In the face of such perpetual disasters, Vinagre and his film dare to ask: is forgetting a luxury the queer community can indulge in? Jonata's illness, though handled in a relatively light-hearted manner, reveals a strong association with the HIV pandemic of the eighties, which caused immeasurably hateful stigmatization towards gay people. In the middle of the film's pandemic, where the numbers fall short of reflecting the gravity of the situation, how is it possible for them to forget and accept the mundane nature of a disaster that was once so traumatic?
There is a strong tendency in art and culture to associate trauma with repetition, and create vicious circles in narratives as well as representations. In this sense, Vinagre's complex approach to "forgetfulness" follows a different path. Both in terms of its aesthetic and storytelling strategies, the film embodies a disjointed, nonlinear structure. Illustrated most strikingly in its dreamlike antique shop sequence, Três Tristes Tigres ultimatelyleaves the floor to performativity, transforming austere forms of traumatisms into kink, erotism and fetish with bravura, granting queer people a chance to forget so that they can remember better, and together.
Remembering the Past, Without Repeating It
Três Tigres Tristesis full of references, from memes to b-movies and video games, all of them seamlessly woven into the film's oneiric fabric.
By Rebecka Bülow
Pedro's accordion-playing boyfriend Ricardo threw himself out the window, leaving Pedro with grief and no income. Gustavo Vinagre's Três tigres tristes, unveiled in the Forum section at this year's Berlinale, kicks off with Pedro selling cam sex in a flat he shares with his friend Bella. One day, Pedro's nephew Jonata shows up in town to get his HIV-treatment, and the three young protagonists leave the apartment to roam the streets of Sao Paolo.
Três tigres tristes is full of references: to memes, b-movies and video games, with cute sound effects, bright colors and indiscreet zooms. The dialogue sometimes sounds like theater, as the characters offer all kinds of comments and explanations along the journey ("oh, this trip was so hard to make"). And it all fits perfectly, as more realist narrative tools might not have done justice to this story, concerned as it is with a wider, oneiric reality. The film is about a world unmoored in time; it is never made clear in which year the story takes place. Maybe it's the future, or a time parallel to ours.
The director also mixes up time and shatters chronology in the edit: frames that should appear later in the film are anticipated and inserted halfway through a conversation. This mirrors the plot itself, which is about time and loss. Pedro (Pedro Ribeiro), Jonata (Jonata Vieira) and Bella (Isabella Pereira) walk around a city where colonial violence has taken place. They meet a makeup artist who reminds them of this. She says that people seem to be forgetting about Sao Paolo's violent past, as they're renaming the squares where those atrocious events took place.
Forgetting is a common problem in the film's universe; a pandemic is raging, and the disease causes memory loss. At the same time, Vinagre stresses the importance of remembering. The script reminds us of the city's colonial history: Bella, Pedro and Jonata visit one of the squares soon to be renamed.
The film also remembers AIDS, which traverses it as a key leitmotiv. Jonata's HIV is not a danger, thanks to the treatment he's undergoing. But the three friends meet an older man who caught the disease in the 1990s, and while that may not be made explicit, that past still shapes how people navigate the film's present-day pandemic.
And that's how Três Tigres Tristes works: it doesn't deny violence, but remembers it instead. Yet it doesn't do so by showing it visually. This speaks to a narrative style which Swedish filmmaker Ester Martin Bergsmark calls "traumaturgy", an intelligent and tactful way to talk about injustice and abuse, by refusing to mirror the way living with trauma works, or subjecting those who live through it to the same horrors.
Pedro, Bella and Jonata meet people and objects bestowed with a special kind of wisdom meaning, and the encounters propel them farther down their path. In that sense, the film is a classic adventure story. Eventually, the friends are led to an antique store. The owner is an old woman, who possesses the kind of knowledge that opens up a new temporal space for them. They enter a beautiful, messy room where no lovers are dead and life is a playful, satiric musical. Sex accompanied by accordion is included. Linear time is shattered.
But no matter how fun, discontinuous or buried in references the story gets, the overall tone never loses its sensitivity. The film lets death and grief be present, without reenacting the traumas its characters wrestle with. In that, Três tigres tristes opens up a space to remember, mourn and heal.
Taking the World to Berlin
Berlinale Forum founders Ulrich and Erika Gregor receive a charming portrait in Alice Agneskirchner's "Komm it mir in das Cinema – Die Gregors".
By Susana Bessa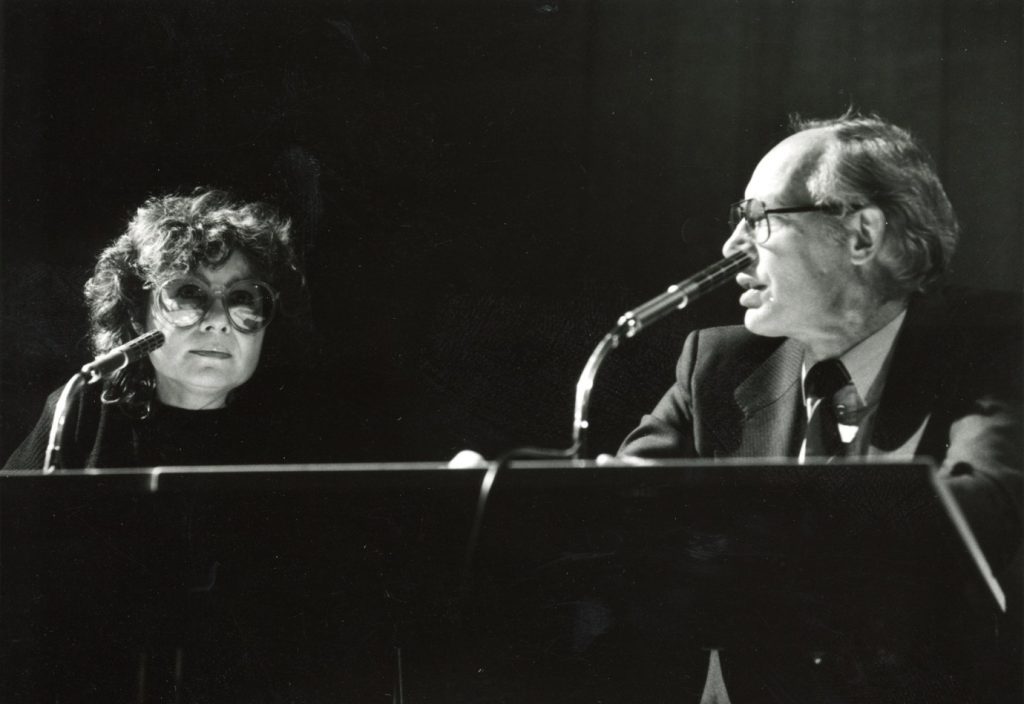 "It's a socialization process" is how Ulrich Gregor describes what truly drove him and his collaborator and life partner Erika to the feeding of their hunger for programming and exhibiting cinema in Alice Agneskirchner's documentary "Komm it mir in das Cinema – Die Gregors", presented at this year's Forum. Being cinema the art of projected light and shadow, it relies on an audience to acquire its body. A tale that jumpstarts the film's concerns delves into how they are showcasing Sergei Bondartschuk's "Fate of a Man" impacted on a young German woman's life, who had previously made up her mind about URSS. Therein laid the kind of activism that was able to not only open people's minds, but also push generations forward.
The Gregors looked at programming as border-crossing, "as a weapon", flagging the unvoiced and the unseen and as a result bringing us closer to each other. Which they succeeded at, by scooping up films from around the world and taking them to Berlin. Even if their faces may be unknown to many, their names are illustrious among cinephiles. After all, they are the couple that founded Berlinale's Forum, the most cherished corner for underground and experimental cinema the festival is known for today. Not to mention the ones who founded the association that opened the film theatre Arsenal, a beacon of both strength and hope at a time when a wall divided the city and the only films being shown were mainstream films, dubbed in German.
Under the guise of a much-deserved homage, the documentary crowdfunded and shot during the pandemic offers a chronology of the couple's life spanning over sixty years, during which they watched and wrote and discovered more than 100.000 films—from Kinuyo Tanaka to Aki Kaurismäki. Made up of a mash of interviews, film clips and archival footage, the filmmaker swells their love for film and for each other into a larger story about how their memories become mingled with the moving images they analyzed. But then, somewhere in the middle of that process, the documentary shifts focus, less concerned with painting their portrait than in threading of a map of Berlin before our eyes. Agneskirchner touches upon the Cold War, but also the many waves of revolutionary uproar that at one point in time ended up pegging the couple and their work as conservative, and called for their ousting.
Over an unhurried and graceful two and a half hours, lagging its trail at the end still unaware of how to approach the future ("people send us films," Erika muses, "they say a 'link' today"), the obvious parallels between the city's past and the present life on among the relentless topography of cinephilia the Gregors swaddled Berlin with. In a steady line that touches upon the complexity of resisting the world as it closes in around us, the masked couple return to the theatres of Berlin at a time when the world is re-evaluating those spaces' worth. Inside, moviegoing memories and experiences outgrow the wonder of the films themselves. The smell of the theatre, impossible to contain in a bottle. The queuing and contact with other people before a screening. Always sitting in the same seat. The magic of nitrate over any other format. The presence of films as objects in the couple's house, vibrating with the promise of the touch of those that will follow. Or Erika reminiscing how she always knew a filmmaker was soon to be famous from how the audience "was breathing with the film", a beautiful sentiment that vies with her husband's skepticism. With the community of cinema in mind, the documentary bids us farewell reassuring us that, no matter what happens, watching cinema still holds the power to undress us back to our humanity.
"Die Gregors" Charms But Lacks Formal Risks The Film's Subjects Championed
Does Agneskirchner's doc evoke the cinematic spirit and discourse its subjects deserve, or is it merely another journalistic profile of two life stories worth knowing?
By Will DiGravio
Cinephiles will walk away from Komm mit mir in das Cinema – Die Gregors (Come With Me to the Cinema – The Gregors) with nostalgia-filled hearts, a yearning for the midnight movie, and a deep appreciation for the labor of Erika and Ulrich Gregor, the innovative German exhibitors, critics, and advocates for global cinema. Yet despite its depiction of two individuals who championed so-called "expanded cinema," the film takes few formal risks, opting instead for the talking-head-style documentary, the new normal for such moving image profiles.
The film tells the life stories of Erika (b. 1935) and Ulrich (b. 1932), who met at university, married, and went on to help shape film culture in post-World War II Germany. Their numerous achievements include founding the Arsenal, a Berlin cinema where they prioritized the discussion of film. Such exchanges, the Gregors say, are as important as the artwork itself.
At their cinema, they programmed a range of underseen, underappreciated, and sometimes forbidden films. They brought to Germany works like Andrei Tarkovsky's Stalker (1979), the early films of Jim Jarmusch (interviewed in the film), and the country's first screening of Claude Lanzmann's Holocaust documentary Shoah (1985). In 1971, they co-founded the (then) independent section Forum, now a sort of festival-within-a-festival at the Berlinale, much like the Quinzaine at Cannes. Forum showcases innovative and avant-garde films that expand our understanding of cinema, its relationship to the world, and often reflect on the medium itself.
International audiences may learn about the Gregors for the first time through the film. Director Alice Agneskirchner neatly weaves together their story with the history of the New German Cinema. The film features interviews with a number of notable filmmakers and Arsenal patrons, including Edgar Reitz, Helke Sander, Jutta Brückner, Wim Wenders, and Alexander Kluge.
Such interviews have become a fixture in contemporary moving image profiles, often used as a crutch to keep things moving and generate buzz. There are times when the film attempts a more poetic approach. For example, a pair of actors play younger versions of the Gregors. The performers reenact the couple's journeys around Berlin on a moped, where their escapades included knocking on the door of the Soviet embassy in pursuit of films. These moments, sprinkled throughout the beginning and then quickly abandoned, add little to the film. Instead, they only serve to highlight the more derivative documentary methods: numerous interviews, narrated childhood memories accompanied by photographs, visits to places from the Gregors' past, and a mix of historical and news footage that often over-contextualizes.
The fascinating lives of the Gregors and their influence on global film culture are interesting enough without all the extra stuff. For example, the film features a few engaging scenes where the Gregors go through their personal archive: photographs, film posters, showtime calendars, program notes, etc. One sees before them the material history of cinephilia, all too often left in folders and drawers, unseen. In such moments, the paper trail of film history briefly resurfaces. But then the film, in its haste to move on to the next interview or clip, leaves the viewer wanting more.
At its best, Die Gregors documents two essential figures in film history. Other times, the film opts for a host of subjective interviews aimed at drawing in a popular audience. Cinephiles should seek out the film and learn about its subjects. But we must also be honest, as moviegoers at the Arsenal would be, when it comes to form and substance. Does the film evoke the cinematic spirit and discourse its subjects deserve, or is it merely another journalistic profile of two life stories worth knowing?