Reviews Part 2
Discover emerging critics' takes on Concerned Citizen, the alumni film they saw and reviewed as part of their pre-BT homework.
• Designed to Be
by Łukasz Mańkowski
• A Profound Neurosis
by Rebecka Bülow
• Poking the Edges of White Prejudice
by Susana Bessa
• The Promise of Babel
by Fabiola Santiago Padilla
• Idan Haguel's portrait of Phoniness
by Kayode Faniyi
• Him who is just like us
by Mariona Borrull
• A Deadly Blow of Righteousness
by Oyku Sofuoglu
• Concerned Citizen Falls Short of Its Intriguing Premise
by Will DiGravio
• Designed to Be
by Łukasz Mańkowski
Idan Haguel's "Concerned Citizen" is a gloomy, finicky picture, which refuses to point to any specific direction, neither for the haves or the have nots.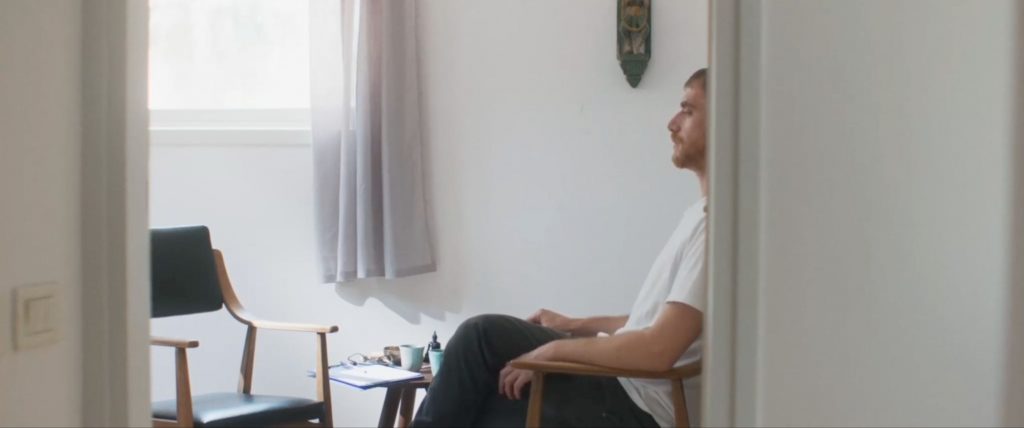 A gay couple in the south of Tel Aviv. Ben and Raz. They've just moved in. The flat is nice: the east-facing windows let the sun wash over the plants inside; the wooden furniture glitters, the light bounces off the floor and high ceilings. The space has it all—it almost breathes, and it's theirs. The only downside? The neighborhood. It's an immigrant district—"multicultural" and "diverse," as Ben and Raz describe while rolling up joints at their own housewarming party. It's supposed to be gentrified soon, they were told; in two years the whole place will change. But for now, it's a stain on their perfectly designed plan.
This is how Israeli filmmaker Idan Haguel's second feature, Concerned Citizen, unfolds: it's a look at middle-class privileges and a dialogue on the margins of tolerance. Unveiled in the Panorama section at the 2022 Berlinale, Haguel's film captures the cracks along one man's journey to the ideal way of living, as told through the perspective of Ben, a thirtysomething gay man working as an urban architect and living what looks like the perfect life.
Ben (Shlomi Bertonov) is constantly busy projecting and designing—whether the interiors of his newly refurbished flat, or the public spaces of his projects at work. Even his Roomba vacuum cleans along a carefully laid-out path. Ben has a vision: to fulfill his middle-class dream and project his goals onto the trajectory of his needs. The missing piece in Ben's puzzle is to raise a baby with his boyfriend Raz (Ariel Wolf). They decide to design it too, through a careful selection of a surrogate mother—they're after a healthy one, with great teeth, and hopefully a great smile, too—who'll bring their tiny little project to life.
But one simply can't design the here-and-now. Ben might be a fan of organic smoothies for breakfast, which blend into a perfect routine of therapy sessions, gym, and occasional drinks, but he isn't capable of digesting the organic tissue of what's around him. The landscape unfurls before him as a hostile world—the immigrants, he says, are not accustomed to living in cities, but villages—when one of his Eritrean neighbors casually leans against a tree Ben had planted in the film's preamble. Haguel, in his modern, gentrified retelling of the myth of a white man planting a tree, offers a symbolic image: a shaky camera, a dark setting, and a close-up turn the moment into something closer to a burial than the start of a new life.
Indeed, the tree ignites a fatal incident. When Ben phones the police and asks them to stop the Eritrean immigrant from damaging public property (his tree, that is) the cops beat the young man to death, leaving Ben to wrestle with a pandora box of (white) guilt. Guilty—or concerned, per the title—as he may be, what he really starts looking for is an excuse. In fact, Ben sees reality filtered through the many screens of his privilege. The laptop screen on which he browses for surrogate mothers; the computer on which he designs his projects; the phone from which calls the cops; or the window through which he watches the neighborhood and witnesses the deadly arrest—all of them become part of his bubble of unreality.
Haguel's is a gloomy, finicky picture, which refuses to point to any specific direction, neither for the haves who grapple with their privilege and the consequences of their actions, nor for the have nots, who'll always be frozen in a kind of hiatus, engraved to social concerns, but perhaps never able to rise above it.
• A Profound Neurosis
by Rebecka Bülow
Concerned Citizen doesn't seem to be interested in anything other than repeating the cycles of violence at the film's center.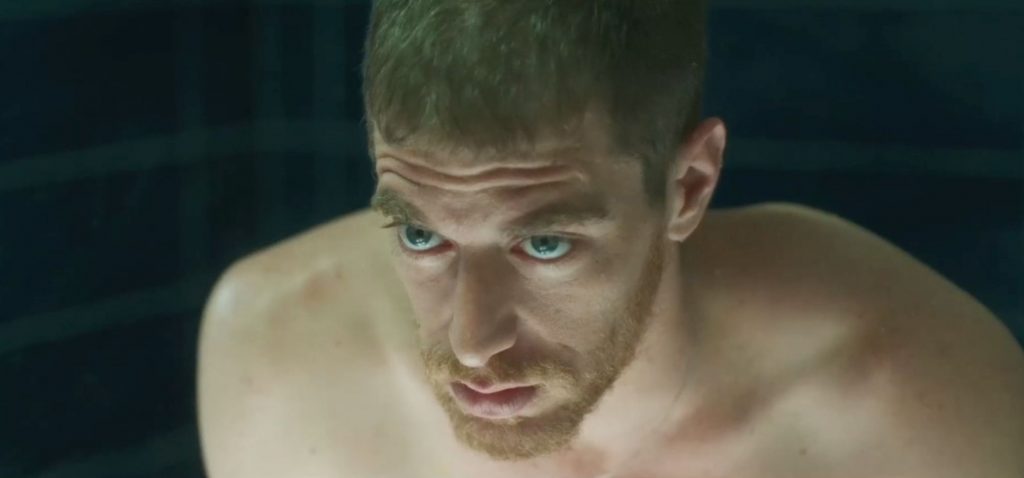 In an interview with Charlie Rose from 1993, Toni Morrison said that racism is like a "profound neurosis" plaguing the ones who practice it. "My feeling is that white people have a very, very serious problem," she added, "and they should start thinking about what they can do about it."
Idan Haguel's second feature, Concerned Citizen, is a portrait of Ben (Shlomi Bertonov), a 30-something living in Tel Aviv and wrestling with that same, profound neurosis. Ben and his boyfriend Raz (Ariel Wolf) recently moved to a gentrifying neighborhood. Their friends call their apartment a fantastic investment and the couple announce they'll soon have a baby, through a surrogate mother.
One day Ben plants a tree on the sidewalk across the street from his apartment. Furious at his Eritrean neighbor who keeps leaning against it—even as he's repeatedly asked not to—Ben calls the police. In an extremely brutal scene, a cop ends up beating the Eritrean to death, while Ben watches everything from his balcony, a scene shot from his POV.
Ben tries to talk with his therapist about the event. But the therapist can't help. He has the same neurosis. Instead of telling Ben to report the policeman, he insists on reenacting the murder scene during their therapy session. Ben is supposed to stop the doctor from beating a cushion, which symbolizes the neighbor. The problem with this scene is that it isn't primarily about the violence it portrays. Its focus is Ben's guilt and shame, just as the rest of Concerned Citizen. The result is that the film (mirroring the therapist's reenactment) neglects the tragedy of the killing scene.
No voice is as prominent as Ben's. As for the few lines exchanged by his Eritrean neighbors', those aren't even subtitled. But even as the film is wholly locked inside Ben's POV, I couldn't quite manage to get close to him. He mostly seems stupid, probably in order to be funny; Concerned Citizen juxtaposes its violent subtext with satirical depictions of Ben's middle-class lifestyle. Sometimes the humor uncovers the horror and madness of different situations he finds himself grappling with—this is when the film works best. But the irony doesn't add much to Haguel's characterization, as the stupidity that lingers over Ben's portrait makes it difficult to understand him.
Ben's neurosis grows more profound. The film tells something true: there are, of course, lots of people living like Ben. But while Concerned Citizen doesn't seem all too troubled when showing us explicit violence, I would have liked it to examine the situation in greater depth and make me understand something. But the film doesn't do that: it doesn't seem to be interested in saying anything other than repeating violence. It merely reproduces the situation it seeks to critique.
• Poking the Edges of White Prejudice
by Susana Bessa
In Concerned Citizen, Idan Haguel employs several tools to dissect white privilege, but his analysis lacks vitality.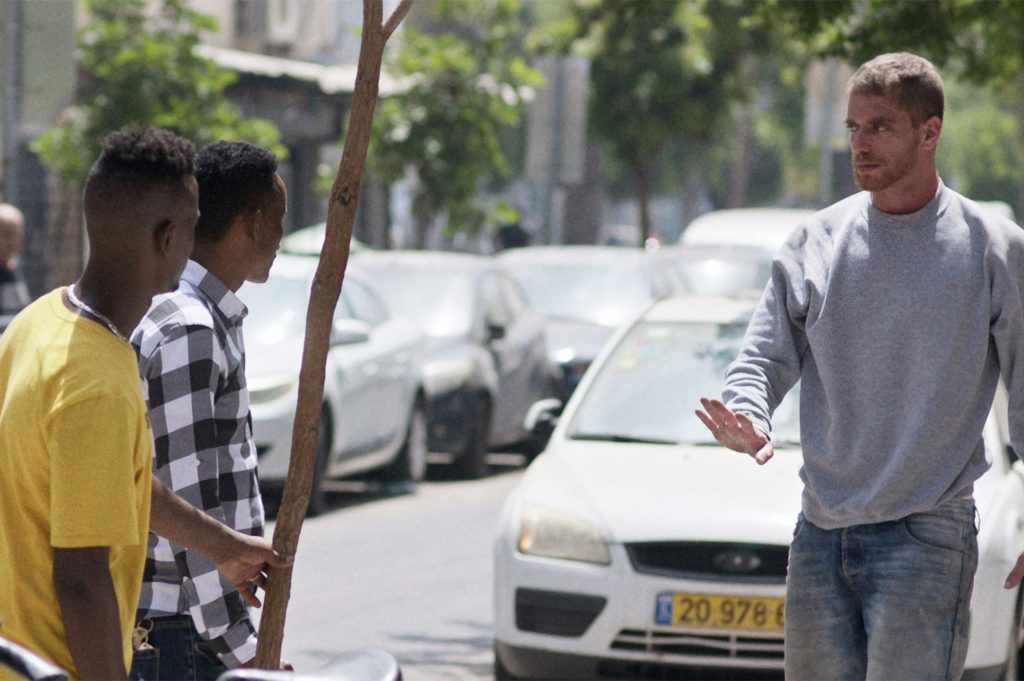 Halfway through Idan Haguel's second feature, Concerned Citizen, guilt is described as a sensation in the belly, a kind of stomach ache. Made out of what licorice tastes of, guilt plagues the film's protagonist, Ben (Shlomi Bertonov), a thirtysomething living in the south of Tel-Aviv in and sharing a cozy apartment with his boyfriend Raz (Ariel Wolf), with whom he's about to start a family. Had Ben not called the police on two men leaning on a tree he'd planted on the sidewalk just opposite their flat, one of them—their upstairs neighbor—would still be alive. The fact that the victim of police brutality is an Eritrean refugee only widens the inner conflict Ben is wrestling with.
Watching Concerned Citizen unfurl, nothing feels more urgent than Haguel's poking at the incoherence of a white, gay, and liberal man's moral compass, and the way his meltdown reveals his underlying xenophobia. The Israeli filmmaker knows how looking straight at the man incapable of admitting to himself he's playing a harmful role, in reality, all his own requires visual proficiency. A person's interiority is, after all, a labyrinth. Investigating such a transition within a character is to locate a far-reaching hatred and look into it—which Haguel tries to do. But what ends up thinning out the film, and renders it unremarkable, is not so much the charting of this process, but how, when combined, its dry pacing and washed-out photography induce a feeling that the narrative is always about to begin, always about to make itself known, but never with any effervescence. On top of that, there's a definite lack of confidence running through the film that weakens its potential, leaving us with the suspicion that what we're watching is a short film stretched into a feature, where the pang of one transgression alone would make the film soar.
Selected for this year's Berlinale Panorama, Concerned Citizen is split between the world inside the couple's apartment, the world stretching just outside it, the one Ben sees as a drab war zone, and the one he can choose to build when going to work every day as an urban planner. In addition, the couple must choose the egg but not the surrogate mother who will carry and give birth to their baby. In placing all these elements together, the filmmaker has all the tools he needs to dissect the pathology of white prejudice. Raz's choosing not to confront his partner's half-hidden xenophobia should have added more flesh to the film's discussion: that it is not how others perceive them, but how the various circumstances they go through should've never allowed them to settle into hiding. Even though Haguel's heart remains in its right place, his attempt to peer through such an infection fails to achieve the kind of tactility Ben's guilt had on his own body. In hindsight, it is difficult not to think of it as a missed opportunity.
• The Promise of Babel
by Fabiola Santiago Padilla
Concerned Citizen prompts us to question our own role within structures of oppression, and recognize ourselves as both victims and victimizers in our contemporary Babel.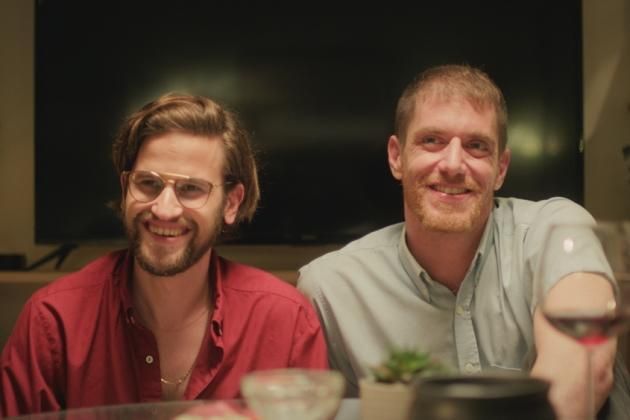 Equality is a lie sold to people my age from so-called developing countries. With foreign languages used as brick and mortar, we aimed to build a Tower of Babel under the promise of globalization.
That promise didn't quite come true. Connections expanded —and proof of that is I am writing in a language alien to me⁠—but biases remained in people judging the shape of our eyes or our skin color. The edifice in itself is flawed since we, as humanity, behave as atomized individuals pursuing our own benefits. And inequality works as a ruthless structure, with the weight of oppression tearing the Tower apart in different ways.
–
Two good-looking men hold a sign written in Hebrew amid a joyful gay parade. "Equality," the sign says; Ben (Shlomi Bertonov) and Raz (Ariel Wolf), the affluent homosexual couple holding the sign, would agree that's a fair thing to demand.
In his second feature, Concerned Citizen, writer-director Idan Haguel builds an almost perfect life for the couple at the film's center. Their home is a refurbished apartment in a booming neighborhood in south Tel Aviv; all they need to complete the idyllic picture is a baby. But things start crumbling the night Ben calls the police on an upstairs neighbor, an Eritrean immigrant guilty of leaning on a tree Ben had just planted. The brutality that ensues makes Ben feel guilty—a journey that's not always easy to follow as spectators.
–
"A real Tower of Babel," says a skeptical woman looking to buy Ben's apartment later in the film. The jibe comes after she realizes Hebrew floats in the community together with the lilting sounds of Tigrinya and Filipino, languages spoken by the refugees living nearby.
Multiculturalism is welcomed as long as it comes as an ornamental Buddha sculpture, the curry you cook, the twerking you dance, or the surrogate womb you hire. The few wide shots in the film capture this world within a universe stashed with derelict buildings and diverse skin colors. Often, the camera closes in to frame a fancy coffee shop, a gym, or the couple's stylish apartment. In the background, a woman of color pushes a stroller or a black man mops the floor and serves as a means for Ben to wash out his sense of guilt by defending him from a (more) racist man.
This, to me, is what encapsulates the film's inefficacy. Hard as it tries to show the oppressor's gaze with flashes of humor, the movie struggles to square laughter with its racist subtext. The narrative pushes Ben to the limits of the pathetic, but immigrants remain one-dimensional characters whose sole purpose is to detonate the protagonist's inner struggles.
Having a womb is a privilege depending on the context, a childish Raz argues. A person of color in a foreign land is an immigrant, but a white foreigner is an expat, some would say. Let this film be a means to question our own role within structures of oppression, and recognize ourselves (and Ben and Raz) as both victims and victimizers in our contemporary Babel.
• Idan Haguel's portrait of Phoniness
by Kayode Faniyi
Idan Haguel paints a fascinating portrait of phoniness on the plight of African refugees in Israel and the "unexceptionality" of gayness.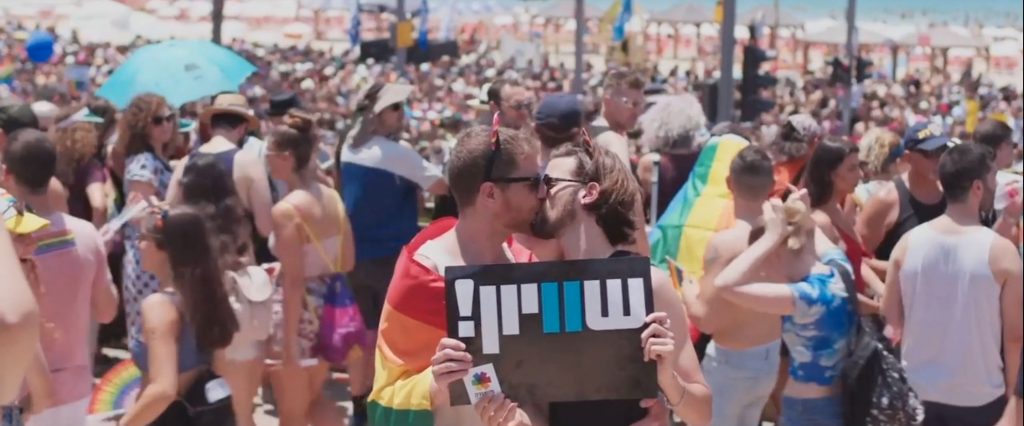 In May 2020, a video of a white woman calling the police on a black man in New York's Central Park went viral. Christian Cooper, the black man, had insisted that Amy Cooper put her dog on a leash in Central Park, and the confrontation degenerated to a point that Mr. Cooper, a communications expert, felt it necessary to make a video. Ms. Cooper objects to being recorded and threatens to call the cops. "I am going to tell them an African American man is threatening my life," she tells her namesake. It is a potent threat. Many such encounters end up with the black man dead. Ms. Cooper was leaning into a legacy of racism to defend her tarnished pride.
The central plank of Concerned Citizens follows something of this model. Ben, a gay man with supposedly liberal attitudes, is concerned that an Eritrean refugee will break a tree he has only recently planted to improve the environment and calls the police. The call is framed in such a way that leaning on a sapling is reconstituted into damaging public property, which then underscores the police's violently overblown response to a complaint that only requires a talking-to to resolve, as we will come to find out. The result is fatal, and Ben grapples with his part in the unnecessary death of a refugee.
One might be forgiven for bringing to Concerned Citizens the assumption that it is yet another examination of the brutally efficient dispossession of Palestinians by the Israeli state. The only nod to Palestine's plight here is the studied indifference to state-sanctioned brutality. Instead, Idan Haguel paints a fascinating portrait of phoniness on the plight of African refugees in Israel and the "unexceptionality" of gayness.
Ben lives with his partner in what they describe as a "multicultural neighborhood" for its preponderance of immigrants. Ben and his partner are what in France have become known as les bobos, a paradoxical term coined by David Brooks from the ironic interplay of "bourgeois" and "boheme" to describe young people who are rich but adopt a non-conventional lifestyle. These choices, like living a life of luxury in a working-class (or multicultural, as Ben's partner describes it) neighborhood or seeking a surrogate mother from Asia, might appear to be an outward statement of concern for the less fortunate. But the bobo is self-absorbed, narcissistic, and therefore phony. Their social identity is inauthentic, skin-deep, and informed by the privilege of choice allowed by wealth.
Director Haguel piles ironic image upon ironic image to establish Ben's phoniness. They—two men—"are not pregnant yet". A surrogate agency that literally snatches babies from the wombs of their mothers to prevent biological connections is "very humane and considerate". They do not baulk at a surrogate agency's website that asks them to add potential mothers to "shopping cart". But none is more on-the-nose or poignant than in Ben's psychologist's office. He tries to assuage his guilt by lying but psychologists are well-versed in seeking out insincerity. Ben remains rooted to his seat as his psychologist simulates the police's deadly assault of an African immigrant. The gotcha moment passes in silence. Before Haguel's camera sits a concerned citizen portrayed as a self-absorbed phony.
From here on, Haguel appears to take perverse relish in unraveling the story much as he unravels Ben. If it wasn't already obvious that this is a satire, the director wants to make it unmistakable. Ordinarily, a narrative signal for redemption, Ben's self-acceptance instead triggers a comical resolution: an insistence on phoniness. With his partner's connivance, he reprises before incredulous bystanders the events that forced him to reconsider his self-image and threatened to tear his relationship apart. Not even the police's refusal to be brutal to a refugee this time around could deter his self-absolution.
At a systemic level, Haguel subverts one more staple of liberal self-imagery. Owing to a legacy of discrimination, liberal cinema tends to treat marginalized groups as exceptional and their avatars as exemplary, creating unrealistic expectations. It is phony and denies underrepresented groups the full extent of human beings' capacity for creativity. A world without discrimination is a world in which difference—for example, being gay—is normal, not exceptional, and certainly not the story.
• Him who is just like us
by Mariona Borrull
Radiating from Haguel's Concerned Citizen"is a powerful sense of unease, one that grabs us by the lapels and stares directly into our privileged souls.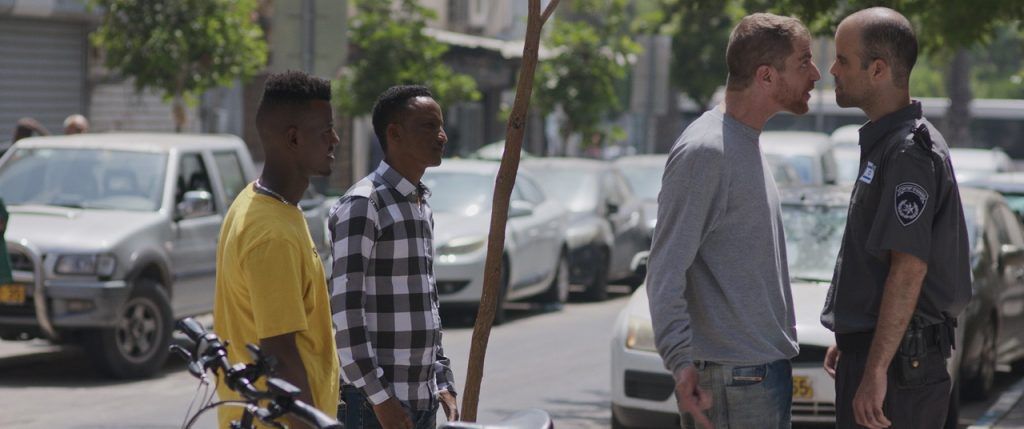 Privilege is a cross we leftists still have a hard time bearing. We'd rather not think about it, and usually confront it with excuses or palliative solutions. What else is there to do? Liberal and polite, Ben (Shlomi Bertonov) would love to fight against class discrimination, but also wants a bigger house. Large apartments are only affordable in slums, so, together with his boyfriend Raz (Ariel Wolf), he relocates to a new neighborhood, where strangers live too close to each other, and the gates shielding them from the outside world are all too fragile. Pry them open, and poverty will soak everything up. Still, Ben can't explain why he feels so dirty, so guilty, and so out of place.
Nor does writer-director Idan Haguel ('Inertia') try to untangle this mess of a man in Concerned Citizen, his second feature. One night, paralyzed by waves of fear, Ben calls the police on one of his neighbors. The man's innocent, but he's beaten to death; the rightful leftie can only be horrified by the macabre domino he triggered. However, the film is in no hurry to put to words the mix of fear and disgust that starts poisoning his existence soon thereafter. Instead, Shlomi Bertonov's deadpan face becomes the perfect canvas to project our particular cocktail of public anxieties, safely shaken to be purged through the suffering of this custom-made character. Everyone likes a good-old catharsis.
Wedged between the crowded shores of the social thesis and the psychological portrait, 'Concerned Citizen' efficiently navigates the familiar waters of gritty realism, yet without ever spending any time over-explaining anything. Simplicity rules, subtlety doesn't: filmed by cinematographer Guy Sahaf, the first shots of the slum are extremely dark and jittery, so much so that they might have been yanked out of a horror film. Likewise, Ben spends his working hours rearranging 2D silhouettes of people onto a digital urban planning model, putting everyone where they belong. The metaphors are clear, but social order is more volatile, and soon he'll find himself locked inside a lavish flat that won't stop shrinking. Ben's liberal martyrdom asks for privacy where there's too much noise, and too many people around.
The unnecessary surrogacy plot and the supposedly satirical sale of the apartment add little to the film: they're redundant iterations on the concept of oppression. Beneath those layers, there's still a powerful sense of unease, one that grabs us by the lapels and stares directly into our privileged souls. Feeling our discomfort in the face of others, with all its complexity, might allow us to make something good out of it. In the end, stumbling can be a way to change directions.
• A Deadly Blow of Righteousness
by Oyku Sofuoglu
Idan Haguel's Concerned Citizen delves into the meaning of "privilege" and exposes how our self-perception can be deceptive when facing moral dilemmas.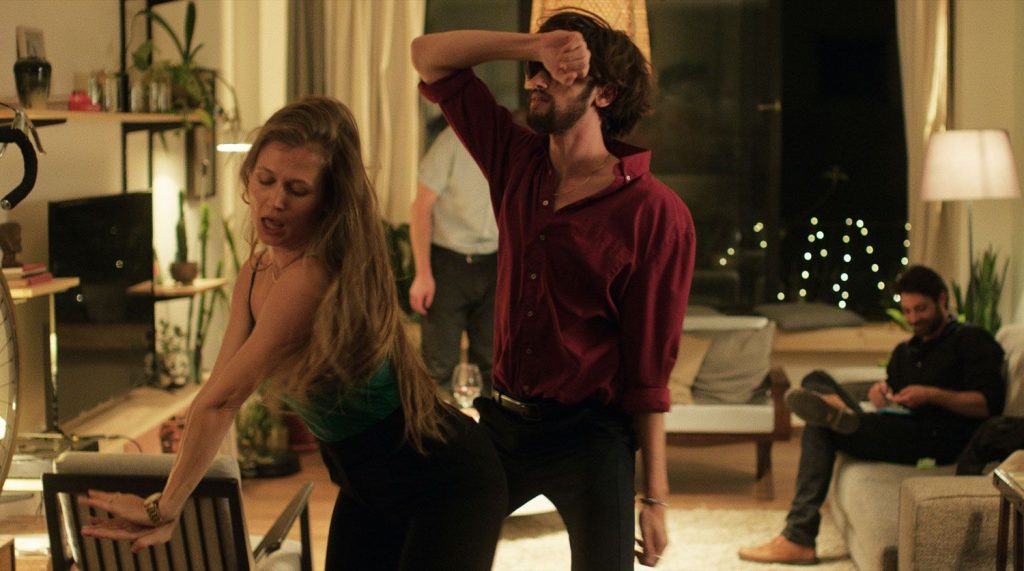 Ben (Shlomi Bertonov) and Raz (Ariel Wolf) live in a luminous apartment in southern Tel-Aviv, where they wake up to the calm buzz of their robot vacuum cleaner accompanied by Bellini's Casta Diva. Tinted with green light refracting from the plants scattered inside, the place is undoubtedly a safe haven for this young, upper-middle-class gay couple. The only thing missing is a baby, and they're planning to have one soon. Juxtaposed to their garden of Eden, outside is a slum-like immigrant neighborhood on the verge of gentrification. And yet, far from being frightened, the couple seems proud of the open-mindedness and indulgence they embrace in their politically correct discourse, full of words like "multicultural, diverse and pluralistic." But their detached interaction with the outside world abruptly changes when Ben, peering through the living room window, sees two Eritrean immigrants leaning on a tree he planted, looking like they're going to tear it down. Having realized that talking to them won't help, he calls the police instead. But his action, one ostensibly taken by a "concerned citizen," triggers a series of unwanted events, throwing him into a whirlpool of guilt.
Idan Haguel's sophomore feature "Concerned Citizen" delves into the meaning of "privilege" and exposes how our self-perception can be deceptive when facing moral situations in real life. Using his own privileges and experiences as a starting point, Haguel seems to deliver the harshest blow to himself, thus avoiding a dominating stance towards the characters. He also denounces the hypocrisy of Israel's "pinkwashing" policies, and how the government uses the LGBTIQ+ community to promote a positive vision of the country. However, with a low dosage of satire, the film doesn't get in the murky waters much, focusing only on Ben's account of the events. As a result, the immigrants portrayed in the film are never subjected to an infantilizing or agonizing look. But Haguel's decision to not stand in someone else's shoes, bold as it may be, is also double-edged. The director's disinterested perspective towards the moral dilemma somehow forces the spectator to keep a distance from the oppressed immigrants and deny them any form of cathartic and illusory sympathy. While watching the film, one is confronted with the main flaw (and also the force) of cinematic representation: the inability to identify with and fully understand the Other.
Underlying this inability, Haguel seems to overtly address a defined public whose qualities are not much different from his self-image. For whom was this film made? Certainly not for Eritrean or Sudanese immigrants struggling to make ends meet in Israel. The dark humor of Concerned Citizen may resonate more with a privileged audience who, having experienced one form of discrimination or another, knows what it means to be an Other, but is also painfully unaware of their privileges in different instances. Near the end of the film, we see Ben attempting to give himself a redemptive punishment for his acts. With a poorly created mise en scene on the street, he's kneed down by a policeman. Wildly different from the fatal blow that his actions had provoked earlier on, this reenactment blatantly exposes the shallowness of his guilt, peacefully forgotten with an orgasm, la petite mort of the privileged.
• Concerned Citizen Falls Short of Its Intriguing Premise
by Will DiGravio
Idan Haguel's second feature fails to move beyond a dark and absurd depiction of the irrational, violent nature of xenophobia and racism.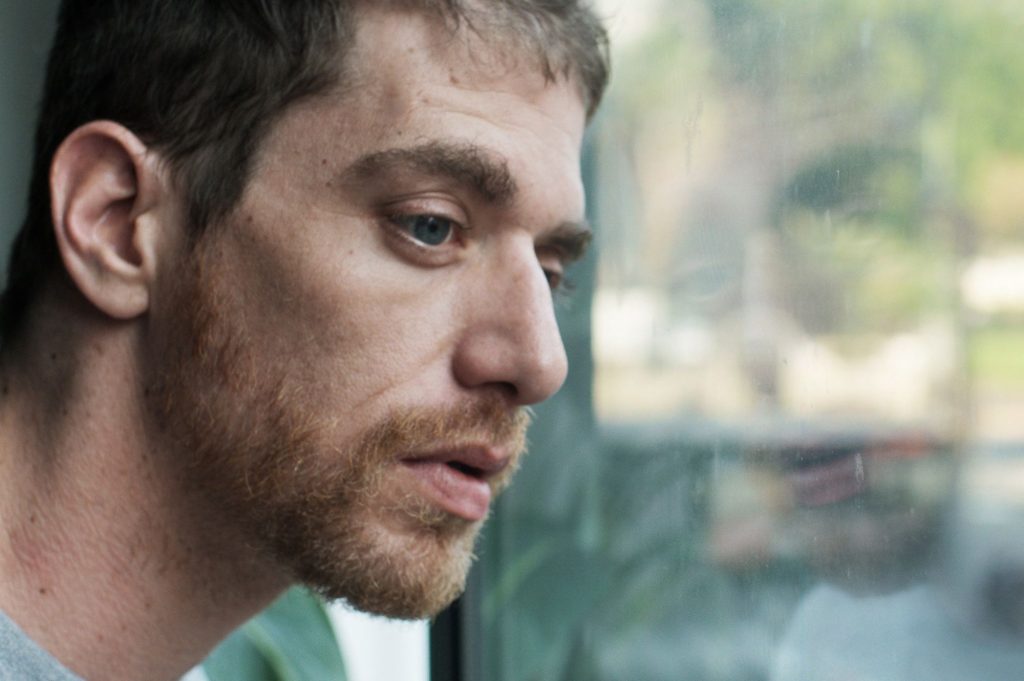 Concerned Citizen is a film that sets out to prove what its viewers should already know: white people are often unabashedly racist. The 82-minute satire entertains with a host of clever moments from writer-director Idan Haguel, but falls short of providing insight that lives up to its intriguing premise.
Set in Tel Aviv, the film follows Ben (Shlomi Bertonov), who lives in a comfortable apartment with his partner Raz (Ariel Wolf). Their neighbors include a number of Eritrean refugees. The gay couple is gentrifiers, often praised by friends for living in a neighborhood that will soon be completely "different," i.e. more white and lucrative. Ben and Raz plan to have a child via a surrogate mother. Seemingly, Ben fulfills this paternal instinct in the interim by planting a tree in the street outside their apartment.
One night, Ben sees two Black men leaning against his beloved tree. An unforgivable act in Ben's eyes, he decides to take action. He calls the police and later watches as they chase down one of the men and beat him to death for the destruction of public property. He does nothing but feels guilty.
To cope, Ben first lies about the murder to others. Then, he calls the police to find out what happened: perhaps the man lived? He then tries to run away by holding an open house for the apartment without telling Raz. Eventually, he and other white men attempt to justify his actions. By the film's end, Ben and Raz pull a stunt that would surprise even the most devout millennial-hater.
A hand-held camera follows Ben throughout the streets of Tel Aviv, capturing his manic state. Often, he will be framed in tight spaces, or placed at a bit of a distance from the frame. All of this is to give the viewer a sense of Ben's "inner struggle." That struggle is where the film's dark comedy hinges.
Ben works as some kind of designer or urban planner. We watch as he constructs new worlds on his computer, just to his liking. When he's not working, Raz and he are searching for the perfect surrogate mother and egg donor, pouring over genetic records to try and have their ideal child.
In other words, Ben possesses an inordinate level of control over the biological and digital worlds around him. He exercises tremendous amounts of privilege in his day-to-day life. The murder comes when Ben cannot exert such control in an otherwise insignificant moment. Nevertheless, the racism of a self-proclaimed liberal and educated white man rises to the surface with deadly effects.
Haguel invites the viewer to reflect on the implications of Ben's sexuality. Yes, a gay man too can be racist. Not all oppression is equal. And the film points to the obvious: racism exists everywhere. This is a useful reminder, but Concerned Citizen, in choosing to follow the racist's point of view, fails to move beyond a dark and absurd depiction of the irrational, violent nature of xenophobia and racism.