Derek Malcolm, 1932 – 2023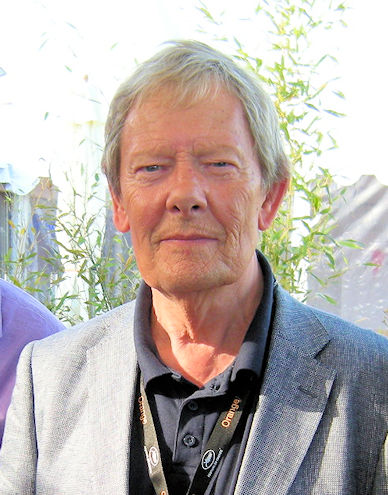 We mourn the loss of a friend.
Rita Di Santo on Derek Malcolm: A legend of film critic Scroll down
To Sarah Gristwood, from Klaus Eder
Dear Sarah,
I got the terrible news that Derek has left us. It's a shock. I don't want to believe it. I feel him as still present. I still see him (together with you) at numerous festivals, the big and the smaller ones, Cannes and Kerala and others. It was always a pleasure to meet him, to talk about movies and about life, to listen to his ironic comments on the life of festivals, to adore his deep respect for the art of cinema. I always admired his curiosity about movies. While I was running not to miss a film, he had always seen them all: the newest blockbusters and the independent films from all over the world. He knew and loved cinema. It was his life. He looked in an adorable way and with the same eyes on star movies and on unknown debuts from far away countries. This made him a wonderful and ideal member of the juries on which he had asked him to sit (and on which he wrote over two dozen of texts worth reading, see our website). He was untouchable for filmic fashions and preferred to look for new and young discoveries (what he did for us as well as for some institutions like the European Film Academy). I learnt from him to be open to the cinema of the world (with his enthusiasm for India as a great example). I experienced this as critic, I learnt it in particular in my work for FIPRESCI. That FIPRESCI evolved from an Europe-dominated organization to a really international body (with members on all continents) is essentially his work and influence, as longtime president and member. We miss him. We still need him.
I send you, dear Sarah, my deepest personal condolences, and I send you the deep sympathy of all my colleagues in FIPRESCI. We will cherish the memory of Derek.
Always Yours, Klaus
Klaus Eder, FIPRESCI General Secretary
"A legend of film critic, a great friend to many of us: We will never forget your intellectual verve, your affection, your humour, and your twinkling eyes."
By Rita Di Santo
It is not easy to write about Derek Malcolm, who has sadly died at age 91. He was a friend of mine, and a mentor. I met him 25 years ago when I started to attend national press screenings in London. I was a young critic, full of enthusiasm, but lacking in confidence, a fish out of water. Derek become my good friend. He helped me understand a lot about film criticism, but also that our job cannot be separated from our behaviour.
The film community has been deprived of its most refined and celebrated film criticism voice; around the world, the international film community feel they have lost a friend.
He had a huge knowledge of the film business and a contagious enthusiasm for the best of its products. His mastery of film language, moreover, was exemplary. A great communicator on television, he did not have equals on the print page.
He was well known internationally, across the festival circuit, from the biggest festivals — Cannes Venice, Berlin — to the smallest, from Europe to India, Japan, Russia, and South America.
Derek was a legend, but he was never aware of that. I had colleagues who constantly asked to meet him as if he were a star, hoping to glean some of his knowledge, or invite him to their festivals to give a talk or be a guest on the red carpet.
His career was extraordinary. He did not have a quiet life; his life story was like a movie. I'll refrain from examining his personal story, so well told by Derek himself in his autobiography Family Secret — I have no doubt that one day, someone will make a movie out of it. But to offer a short summary of his outstanding career: Derek was born in 1932, educated at Eton and Oxford, where he studied history, on leaving university he became an amateur steeplechase rider, winning 13 races, before trying a professional acting career in the theatre. Later, he switched to journalism, engaged as a showbiz correspondent by the "Daily Sketch". From there he went on to work for the "Gloucestershire Echo" as general reporter and theatre critic, then landed at the "Guardian Manchester" and then "Guardian London" in the late fifties.
From the "Guardian" he moved to the "Evening Standard." And when someone asked him: Why did you move? He would reply with his typical humour "Because the Evening Standard offered me a helicopter to use for my job."
The "Guardian" and the "Evening Standard" were very lucky to have a critic of that calibre. He has established a solid foundation, and surpassed, with his jockeying style, the world critics, especially the American critics. His clarity had no equal. His simple, honest, direct, fluid style was unique. After a screening he could easily find three words to summarise a review, and always for him the first two lines of his reviews were crucial. He used to watch lots of films, even the ones he didn't have to write about, because he thought that if you have to review a movie, you should know what that filmmaker has done before.
He was a great lover of Italian cinema: Fellini, Rossellini, Pasolini. Rossi's Salvatore Giuliano was one of his favourites. Precise films that do not waste time, where you breathe cinema in every frame, films that ooze with humanity.
He could have taught at Harvard University, but he chose to use a style far from "the pretentious academics and boring cinephiles" (as he used to call them) "that swarm around Cannes and other festivals bellowing their opinions to all and sundry".
He often complained with colleagues that a movie was "too long" over two hours, but then he used to love to forget time (and skip lunch) when he was watching a documentary at the Venice Film festival by Frederick Wiseman.
He loved art house films the most but was also able to recognise the value of mainstream films, blockbusters, and all genres, from comedy to horror.
Derek was the perfect gentleman and a very decent man, a man who never sought to undermine anybody's opinion, of others, critics, directors, writers, friends, waiters, publishers. Another of his trump cards? A keen sense of responsibility. He was always on time at screenings. Always the first. He never rushed, never look stressed, his work was a pleasure, he always seemed to be on holiday, even when his paper loaded him with work and deadlines. He had total passion, dedication, and commitment for what he did.
For over 40 years he attended all the most important festivals, Cannes, Berlin, and Venice. At the Berlin Film festival, where he also used to conduct talent campus for young critics with FIPRESCI, he was the first to arrive at the Berlinale Palace, at 8 o'clock in the morning, 15 minutes before the Berlinale opened its doors, thus he was able to chat with his colleagues and light a cigarette or two. I have never seen Derek in 25 years arriving late at a single screening.
At screenings, he had his favourite chair. Everyone knew where to find Derek at the Berlinale Palace, or at the Debussy in Cannes, or in London at Mr Young's screening room (now Soho Screening Rooms), where he always sat on the front row. It was our great fortune to have him every day at screenings in London. He made everyone talk to each other. He was respectful to those that didn't like to chat. No critic like Derek could make everyone feel at ease.
Derek was President of FIPRESCI, and he sat on many juries. He also was the director of the London Film Festival and Governor of the British Film Institute.
He was read and loved by so many British and international directors. He was a great friend to many, and he cared about others. He often asked me about colleagues who were not around anymore, because they lost their job. So many people have a shared memory with him.
His anecdotes entertained so many of us. One of his most famous stories was about his encounter with Fellini. They met in the bathroom at the Venice festival and Derek, out of his enthusiasm for Fellini's films, turned around and wet his shoes with pee. Or another one, from a visit to Tarkovsky's set, where Derek went to talk to the actors, leaving Tarkovsky asking "Who is that critic instead of talking to me, he goes to the actors.".
Derek was ahead of his time; he wrote well about Kieslowski before the Decalogue. He did a huge amount to develop and sustain awareness of British cinema. He wrote a supportive review for Stephen Frears with My beautiful Laundrette, but also to many others. Touring Soho with Derek was a pleasure, he was constantly meeting directors and actors who stopped and greeted him as if he were their best friend, I remember him meeting Helena Bonham Carter, but his favourite was always Ken Loach.
He was aware of the changing of the times. Once he said: "Once, critics were taken too seriously, but now they ask the man in the street his opinion, that is considered more valuable than what some boring old critics have to say".
Also, "You have to be entertaining because you want to be read." And "Work fast, know film history".
He was a friend to, and loved by, many filmmakers Ken Loach, Mike Leigh, Satyajit Ray, and several directors of the developing world and Latin America.
Stephen Frears wrote on the "Guardian" few days ago: "He'd come up to you at solemn occasions with some wonderful, deflating phrase. With his wickedly impish face, he always looked as though he was up to mischief. He wrote of 'My Beautiful Laundrette' that it was "groundbreaking" and what he said changed my life and the lives of others. He was endlessly irreverent and yet absolutely committed to the best of cinema."(The Guardian).
Also Stephen Wooley said: "Derek was a giant among critics and he wielded his undoubted power with the same delicacy and sense of justice that he admired in the great film-makers – and he never swayed from his responsibility to protect cinema as an art form. Thank you, Derek. We will never forget your twinkling eyes and words of constant support, and affectionate but self-deprecating barbed humour. The films you shone your spotlight on gave us the inspiration, but without you the lights would have been very dim – as they are with your passing." (The Guardian).
I have learnt many things from Derek, even how to dress. When one morning I showed up at a screening in old jeans, he told me with his usual humour: "Have you forgotten your pyjamas?". He taught me that we have to go against our laziness, our inertia, our misery. I have another very special vivid memory: when I was a young critic, Derek introduced me to his emeritus colleagues at festivals, (among them Klaus Eder), saying "This is my daughter". On many occasions, I had critics ask me "How is your dad?". I am so proud and honoured to have met Derek.
My gratitude to Derek runs very deep. Speaking of gratitude, I have to thank Sarah, Derek's wife, who also became a great friend. And I am asking myself just how much Sarah has contributed to Derek's career; they often flew together to many festivals, going to India together. Even when Sarah was not at the festival, her care for Derek was there. I loved to go to Christmas parties in London and look for Derek and Sarah, as if they were my family, like last time at the Guardian Christmas drinks, where we meet for our traditional of Christmas dinner. I am so glad I made it through the snow that night.
I had long conversations about movies with Derek, and we didn't always agree. I was looking forward to working again with him, on a daily radio programme at this year's Venice festival. I was ready to discuss and enjoy his knowledge and his sense of humour. Sadly, we have to carry on, looking at his empty chair.
It's hard to let go of a friend, a mentor, a father. But we will never leave Derek. We were blessed to know him. His reviews are utterly enjoyable, and I will keep reading them, again and again, I'd like to end with few lines of them. Once again: Thank you so very much, Derek!
Rita Di Santo
"Stanley Kubrick's masterpiece is a blast to watch and sometimes a pain to decipher completely." (2001: A Space Odyssey, Evening Standard, 1968).
"Enormous and exhilarating fun for those who are prepared to settle down in their seats and let it all wash over them." (Star, Wars: Episode IV – A New Hope, Guardian, 1977).
"You can object to [Tarkovsky's] vision as messianic and sometimes fundamentalist. It is hard, however, to mock the impact of his films." (Andrei Rublev, Guardian, 1966).
"In the end the film magnificently justifies its classic status as an affirmative statement about relationships" (Voyage to Italy, Evening Standard, 1953).
Rita Di Santo's text: © FIPRESCI 2023