One of the highlights in the Un Certain Regard section of this year's Cannes Film Festival, War Pony (2022), has deservedly won the Camera d'Or, which is given to the best first film. Directed by the actress Riley Keough (Zola, The Girlfriend Experience) and her friend Gina Gammell, the film is not only innovative thematically and stylistically, it also points to an experimental mode of filmmaking that is based on an extensive collaboration between the directors, writers, and actors. Since both co-directors reside in Los Angeles, one may wonder why and how it took them seven years to bring a narrative grounded in an Indigenous Reservation to the bog screen.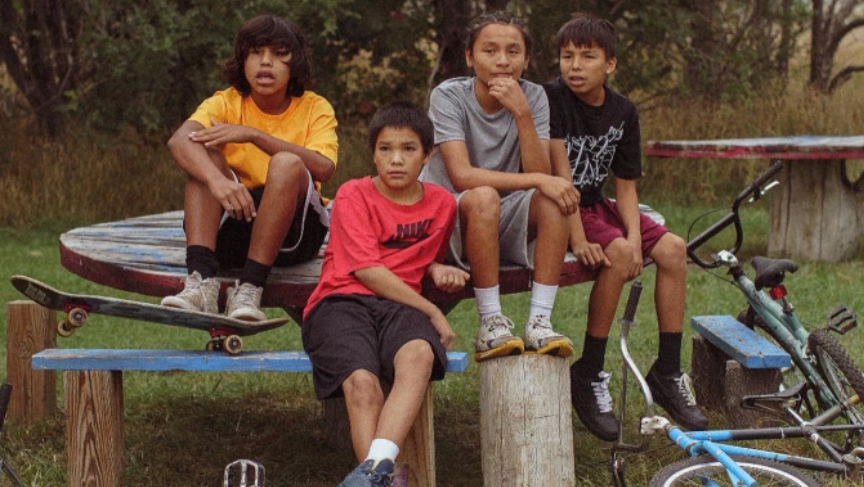 While shooting Andrea Arnold's 2016 film American Honey (which also screened at Cannes) across the heartland, Keough shared a scene with Franklin Sioux Bob and Bill Reddy, two young Lakota men from Pine Ridge, who lacked any previous acting experience and were enlisted by Arnold as extras. "We just got stuck in a motel room together for four hours," Keough recalled in an interview. "Our scene was moved, so we were just sitting there, drinking beer and waiting." And Sioux added, "She was the star there, so I was like, 'OK, cool.' Just on set drinking. I got paid $2,000 for, like, two hours of my time, so I was not mad at it."
South Dakota's Pine Ridge Reservation has been depicted in film before, but rarely from the inside. Thus, the main goal of War Pony was to capture daily life on the reservation by relying on the perspectives of its Native American residents. What began as an unlikely friendship eventually turned into an extensive collaboration that would stretch over the next seven years. Keough and Gammell would visit Pine Ridge several times, and later on, Sioux Bob and Reddy would travel out to Los Angeles. Hanging out and making Snapchat videos gradually led to a screenplay written by Sioux Bob and Reddy.
Miraculously, considering the way it all started, War Pony emerged as an accomplished portrait of life on Pine Ridge, a film that's more character than plot driven. The coming-of-age tale centers around two guys: 23-year-old Bill (Jojo Bapteise Whiting), a laconic, good-natured Oglala Lakota native who manages to get by through hustling small jobs. Having impregnated a couple of "Baby Mamas" along the way, he is trying hard to be a decent dad, without much success. Things change a bit when he comes up with ideas of how to breed poodles.
Struggling, and in desperate need of cash, he meets Tim (Sprauge Hollander), the owner of a turkey farm who uses him to pick up young Native girls for his own pleasure. As a result, Bill gets a job working in the factory on the property while doing dirty work for the boss. He even gets to attend a Halloween party in the man's lavish house, though the evening does not turn out so well.
In a parallel story, we also meet the 12-year-old teenager Matho (LaDainian Crazy Thunder), who is growing up in less than an ideal family situation; he is dangerously left to his own devices by his drug-dealing father.
The loosely jointed script unfolds as a series of interconnected episodes, ranging in tone from comedy (a potentially lucrative poodle plays sort of a co-starring role) to drama, and even the tragedy. The stories came straight from Reddy, Sioux Bob and others, who drew from their own memories and experiences on the reservation. It was shot on the same streets in which many of the actors live.
"It wasn't too hard to keep it authentic," says Sioux Bob. "We're all first-time actors. It's Pine Ridge. This is our life. All this outlandish stuff you see in the movie, that was Tuesday."
"It's so wild," Keough says in disbelief. "Every time I look at Frank and Gina, I'm like, 'What?' We know how we started and how far we've come."
War Pony, which is still seeking theatrical distribution, features a cast mostly composed of non-professional actors, including Oglala Lakota and Sicangu Lakota, citizens of the Oglala Sioux Tribe and Rosebud Sioux Tribe. A key figure of the enterprise was producer Willi White, a tribal citizen of the Oglala Sioux Tribe, who has been striving for years to bring to the screen more authentic depictions of Indigenous people.
"Pine Ridge is really unique," says Sioux Bob. "It's really beautiful but it's so chaotic. That's what I wanted everyone to see. This isn't just my reservation. All reservations in rural areas are like this. and there are probably groups of kids doing the same things. And I wanted it to be showcased candidly."
While attending the glitzy Cannes, many of the cast and crew members were making their first overseas trip. The young Crazy Thunder hadn't even heard of Cannes before. But the experience of making War Pony – grittily realistic and triumphantly effective -as well as seeing his home honestly reflected on screen has inspired him. "You want to go out and find more resources and reach for a different opportunity, reach for higher," says Crazy Thunder. Indeed, War Pony represents a major leap forward in offering opportunities to indigenous people to express their own stories in their own voices.
"Auteurism" and "Auteur Cinema" are favorable concepts in venues like Cannes and other festivals that showcase art films. But the communal effort of this film challenges the notion of a single powerful director expressing his vision. As Keough says, "A lot of people made this film."
End Note:
It just happened that the shadow of Elvis ("the King") loomed large over the 75th edition of Cannes. In an "out of competition" slot the festival screened Baz Luhrmann's new movie, Elvis, a stylistically dazzling but on-the-surface biopic, and, as is well known, Riley Keough is Elvis Presley's granddaughter.  I cannot think of two movies that demonstrate so sharply the two poles of American cinema: a big budget, star-driven mass (and massive) entertainment versus a low-budget independent film about a subject that's been both underrepresented and misrepresented by Hollywood.
Emanuel Levy
Edited by Pamela Jahn
© FIPRESCI 2022