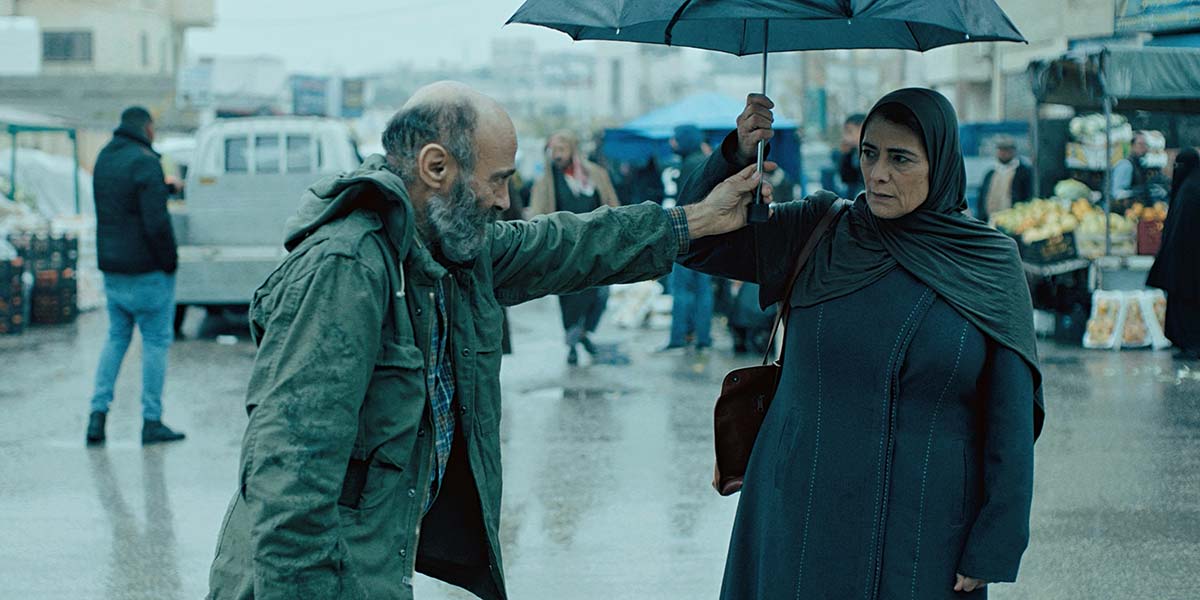 Gaza Mon Amour, the second feature from Tarzan and Arab Nasser, is an authentic dramedy that approaches the issues of war and embargo from an unusual angle. A beautiful love story between two sixty-year-old lost souls in Gaza, the Palestinian movie of Orizzonti is a powerful piece of filmmaking, full of life. 
In Gaza Mon Amour, life comes first even if the country is under embargo, blackouts are frequent, bombing by the Israeli air force is a fact of daily life, and money is hard to come by. But Issa seems to be fine: he is in love. A 60-year-old fisherman who spends his nights on his boat and his days in the market, dreams of marrying Siham, a detached and cold widow struggling with her divorced daughter, and who seems to pay no attention to him. Salim Daw and Hiam Abbass deliver powerful performances full of humanity and sincerity. Both actors say more with their eyes and facial expressions than with their words. 
Gaza Mon Amour is a gem of simplicity and intelligence even if the Nasser Brothers struggle a little with the question of time, and the intensity across all scenes because there are some powerful scenes and some not, giving the movie a feeling of being overstretched. But the emotional part of the movie covers for the clumsiness somehow, as does the comedy of the situations and the absurd dimension. Issa proves that humans can do foolish things for love, such as getting a pair of trousers altered even if they don't need it just to get closer to Siham, the beautiful seamstress. There is a peculiar sense of humor and humanity that recalls Elia Suleiman's cinema but still, the Nasser brothers are different and more authentic. They manage to deliver a message of hope in a part of the world where hope is supposed to be lost. "I want to stay here, to live here," says Issa even if all his friends are planning to leave the country. He loves his routine so much, and his love of Siham is so strong that he can't see himself anywhere else even if the authorities catch him for trafficking antiquities. That's what happens when Issa hauls a Greek statue out of the sea. Conscious that such a find is dangerous and valuable, Issa hides the statue in his cupboard. But the police manage to get a hand on it and the nice guy is put in jail. In a calm manner, without violence or despair, the fisherman accepts his sentence. Probably because life has been hard on him already and he is quite used to these kinds of adventures. 
One of the funniest moments is the scene where the historian explains to the police officer what the statue is, confirming it's Apollo a Greek God, and then the police refuse this word pointing to the conservatism growing in the region. Gaza Mon Amour does that too. Nasser Brothers point fingers at conservatism and religion with the sister who wants to marry her brother so badly. A funny scene with all Issa's pretenders in the living room. This lack of open-mindedness during or after a revolution increases the possibility of change. Here it's hard for a woman to re-marry after getting divorced when a widow can't love anymore. The Nasser Brothers gave birth to a sophisticated feature, full of love even when love is hard to express, full of life when the little things of daily life are hard to do, but above all, they managed to make a war movie full of harmony, peace, and hope.
Jihane Bougrine
© FIPRESCI 2020
Edited by Rita di Santo