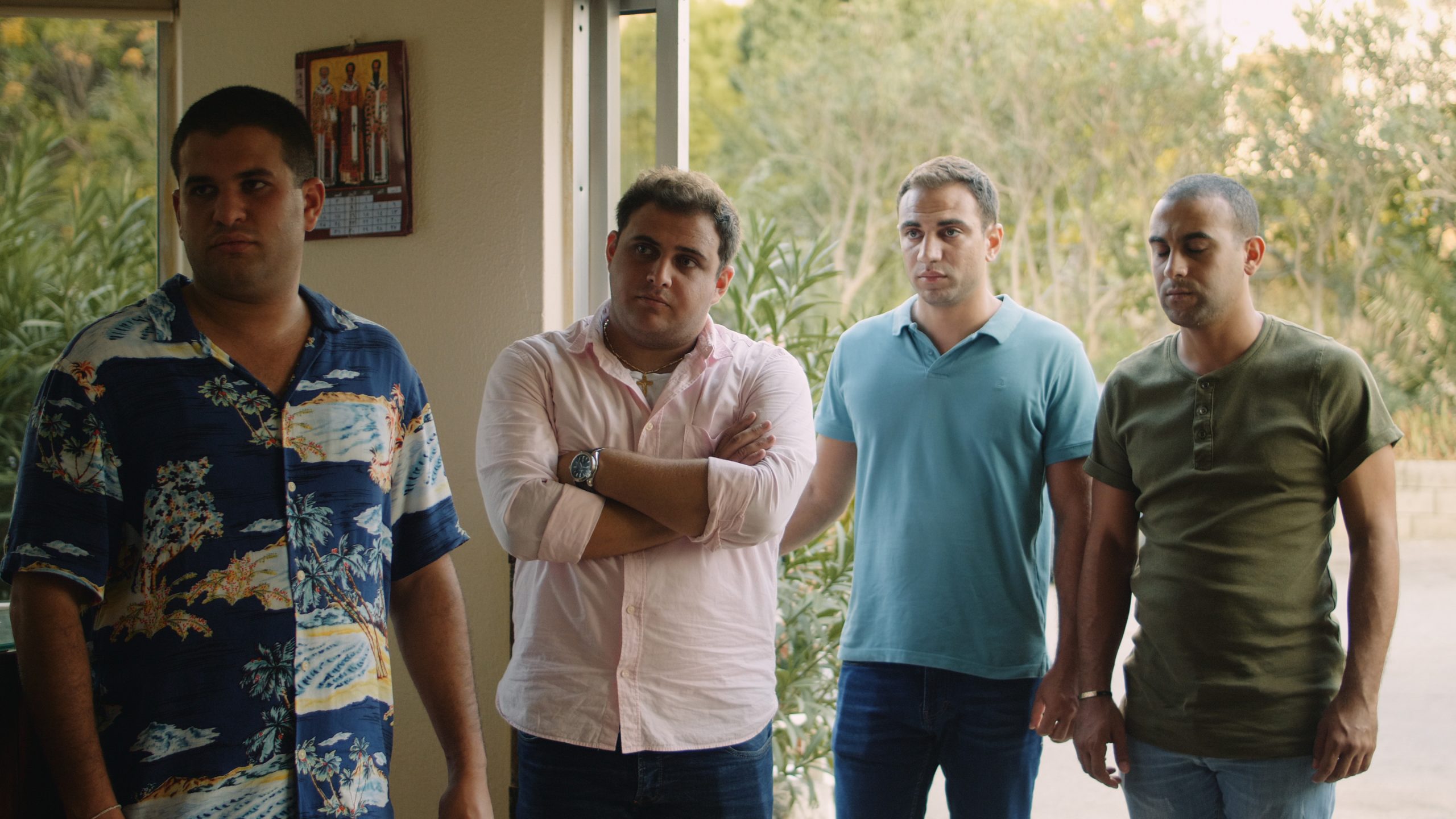 The story of Death of a Virgin, and the Sin of Not Living, the promising feature debut by George Peter Barbari, is not particularly complex, nor does its narrative structure feel labyrinthine or overly refined. On an opaque morning in Batroun, four Lebanese boys embark on a short trip to a brothel where they will finally lose their virginity to a prostitute. Among them is the sensitive Etienne (Etienne Assal), who quickly becomes the pivotal character around whom much of the film revolves.
The hours that precede their longingly-awaited rite of passage make up a large portion of what we seen on screen throughout these 87 tight minutes. Barbari, an Argentinian-Lebanese filmmaker born in California in 1992, keeps close behind the characters and records their small gestures, their forced jokes and silly pranks, often moving around and between them through sinuously elegant camera movements that seem somehow to dilate time (Karim Ghorayeb's cinematography is outstanding). His directorial maturity is obvious from the very first scenes set in Etienne's family apartment, and so is his talent in getting believable and touching performances out of a small but energetic group of non-professional actors, nonchalantly playing themselves before a blood-sucking machine. Yet what is really striking in this somber requiem for a country in decay and a people on the verge of moral and spiritual collapse is the original use of the interior monologue technique. What we hear is not a pompous and pretentious voiceover that tries to sustain the images or a banal commentary that accompanies the action, but melancholic voices that unexpectedly – at least at the beginning – emerge from the depths of the characters' silences once the camera shifts and isolates them from the rest of the frame. In Death of a Virgin, and the Sin of Not Living the characters laconically reveal to the viewer their secrets, the details of their future and invariably of their demise, while their bodies are caught floating in a limbo – a Lebanese limbo. Theirs are not meditations on life and death, but brief fragments of irrelevant lives in the making, laconic flashforwards of an obscure common future made up of hardships, sacrifices and failures.
Like every journey, their slow march towards manhood must come to an end, and it's Etienne whom we follow into a dark hotel room by the sea. There the rendezvous with the sex worker – a traumatized girl played with passion by the beautiful Feyrouz Abou Hassan – turns out differently from what he had expected (or maybe not). Unable to let himself go, to put aside his own thoughts and to detach himself from the pain that surrounds him, Etienne fails the test. As his very own voice anticipates with merciless clarity, after this bitter experience he will retreat into a life of material prosperity, painful loneliness and missed opportunities, only partially redeemed by literature and poetry. His first unsuccessful encounter with the female body, his first failed attempt at transitioning to adulthood, is nothing but the first inevitable step towards a silent death in solitude.
Only a few months after its world premiere at the 71st Berlinale, where it was screened in the Panorama section, Death of a Virgin, and the Sin of Not Living triumphed at the 40th Istanbul Film Festival, winning both the Special Jury Prize and the FIPRESCI Prize for Best Film in the International Competition "for the unsettling depiction of the fragility of human existence and for the mesmerizing elegance of the mise-en-scène."
Massimo Lechi
Edited by Lesley Chow
© FIPRESCI 2021