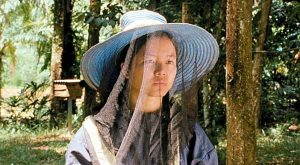 British artist and filmmaker Ben Rivers and Thai director Anocha Suwichakornpong teamed up for a poetic movie observing tourist attractions in a way that defies shallowness and the flow of time as we know it. Krabi, 2562 (Moving Ahead) had its world premiere at the 72nd edition of the Locarno Film Festival.
"Our king always rules for the happiness of the people." A schoolyard full of students listens to the morning's mantra about the Thai king – the year, as per the Buddhist calendar, is 2562 and Anocha Suwichakornpong alongside Ben Rivers uses the civil mood of their opening scene to convey the overall mood of their feature film. Krabi is a province in southern Thailand and thanks to its beaches and nature one of the most sought-after tourist destinations in the country. Krabi, 2562 is a movie light-handedly capturing everyday situations in the region.
The movies of Anocha Suwichakornpong premiered at festivals from Cannes to Sundance, her most well-known feature By the Time It Gets Dark (2016) poetically dealt with traumatic events from Thailand's past. A no less poetic traveller, Ben Rivers, has been exploring places all over the globe, often working with the attraction of partly or fully made up mythologies. His mostly black-and-white movies can often do without words, while Rivers drags the audiences into his worlds – be it the feature portrait of a recluse in Two Years at Sea (2011) or a short expedition to Vanautu in Creation As We Saw It (2012).
As Rivers himself puts it: "Often when I'm making my films, I am imagining they are from the future, and have been somehow sent back to this time and been found in a dustbin." And such an approach is visible in Krabi, 2562 as well. It is not possible to exactly determine when the movie shot on 16mm film takes place. While the scenes featuring selfie-obsessed tourists hint at a contemporary setting, the monologues of old-time residents could have been filmed in any of the past few decades. And just wait until a Neanderthal couple enters the stage…
 "Beach, temple, massage." Americans exploring Thailand for the first time know how they wish to spend their time in Krabi, however Suwichakornpong and Rivers do not mock their insta-tourism. On the contrary – their presence is as legitimate as that of a local resident recalling banal yet magical stories from his life. Inaccurate recollections of the past are as valid and important as ephemeral experiences of Westerners travelling or working in Thailand. It is no wonder that individual as well as collective memories are one of the movie's dominant themes.
The film was an organic collaboration between the two filmmakers and it is pointless to try to decipher who is to be credited for which scene or motive. The movie naturally blends seemingly banal everyday situations with magical encounters that may be difficult to explain, but fit the depicted environment very naturally. In Krabi, 2562 these encounters are represented by a Neanderthal couple stoically inhabiting a cave close to a tourist beach.
Krabi, 2562 does not angrily criticise mass tourism, it is more of a gentle polemic that tries to show us alternative ways how to experience life and re-evaluate what we consider ordinary.  Rivers and Suwichakornpong do not perceive the slightly confused Westerners clumsily mingling with the locals as something to laugh at. Instead, they consider them one of the inconspicuous wonders of ordinary days. And it is precisely this that fuels the lives of people at Krabi and fills them with both content and energy.
Viktor Palák
© FIPRESCI 2019
Edited by Karsten Kastelan