An Italian director working in Argentina, Maura Delpero makes a brilliantly naturalistic and profoundly feminine debut with Maternal at Locarno.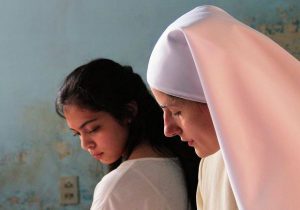 Fati and Lulu (stunning nonprofessional beginners Denise Carrizo and Augustina Malale) are two teenage mothers living in a religious center in Buenos Aires (the Hogar) that shelters young mothers or mothers to be and is run by a bunch of aged nuns that rigorously watch them. As Fati and Lulu share the same room with their two kids, Michael, the young boy of pregnant Fati, and Nina, the four years old chubby and quite neglected daughter of immature and energetic Lulu, Maternal immerses us in their funny intimacy and friendship with a brilliant naturalistic gaze. In many scenes, Maternal confronts the disarming vivacity of tattooed and bold Lulu climbing her bunk bed and desperately wanting to be loved and the earnestness of Fati, assuming that her father could have abused her (in a country where abortion is not yet legal), though the film delivers no political message on that point. Their routine (bringing their kids to the religious lessons, waxing Lulu's legs with the means at their disposal, preparing a party and dancing like crazy while the nuns babysit the kids) is somewhat interrupted by the arrival of Sister Paola (sumptuous Lidiya Liberman), a serious but tender young nun who has not yet pronounced her perpetual vows. When Lulu decides to escape to follow her lover, Sister Paola starts developing a strong but maternal link to Nina.
Maura Delpero cleverly films an interacting female trio united by the quest of maternal instinct – and finds a soft balance between her naturalistic style and the rigor of a narration that doesn't mislead, taking advantage of situations and using dramatic irony with humor and great tenderness. For example when little Michael expresses that they are now like the sacred family when his mom gives birth to his little sister, or when Lulu is gently reprimanded by Paola because she has been using deodorant in her panties in front of Nina.
Embodying Sister Paola gracefully, Lidiya Liberman totally fits the very cinematographic costume of the nun (from Oscar-awarded Pawel Pawlikowski's Ida to Jacques Rivette's The Nun) and her beautiful presence is one to be remembered. As the figure of Sister Paola first appears like a forgiving Madonna that permits an empathic and rather delicate psychological view of situations (for example when Paola encourages Lulu not using Nina to send her steal scotch tape), and step by step moves to a gracious game of hide and seek between Paola and little Nina and to a more silent dilemma for Paola. Maura Delpero doesn't go too far in what could have become a flamboyant Almodovar-style or a much darker film, with scenes such as the disappearance and then the return of Lulu – with a black eye and possible redemption). She instead focuses on the inner life of the religious center (that she must have observed for a long time with a documentary eye) and finally proposes a free version of what it means to be a mother.
Juliette Goudot
© FIPRESCI 2019
Text edited by Karsten Kastelan