Brazilian director Maya Da-Rin delivers a strong and philosophical tale about an Amazonian man contracting an unexplained fever.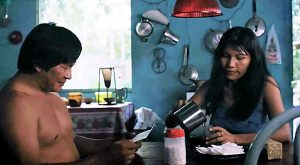 Justino (Regis Myrupu) works as a security guard in the industrial port of Manaus, the biggest city of the Amazon State of Brazil. He goes back home every night, where he lives with his daughter (Rosa Peixoto), who works as a nurse. He receives visits from his son and grandson, whom he gladly tells stories of the jungle they had to leave because of the deforestation. Their soft harmony sways when Justino's daughter is compelled to study medicine in Brasilia. The Fever (A Febre) follows the inner journey of this father and daughter couple with a strong humanist look, as Justino starts contracting fever, symptomatizing the effects of his dehumanizing job, including the confrontation with a racist colleague who keeps calling him an Indian. Maya Da-Rin and therefore her DP Barbara Alvarez both take strong advantage of their main actor's grave and solid face (Myrupu happens to be a shaman from the indigenous Dessana tribe) – the whole movie could be watched as a meditation on Justino's face and body. It's the plain body of a worker – "I've been working since I'm a kid " answers Justino the director of human resources after he starts to mention with his supposed lack of attention at work.
The film also slowly becomes a reflection on time, confronting two visions of it: the time of Justino as a hunter in the jungle that can never be regained, facing the occidental time that simply works as a killing machine, symbolized in the film by attacking dogs that Justino perceives in the forest around his modest home where he likes to sleep in a hammock. Fever also captures, with rare delicacy combined with despair, the chasm between generations: when Justino's elder brother passes by and encourages him to be healed in their native land, he represents the last of his family who knows how to survive into the jungle – capturing animals that are starting to disappear. "You've become so white", he kids Justino when he refuses to quit his job to rest at the village and confesses eating food from the supermarkets. Finally, Justino (who could not be better named, because he's a good man, accomplishing simple acts that become existential, like cutting bananas for his family and simply hanging them on the wall) crosses different states of being, waiting like a hunter without prey for the right decision to come to him. As a counterpoint, the film absolutely succeeds to capture the melancholy of Justino's daughter, who appears as a figure of modernity (she's a thin, witty and independent young woman), gaining a scholarship to study medicine as she perfectly knows that this brilliant job may just take her away from Indian spirituality and above all from her father. As she makes up her mind and struggles with culpability, needing her non-indigenous friend at the hospital to encourage her going to Brasilia, Justino's fever increases as the last forest calls to find a way back to his humanity. Therefore again, Justino's beautiful carved face, opposing big dehumanized machines he surveys in silence, appears like in the writings of philosopher Emmanuel Levinas about the human face not only as an esthetic or physical object, but like a universal living presence, as the face of Justino that Maya Da-Rin sometimes films in close-up "refuses to be contained", like "a source from which all meaning appears". As a philosopher and a great director, Maya Da-Rin finally achieves, by an nocturnal quest into the woods confronting a dog, and by Justino's ultimate, silent and sovereign choice, to give him back the dignity and part of mystery that the society tries to take away from him. We could also add that her female gaze embraces with empathy and a great sense of presence the two characters of Justino and his daughter.
Juliette Goudot
© FIPRESCI 2019
Text edited by Karsten Kastelan