Eight Views On One Movie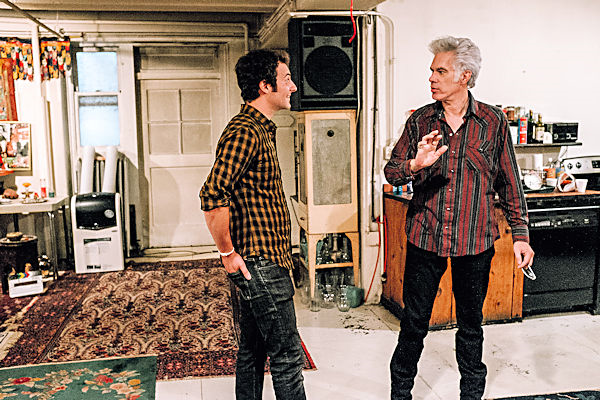 All participants were asked to review the film "Uncle Howard", shown in the section "Panorama Documents".
The Film. "Uncle Howard". Great Britain / USA, 2016, 96 min. Directed by Aaron Brookner, with William S. Burroughs, Jim Jarmusch, Robert Wilson, Tom DiCillo, Sara Driver.
"After Howard Brookner, director of two documentaries and a feature film, died from AIDS related illnesses at the age of 34 in 1989, his slender oeuvre was in danger of being forgotten – until his nephew Aaron decided to preserve his uncle's legacy and to digitalize his first film, the cult classic "Burroughs: The Movie" (1983). This endeavor led to the discovery of a number of other gems stored in the godfather of Beat's legendary 'bunker' in New York's Bowery district. This rich archive of material, shot by film maniac Brookner from 1978 until the end of the 1980s, represents a unique document of the decade's incredibly vibrant art and gay scene in downtown New York." (Berlinale 2016, Catalogue).
Xin Zhou
Specters of the Past
The film starts with the failed attempt of the self-referential director Aaron Brookner, who has difficulty accessing the materials of his uncle Howard Brookner, a successful yet short-lived filmmaker, with two documentaries and one feature film in post-production left behind before dying from AIDS at the age of 34, in 1989.
The finding of the archival materials, housed in the legendary author Williams Burroughs's loft place, aka "The Bunker," was firstly met with cold reaction by poet John Giorno, the gatekeeper of the Boroughs estate. Gaining the trust of Giorno through months' effort to recover the materials, the younger Brookner successfully excavated the either lost or found footage, and restored the images of the obsolete. Slowly, the film slides into a re-appropriation of archival footage, mixing digitized photographs, and home video, to vividly re-contextualize the historical hipster lives in New York.
Entering into the same genealogy of his uncle, the archival impulse of the young director leads himself into a rediscovery of the obsolete memory, saved in the materiality of celluloid films, just like the specters of the dead haunting the very present.
This biographical work, which grows beyond a chronological narrative of a long-forgotten and promising director, is also an important footnote to the New York independent film scene in the 80s when a generation of now-established filmmakers emerged, like Jim Jarmusch and Tom Dicillo, etc. Via the recount of a number of the older Brookers' peels, it's difficult not to speculate the potential of this director who tragically left the world at a young age. In a sense, the excavation of the past invokes an alternative future.
Ruben Demasure
The Man With A Movie Camera
"Open your mind and let the pictures out," was the adage of William S. Burroughs. In 1983, Howard Brookner realized the only film about and with the cult writer. His nephew, Aaron Brookner, discovered a lost print of "Burroughs: The Movie"and crowd funded its digital restoration (available on Criterion). Now, he made a documentary about the life and work of his "funny uncle" who always carried a camera. "Uncle Howard"premiered in Sundance's US documentary competition and is now showing in Berlinale's Panorama section.
The film opens with Aaron gaining access to Burroughs' Bowery bunker, which also served as a burial chamber for his uncle's archive of outtakes footage and home movies after he fell victim to AIDS at the age of 34. It ends with a video diary in which Howard puts on The Pretenders' "Hymn to Her" starting with the lines: "Let me inside you / Into your room." Between the windowless bunker and that last intimate scene against a wide-open, exterior view on a Manhattan sunset, the filmmaker opens up the world of his childhood hero. Ultimately, we see Howard pass his video camera to the young Aaron and instruct him on how to watch through the viewfinder. The subject of many of his home movies now changed position to the other end of the looking glass.
In execution and form, the film is a fairly standard documentary. It chooses the worn-out format of the director as on-screen guide who more or less genuinely discovers stuff. A hand-held camera operator closely follows the filmmaker's quest but is never acknowledged. The film truly thrives on the rich archival material, which is already fascinating in itself. The footage of Howard's next projects was scarcer and is not as strong as the material on Burroughs. He went on to make "Robert Wilson And The Civil Wars"(1987) on the aborted project of the theatrical avant-gardist and a posthumously released Hollywood feature debut, "Bloodhounds Of Broadway"(1989), starring Madonna, Matt Dillon and Rutger Hauer.
The carefully structured story is well supported by the music and soundscape and by associations between the footage and the new scenes. Although the filmmaker's aim is to uncover the myth of his childhood hero, the interviews with his family and friends inevitably add to a "what if"-narrative of a tragic genius. "Uncle Howard"nevertheless fills a missing page in a personal family album and the chronicles of New York's counter-culture community.
Sergio Huidobro
A Myth Portrayed As A Human Being
There are certain moments, during the first half of "Uncle Howard" (US, UK, 2016), Aaron Brookner's first documentary feature, when one could easily accept that the film another minimal, personal, well done bio-doc about film or a compelling film-within-a-film, enhanced by the emotional appeal of an homely family tribute. That's just half-truth. Brookner's main worries as a filmmaker concerns the use of film as a memory tool, and the cultural weight of film preservation and recovery.
Almost a unknown filmmaker nowadays – besides a recent Criterion release – Howard Brookner was one among tens of visual artists who settled Lower East Side during that creative, frantic decade ranging from Lennon's death to AIDS global arise and marked by that bizarre blend of Ronald Reagan and Madonna. One way or another, he managed to obtain friendship and confidence by the elusive, legendary paranoid William S. Burroughs. Now a cult feature, "Burroughs: The Movie" (US, 1983) still is the best glimpse we got on the mystified novelist as a human being.
Aaron, Brookner's nephew and a personal fan of him, finally entered Burroughs' personal "bunker" after years of refusals. What lay there is an endless, unknown archive on his uncle's unpublished films: peeks at intimate parties and conversations among Frank Zappa, Andy Warhol, Patty Smith or Laurie Anderson, but also the daily intimacy of Bill Burroughs. Every take, every single shot acts as a memoir for uncle Howards rare, gifted way of look at this figures.
"Uncle Howard" premiered at Sundance and was included in the Panorama program at 66th Berlinale. The film offers a multiple portrait: there's a warm depiction of Howard himself as a fallen artist whose legacy remains unfinished, but also a profile of an unfamiliar friendly Burroughs and finally, a haunting tableau of 1980s New York scene. All of them compose somehow a portrait of Aaron Brookner as a filmmaker looking for an identity of his own, unearthing the remains of a past that is both intimate and mythical.
Despite some minor montage flaws, "Uncle Howard" delivers sincere emotional rewards during its final third. That worth lies on the skilled awareness of Brookner – the – nephew who achieves a close intimacy with his unique cast, although it includes some counter-culture holy cows. Despite this, Brookner is at every moment aware to memory whispers and to that thins slits where we can see, behind a good-natured uncle, to the creative, passionate filmmaker he could've been.
Isabella Akinseye
Blurry Lines Between Past And Present
A timeless piece of art is not characterized by the progression of its aesthetic rather by the import of its significance to generations yet unborn. In "Uncle Howard" (UK, USA), it is not about the changes from the black and white of the past to the full color of the present that holds the viewer rather it is the subject which decades later after it was recorded is still significant in today's discourse. By discovering the old work of his uncle, director Aaron Brookner finds himself with more questions rather than answers taking us on this personal journey of discovery through his lens.
The opening shot with shaky framing helps set the tone of the documentary. Nothing is guaranteed and the viewer is sucked into the director's world in his quest to resurrect the memories of his late uncle through his legacy – reels of film and personal albums/books. Despite the initial resistance put up by poet John Giorno, caretaker of the bunker where the material is stored, he eventually gets his wish granted. And rather than savour the happiness that his newfound treasure begins alone, he opens up to more people – on camera. People like him – who have been touched personally and professionally by the work of his "Uncle Howard".
Nostalgia meets reality when the dark subject matter continues to echo itself in today's world. AIDS, the disease which killed the subject of the film still has no cure and though, a lot of progress has been made in the LBGT world, being a homosexual can still get you killed in some parts of the world. Brookner succeeds in bringing these issues to the fore by sharing the personal revelations on how his uncle's sexual orientation was received by family and colleagues. And we discover that his parents did not only want him to settle down and have kids, they preferred a more professional career path – law for their son.
Aaron's journey of triumph is also symbolic of how Howard was able to follow his dream of filmmaking through to the end. We see the progression from his earlier works Burroughs: "The Movie" (1983) and "Robert Wilson and the Civil Wars" (1986) to his final work "Bloodhounds of Broadway" (1989). The ambiguous end with little information on the reception of Howard's first feature seems rushed and leaves the viewer hanging.
Tara Karajica
"Uncle Howard"
Nobody wants to be forgotten. That is why Aaron Brookner went on a personal quest to preserve the legacy of his uncle, film director Howard Brookner, with his engaging and endearing documentary, appropriately titled "Uncle Howard" (Great Britain, USA), premiering in the Panorama Documents section at this year's Berlinale.
Howard Brookner died in 1989 of AIDS related illnesses before the release of his first feature film, "Bloodhounds Of Broadway" (USA), starring Madonna, Jennifer Grey and Matt Dillon, and buried on his 35th birthday. Howard Brookner was gay, an Ivy League graduate, broke artist, bohemian, rising Hollywood star and director of cult documentaries such as "Burroughs: The Movie" (USA, United Kingdom) and "Robert Wilson And The Civil Wars" (USA, Germany, United Kingdom). Howard Brookner was many things to many people but to his nephew Aaron, he was a loving and inspirational uncle who died when he was very young.
In his deeply personal, poignant and edifying first documentary, executive produced by Jim Jarmusch, Aaron Brookner not only preserves his uncle's memory and legacy but also pays tribute in an astute and sensible manner to filmmaking and a time and a city that are no more. When Aaron Brookner decided to digitalize his uncle's cult classic first film, he discovered footage of the Big Apple's vibrant art and gay scene shot by Brookner from 1978 until the end of the 1980s and stored in William S. Burroughs' bunker in New York City's Bowery district. Alternating this archival footage with conversations with both relatives and his uncle's friends that include Robert Wilson and the aforementioned Jim Jarmusch among many others and narrated by Aaron Brookner, "Uncle Howard" simultaneously tells Howard Brookner's story, from his early filmmaking beginnings at NYU all the way through his three completed features up until his untimely death. Moreover, Brookner's music choices that include songs such as The Pretenders' "Hymn to Her" or Otis Redding's "A Change is Gonna Come" follow perfectly the film's structure and purpose. Furthermore, Brookner is not afraid to include himself in his work, show deep respect for his uncle and openly explore his family's at once painful and joyful history. Through his work, we can also see that he is, in a way, like his uncle.
An informative, courageous, personal, raw and intelligent piece of documentary filmmaking, "Uncle Howard" is not only a homage to Howard Brookner and a loving portrait of an artist but also a journey back in time, an insightful look into a part of film history, and an exceptional document of an era.
Rasha Hosny
An Unfinished Story
"Uncle Howard" (Great Britain, USA, 2016) is a feature documentary based on the life of Howard Brookner – filmmaker and director of "Burroughs: The Movie" (1983) who died of AIDS in 1989 – by his nephew Aron Brookner. Aron Brookner paid his Uncle – who inspired him to be a filmmaker – by unearthing his worthwhile work.
"Uncle Howard" is a journey or a visit to the 70s–80s through rediscovering Howard Brookner's history and art. It evokes the atmosphere of 1980s New York with its culture, films, places, music and notable icons like the generation-famed novelist William S. Burroughs.
Although "Uncle Howard" may seem like a personal film, the treatment of the topic made it more universal. A lot of people could easily relate to it. Howard Brookner insisted to study filmmaking and not become the lawyer his parents wanted him to be. He strongly believed in his talent and he followed his passion till the end. He died with a very satisfied soul which is–in all truthfulness- a feeling unlike any other; rebellious, prosperous and exceptional.
"What if it is my only film?" Howard had told the producer of his last film "Bloodhounds of Broadway" (1989) to try and convince him to do it. He had known then that he had AIDS and his death was only a matter of time. Yet that did not stop him from working himself behind the camera, refusing to leave this world before it is complete. He wanted his last mark on this world to be through film reel.
Aron used his uncle work tactfully. He used Howard's video diary when he was talking about his grandfather's death in the middle of the film, followed by the sound of alarm bells and accompanied by radio recordings about AIDS as a prelude to Howard's death.
In a movie like "Uncle Howard" it does not matter if all the shots are not sharply focused, what really matters is how focused Aron was in showcasing his idea using masterful storytelling flow and techniques.
Aron ends his film emotionally, using Howard's message to his parents then his video diary talking and dancing. Despite his imminent death, he showed the contrasting clip, full of energy and life as if he sent us the message that "Through what his art, Howard is still alive and will always be". "Uncle Howard" is a film not to be missed.
Sevara Pan
"Uncle Howard"
"Uncle Howard" (USA) is a fond tribute to Howard Brookner, a prying observer of life and a celebrated yet unexplored American filmmaker whose love for cinema never grew thin even when the deep-seated malady came to claim his life. Howard, largely known for capturing the lives of the famed Beat personas of the early 80s, received his first critical acclaim for the documentary feature on the counter-cultural icon, the radical thinker, and "Naked Lunch" author William S. Burroughs. Three decades after his promising career was cut short by AIDS, his nephew Aaron who appears to have inherited his uncle's creative ambitions as well as his physical resemblance, sets out to restore and preserve the vast abyss of the archival footage, shot between the late 70s and 80s, which has remained hidden from the public view in Burroughs' studio "The Bunker." Following Aaron's restoration efforts, the film recounts Howard's story from his early filmmaking career at NYU, through his three films ("Burroughs: The Movie", "Robert Wilson And The Civil Wars" and "Bloodhounds Of Broadway"), and up until his death in 1989. The documentary reveals how significant filmmaking was to Howard's identity, becoming ever more resonant when he made a video diary as a way to stay alive for the opening of his third film. "It was like that O. Henry story when a woman knows she will die when the last leaf falls off an ivy vine, and so a friend paints a leaf on the wall," his long-term boyfriend Brad Gooch said to "The New York Times" in 1989. The film deftly interweaves the outtakes from his films with personal diaries, family photos and interviews with friends, close collaborators and surviving relatives. Beyond being a cinematic eulogy to the cherished uncle and childhood idol, "Uncle Howard" is a story of a personal discovery, a way to understand the man's life and an opportunity to show what is there to be found when one is ready to let go.
Liz Chege
"Uncle Howard"
Aaron Brookner's touching portrait of his uncle and filmmaker Howard Brookner, presents a layered study of an artist whose life was sadly cut short just as his talent had begun to soar. Like a play within a play, we begin our journey largely through the older Brookner's experience of filming "Burroughs: The Movie", a documentary about seminal writer William S. Burroughs which was completed in 1983. Interspersed with home movie footage harking back to slices of family memories, we encounter fleeting moments between an uncle and nephew hinting the personal exploration that is to come as the film progresses. The search for the footage believed to be lost forever provides the structure of the documentary and the audience is introduced to the original team including Jim Jarmusch who worked with Brookner on the film while he was a film student.
The city of New York and more specifically, Burroughs's work and living space "The Bunker" are revealed to be a key characters in their own right as we learn of Burroughs's addiction to drugs and how this influenced the older Brookner. A space with no windows, "The Bunker" alludes to Burroughs's predilection to fierce privacy. Nonetheless, it becomes a space of interaction with his contemporaries such as John Cage, Patti Smith and Andy Warhol. Memorably, during one of Burroughs's get-togethers, we view a moment where he looks directly at the camera as he sits in a separate room looking on as his guests chat next door. A testament to the intimacy, trust and closeness that he welcomed with Brookner, something that others interviewed in "Uncle Howard" say was rare.
While Aaron Brookner's film sensitively touches on his uncle's private life and his battle with AIDS, it largely focuses on looking through the lens of his uncle as a filmmaker. Whereas, where the film truly transcends, is in the pockets of personal footage made by his uncle such as with his grandparents and the beautiful, heart-breaking letter that Howard sent to his parents upon learning of his impending and untimely death. Still, while the younger Brookner does not shy away from the more difficult aspects of his uncle's life, he maintains a respectful distance from the solemnity and has created a powerful portrayal of a documenter documented.