This year's scaled-down Forum Section was something of an anti-climax for Alexander Zwart who argues that, for a section that introduced the likes of Peter Greenaway, Derek Jarman and Wong Kar-Wei, the level may seem so high that emerging film-makers don't yet consider themselves eligible.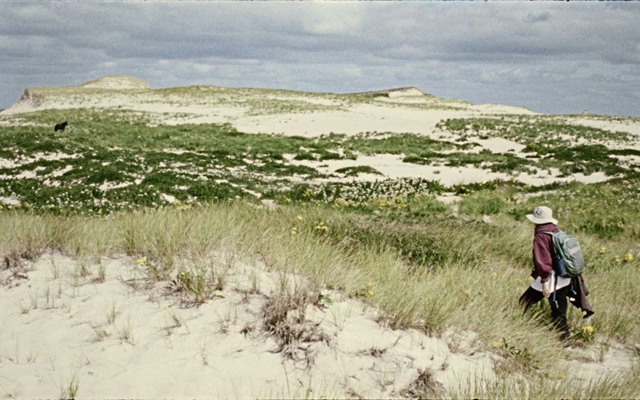 Want to look beyond the usual borders of cinema? The Berlinale Forum Program is your friend, ever since 1971. Although it is part of the festival, it is independently curated and organized by Arsenal – the Institute of Film and Video Art in Berlin. The organizers pride themselves on celebrating innovative cinema. Take this quote from their website: "The programs of the Forum and Forum Expanded (Expanded taking place outside the cinema context – AZ) aim to expand the understanding of what film is, to test the boundaries of convention and open up fresh perspectives to help grasp cinema and how it relates to the world in new ways." 
When you take a look at the filmmakers that started out in Forum in previous editions, you immediately become curious about this year's selection: From Peter Greenaway and Derek Jarman to Wong Kar-Wei and Kim Ki-duk. Obviously, such cinematic discoveries can't be guaranteed every year. Still, with such predecessors, you can't help but look with interest to the new crop of film innovators, especially the makers that just started out in making feature length cinema, presenting their first or second full-length feature on which the Fipresci jury this year had to pass its verdict (because of the limited days of the Berlinale Festival 2022, the jury couldn't see the full program of Forum, that's why this selection was made for the competition, on the advice of the organizers).
Let me first state that this is written at the end of the festival, which gives us some special insight. Awards have already been given out and to a certain extent that gives us the liberty to draw our own conclusions. Surprisingly, for a program that is all about cinema innovation the most accessible documentary included in this year's Forum program (the scaled down Fipresci version of it) won three prizes by associations that judged the whole program. It won the Prize of The International Confederation of Art House Cinemas, the Caligari Prize sponsored by the German Federal Association of Communal Film Work and filmdienst.de AND it won the Prize of the Ecumenical Jury, awarded by the international film organizations of the Protestant and Catholic Church.
This winner, Geographies of Solitude (from director Jacquelyn Mills), isn't just about increasingly prevalent environmental issues that appeal to at least two of these three world-improving award givers, as just stated, it's also the film that can make you wonder what it has to do with the innovative cinema Forum is claiming to be all about. It's not a bad film, but it doesn't push the boundaries of cinema as you would expect of the 'Best Film' of this program.
It's not that Mills doesn't experiment. While we see her protagonist Zoe Lucas as a quiet activist and former art student in action, Mills presents us with sound recordings, for instance of a beetle crawling over a leaf. Periodically she also shows us a few seconds of film footage that was buried with juniper roots from the island Lucas lives on, and later she also shows us footage that was bathed in local seaweed, or encrusted in horse feces. Anything to bring us closer to the core of Sable Island, 186 miles off the coast of Nova Scotia, Canada.
It appears director Jacquelyn Mills uses physical film rolls more often in her shorter stand-alone films, and what initially sounds like an interesting Stan Brakhage-like experiment that makes you curious about the formal language that this would yield in the longer term, in this film it only seems to happen in passing, making it a looming interlude which reduces it to some sort of gimmick.
As stated before, for Forum, a section that prides itself on innovation, it's weird to see a thorough and decent documentary being rewarded as the best film in its program. But this also brings us to the bad news for those who thought they would discover the new 2022 Wong Kar-Wei here. Maybe the bar was set too high, but the overall quality of the eleven debut and second films in this year's program were not as groundbreaking as we had hoped. Some films were lacking content, others had the content but were unable to convey it and yet others got stuck in form and merely gave the suggestion of tension.
You could reason that the films in the Forum program are so progressive that even seasoned film critics can't yet appreciate them. That's the positive way to explain it, but let me put it this way: anyone who annually visits the graduation shows of film academies and art schools has a general impression of the quality of young makers. In some cases we didn't have the feeling Forum was presenting us the best of the class. But it also made us think: Do young graduating film makers even know they can submit their film? Hasn't the bar been set so high that young makers don't see themselves as eligible, thinking too harshly of themselves that they don't have Forum-quality yet? Food for thought and maybe even a word of advice: Maybe the next step for Forum is to become more approachable, or scout pro-actively next to the movies that are being submitted. The time is now. Bring on those boundary-testing movies!
Alexander Zwart
Edited by Steven Yates
© FIPRESCI 2022