Here, a film that portrays a chance encounter in and with Nature, has been awarded the FIPRESCI prize at the Berlinale 2023 for the section Encounters.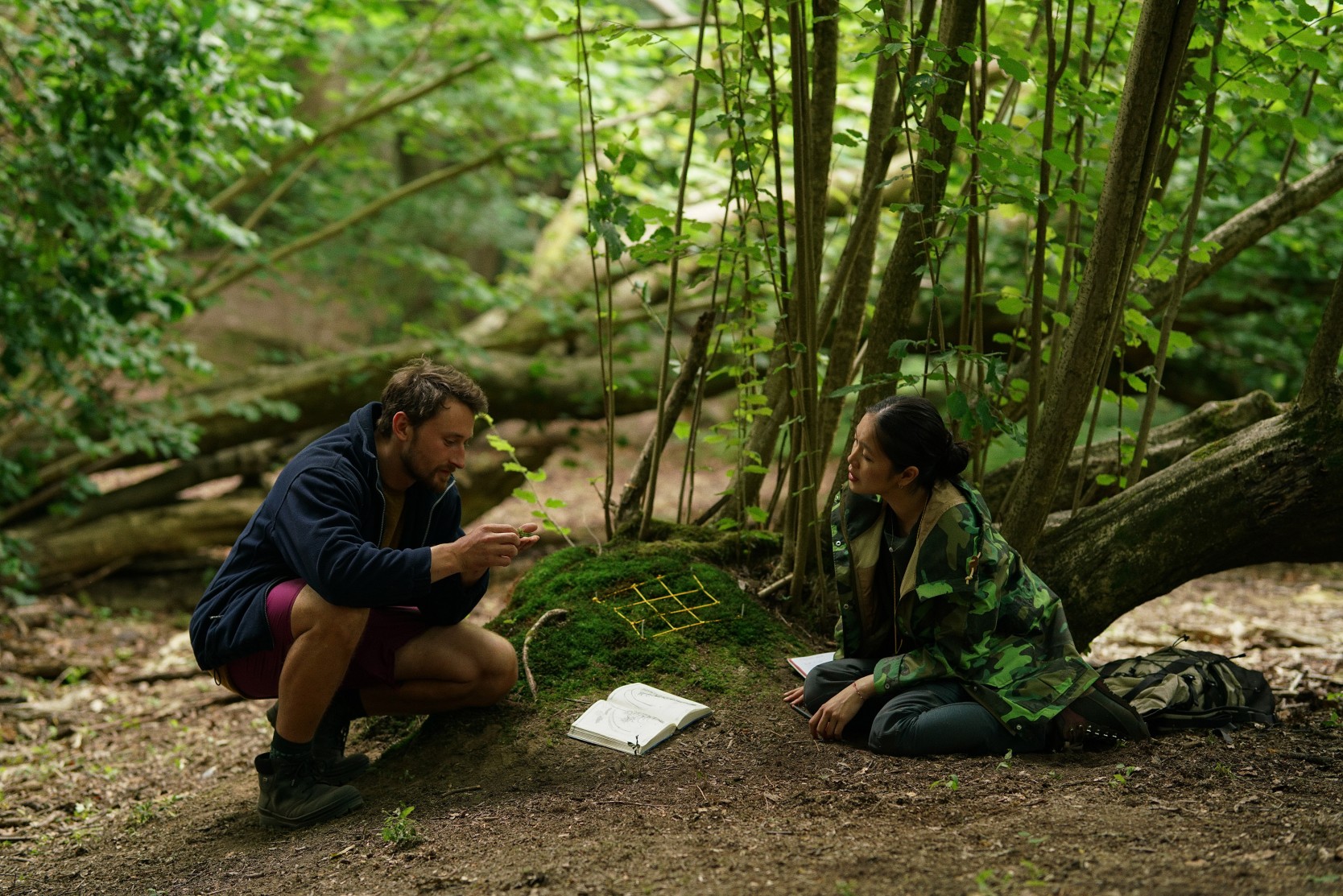 With the juxtaposition of buildings under construction and exuberant foliage that quietly seeps into urban spaces, the static opening shots set the tone of the film's spatial aesthetics. Against the backdrop of towering blocks and rebars, construction workers in yellow helmets move around like tiny dots as humans become small in the vastness of the concrete jungle. When they sit on a meadow during lunch break, the camera goes closer to give faces to those moving bodies. It is a routine workday right before their one-month construction leave in summer. 
The Romanian construction worker Stefan (Stefan Gota) enjoys looking out his window when the sky's light dims, observing freight trains passing by, and wandering around in darkness on insomniac nights. It is his way of fleeing from isolation in a foreign country. When he finds leftover vegetables in the fridge that need to be consumed before his vacation in Romania, he makes them into a soup, distributes it into Tupperware boxes, and embarks upon a trip of soup-gifting. On the way to pick up his car from the garage, he bumps into the Chinese-Belgian woman ShuXiu (Liyo Gong) on a path between trees. They had previously chatted in a Chinese restaurant, and it turns out that she is a Ph.D. student of bryology and works on documenting mosses in the forest. Whereas trains passing in front of Stefan's window embody industrialization and modernization, mosses are ancient inhabitants of the planet, dating back 450 million years. When these two individuals share a magnifier to look deeper into the "mini-forest of mosses", as the bryologist describes, they break free from functioning like the screws of a giant machine in a post-industrial society and delve into a world where organic beings sprout and expand. 
The film's composition is skillfully orchestrated, with a camera in no rush to pursue action. It prefers capturing willows blown left and right by the wind in a static shot or pondering over lush greeneries for a minute. Human voices are low, and people talk in turn or let the silence sink in between them. With this graceful stillness and tranquility, we can immerse ourselves in an audio-visual world that approximates nature, is not quick to judge, and lays bare what is not always immediately visible. 
Seeing a world in a grain of sand – or a spore of moss in this case- Stefan and ShuXiu are mesmerized by small things in nature. Stefan reminisces old feelings about the forest and cherishes the seeds that flew into his pocket. In ShuXiu's class, she asks students to present an imagined plant species, an invented organism. They are contemporary flâneurs who explore nature rather than casually observing urban landscapes, almost like defying the urban bourgeois tradition of flâneurie at the time of Baudelaire. Stephen wanders about, discovers half-built buildings, and sneaks through a hole in a barbed wire fence to catch fireflies that luminesce with a green light at night. ShuXiu follows the traces of mosses to draw an inventory; under ShuXiu's microscope, caulids are translucent with shades of green. 
This visually stunning film is the Belgian director and scriptwriter Bas Devos' fourth feature, and he is a regular at the Berlinale. His first feature Violet (2014), won the Jury Prize of the Berlinale Generation in 2014, and his second feature Hellhole (2019), was selected for Berlinale Panorama in 2019. In Here, Bas Devos demonstrates the power of quiet observation while refusing to delineate or divide. In a voice-over, ShuXiu recounts a dream where she does not remember the names of the things around her and lies there looking at the world without terms, animal-like, feeling both here and there. Earlier on, one of Stefan's friends recounts the experience of total anesthesia for a heart defibrillator, "Eyes closed, eyes open. Time disappears. You blink, and everything is gone." With the characters' names not even once explicitly pronounced in Here, the time and space also remain undefined and unnamed in this cinematic journey; almost like a full aesthesia, time disappears imperceptibly. 
Here is a film that opens a crack between times and spaces, profoundly humane and organicistic, earthly and ethereal, all while connecting ancient and industrialized organic beings. 
Yun-hua Chen
Edited by Anne-Christine Loranger
© FIPRESCI 2023