73rd Berlinale - Berlin International Film Festival
Germany, February 16 - February 26 2023
Festival homepage
The jury
Marcelo Janot (Brazil), Nirmal Dhar (India), Beat Glur (Switzerland), Yun-hua Chen (Germany), Inge Coolsaet (Belgium), Andreea Patru (Romania), Gena Teodosievska (North Macedonia), Jiongguang Chen (Germany), Elena Rubashevska (Ukraine), Hosam Mostafa Fahmy (Egypt), Susanne Gietl (Germany), Diana Martirosyan (Armenia)
Motivation for the Forum competition winner: "Petri's second feature film is a documentary. Following the correspondence of two women who lived in different regimes in the 70s and 80s, the film shows similarities and differences between Iran and Romania. Between Revolutions' poetic approach leaves space for interpretation; combined with the well-edited material, it unfolds in all its force".
Motivation for the Panorama competition winner: "The Danish film The Quiet Migration is awarded for its exquisite cinematography depicting solitude and alienation and the sensitive portrayal of the inner life of its protagonist, blurring the lines between reality and his imagination".
Motivation for the Encounters competition winner: "This quiet ballad draws our attention to the rhizomatic connections that exist around us but often go unnoticed. The composition is skillfully orchestrated, and the camera is often static. When the camera does move, it moves at a human pace and with a gentle fluidity, unhurried and serene. As two individuals with distinct backgrounds and life experiences observe mosses in the forest together, almost meditatively, they traverse a shared here and now, transcending all human-made boundaries that permeate our world. A thought-provoking exploration that is both metaphorical and philosophical, and a visual delight".
Motivation for the Main Competition winner: "It's a film made with a deep sense of understanding of cinematic art, clearly standing out in the competition by dealing with dystopia in a fresh and strong way to bring across a political message against racism and colonization".
Along with the FIPRESCI award, the prize of the Europa Cinemas was announced: İlker Çatak's The Teachers' Lounge (Das Lehrerzimmer) has won the Europa Cinemas Label as Best European film in the Panorama section.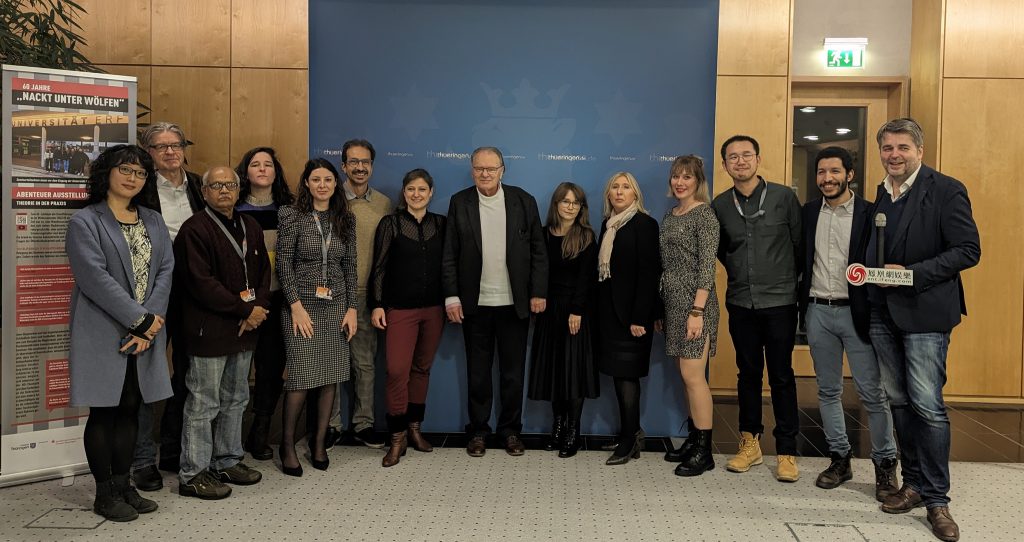 The 2023 Berlinale Critics' Jury
The photos show the jury during the deliberation process at the festival center as captured by Lamia Fathy's camera. Click on the photos to get a bigger view. All names from left.