20.000 Species of Bees (20.000 especies de abejas), Spain, 2023
Director: Estibaliz Urresola Solaguren
Cast: Sofia Otero, Patricia López Arnaiz, Ane Gabarain, Itziar Lazkano
International sales: Lux box
Director's concept shapes the story as skillfully as a bee is knitting its cell, and gives us a glimpse of each family member shapes their life.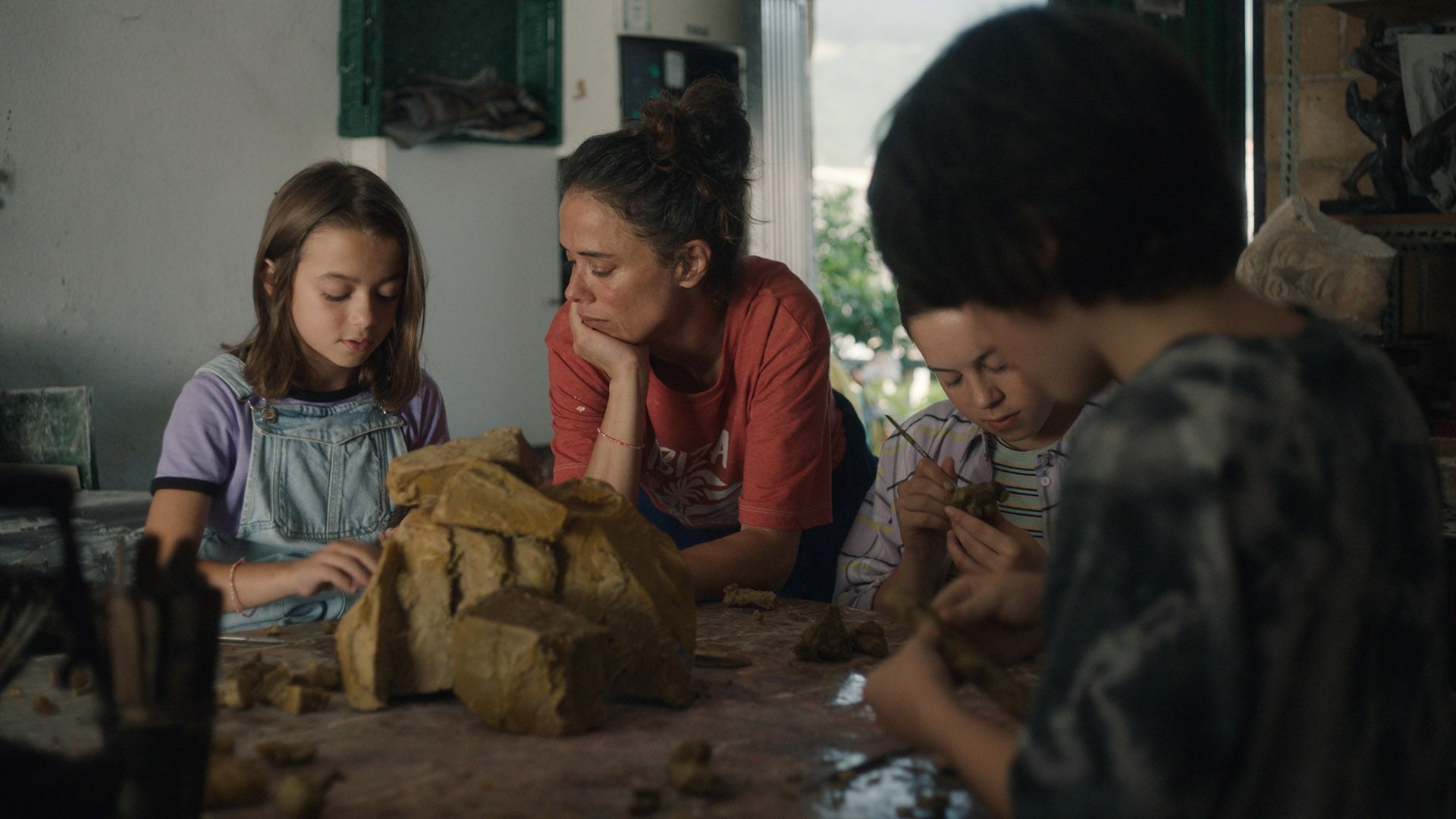 Life can always surprise us much more than a film
                                                                                     François Truffaut
I never doubted this thought of Truffaut, but I always tried to refute it with examples of films that stagger us, cut the air like a heavy cloth, lead us to disbelief and put us in situations we don't anticipate. How do we appear to others when we love, hate, envy, adore, get angry, are furious, when we are falsely indifferent or when we are genuinely curious? We come, we go, we are sad, we calm down, we cry, rejoice, deny, fight, hope, give, receive… how much can we list, an entire century, a whole life, a full movie.
That's why film festivals and their organizers the program selectors, take on the role of a young and sturdy David and offer us films that, like pearls, illuminate all the dark places of life's "sea depths". We, the audience, as a giant and inert Goliath, perpetually famished for new stories, eagerly await the moment when the lights in the cinema halls go off. I have always seen the Berlin Film Festival as a platform for new voices and an echo of the famous, celebrated ones.
Always aiming for perfection and the ideal, which can also be a tensile and relative process, this year's 73rdedition of the Berlinale, despite its shortcomings of both organizational and programmatic nature, still did not leave us, the film journalists and critics, indifferent. After the two Covid editions, the Berlinale this year offered many premieres, gathered a huge audience, brought well-known and eminent filmmakers and supported important actions and social platforms. Yet… as if it lacked that charm, which, like a strand of hair, constantly falling over our forehead and we persistently move it aside to see more clearly, to hear better, or we try to blow it off sideways with our mouth.
The film that made me move that strand of hair over my forehead was the debut film of the Basque Spaniard Estibaliz Urresola Solaguren 20,000 Species of Bees (20,000 especies de abejas), in the creation of which this young director dives boldly and extremely confidently, playing with the metaphor of bees and their useful life for the planet and the gender determination of a boy with all the mischiefs that childhood brings, yet with all the difficulties that his decision brings, as difficult as the heaviest thought.
This multifaceted drama unlocks an extremely relevant dilemma; how should we treat children who are not comfortable with the gender they were born in, who not only feel more comfortable in the opposite gender, but feel it as their own, as is the case of an eight-year-old boy who feels like a girl. In those crises, trans children are mostly alone, especially when the environment imposes itself on them with its traditional rigidity. But in this film, that is not the case – the eight-year-old Aitor, so authentically played by the little Sofia Otero, receives the strongest support from his/her mother Anne, played by the extraordinary Patricia López Arnaiz, who is experiencing her own midlife crisis, and in this film she gives in to us with all her acting splendor.
Even the summers of suffering are dark and gloomy. In such a short summer, in a small Basque place, surrounded by hills, forests and meadows, with a beautiful green river, a place that looks more like a summer destination, the director places the story that fills our eyes with a furious pace from the very beginning. The urban shots, as well as every dialogue uttered in them, seem to be lost, until they take on a meaning in the summer country air and the heat of the day. Only when the question of identity is raised, especially when it is done so naively, honestly and simply by an eight-year-old child, our maturity is put to the test.
Every surrounding, even the most liberal, first resorts to denial, then nonchalantly dismisses the occurrence as a temporary thing that will soon pass, as nonsense that children perceive as a game and nothing more… But it is more, because it is followed by confusion, impatience, much later by dumbfounded inability to deal with the situation which has already taken on a new form, very different from the one you remember. Shock, rage, arguments quietly but angrily, silent astonished looks and powerlessness. Doors open and close quietly, footsteps are inaudible. Because of his rebellious nature and long hair, little and beautiful Aitor is nicknamed Coco by his sister and brother.
He both despises and loves his nickname. Aitor is the youngest child whose family is falling apart and he notices, recognizes, follows all these small visual signals. He is sad because he makes his mother unhappy, distant because his father does not pay attention to his sadness, serious and sincere with the beekeeper, but close with his brother and his/her friend. When he/she is sincere, he/she is special he/she becomes a shining firefly in the night, he/she is the bee who wants to live and make honey, he/she wants to take active part in his/her childhood joys of life.
But silence has a special place in every family, in every closet there is a place for some family secret, dark, funny, touching… a secret that cracks the walls of trust, shakes the foundations of closeness to oneanother. Aitor's family is no different – with his sculptor mother who followed in the footsteps of her authoritative father, with his grandmother Lita (Itziar Lazkano) who is always in the background, like a faded dress that was once very beautiful but not worn enough, with the bold personality of Lurdes, his grandmother's sister who cures the sick of the village with abee's sting and is his/her only sober interlocutor, who tries to understand and dispel Aitor's greatest enemy: shame and confusion.
The beekeeper, masterfully embodied by the superb actress Ane Gabarain, has the answers to the questions that torment Aitor. She tells him/her the story of Saint Lucia and Aitor is delighted to choose for herself the very name Lucia, a name she melts with. The director paid attention to each frame, as in each of them we can see Lucia's pain, even when she is not in it. Each frame is a bee with its own role. Exceptional and mature from a directorial and screenwriting viewpoint, visually rich, with the creative editing of Raúl Barreras, with the understated but effective camerawork of Gina Ferrer Garcia, and its strong acting, the film 20,000 Spices of Bees, leaves you with no bitterness, fills you with soft sorrow and quiet happiness.
Little and fascinating Sofia Otero defeated the stereotypes and won the Silver Bear for Best Actress. She is simply adorable, such a natural and talented child. This film shows the strength of motherhood and the fragility of family ties. Director's concept shapes the story as skillfully as a bee knitting its cell, and gives us a glimpse for each family member and how they shape their lives. My biggest dilemma will always be whether I believe in the story and the actors. Do they believe in what they portray for us, particularly a subject that is so vulnerable and delicate? The director leads them to the point of natural acceptation of their roles. This is a significant fact – because of it the story works and we are completely absorbed in Lucia's world. There are movies to be remembered and this one is surely one of them. It is a film that I will watch again…..I want to watch it again.
Gena Teodosievska
Edited by Ron Fogel
© FIPRESCI 2023