Essay Adefoyeke Ajao
Negotiating a Reel Appreciation of History
By Adefoyeke Ajao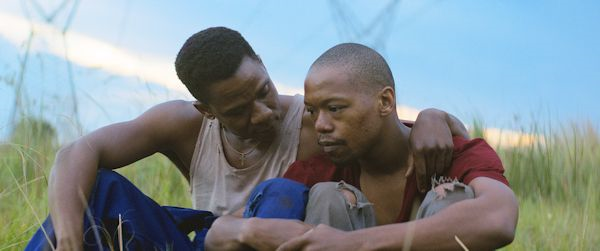 Whenever the word "history" is mentioned, it tends to conjure an image of depressive black and white images fleeting across the screen, voiced-over by an equally dismal monologue that does nothing to generate the viewer's interest in the frame. The filmmaker risks being out of touch with audiences that are fascinated by instantaneous, colourful images. At the 67th Berlinale, some filmmakers attempt to install the past within the present. These approaches to reconstructing history form the basis of Joao Moreira Salles' IN THE INTENSE NOW (NO INTENSO AGORA) in Berlinale Panorama, Laurence Bonvin's BEFORE THE FLIGHT (AVANT L'ENVOL) in Berlinale Shorts and THE WOUND by Berlinale Talents alumnus John Trengove in Panorama. Through their respective uses and depiction of customs, artefacts and historical events, these filmmakers stress the disposition of society to representations of the past. Interviews with film critic and editor of Turkish cinema magazine, ALTYAZI, Senem Aytac and director Joao Moreira Salles (both Talent experts) about criticism and archives, respectively, reveal the importance of archives to filmmakers interested in narrating history.
Absent past, present crisis…
John Trengove's THE WOUND revolves around the identity crisis of three young homosexual men in a traditional circumcision camp, intensified by the clash of traditional and contemporary practices. The ignorance of the past is embodied in Kwanda, a rich teenager from Johannesburg, who is forced by his father to take part in a traditional rite of passage. His disregard for tradition unravels as he is left wondering why he has to sit around in a rural town and "watch his dick heal" in the 21st century. His character is more attuned to the culture that defined his upbringing; and his disinterest in tradition was mostly a result of being an involuntary adherent. Through Kwanda, Trengove underscores the conflict of interest within a society that encourages assimilation of one culture and loyalty to another. Why force tradition down someone's throat when he has been bred on a diet of luxury replete with cable television, smartphones and fancy wardrobes?
Ideological disparities are also apparent in Bonvin's BEFORE THE FLIGHT where post-colonial architectural landmarks are reduced to hollow shells that suit informal conversations. While these conversations are usually animated, the people engaging in them appear to be detached from the historical connotations of these buildings, and are more in tune with life on the streets. The director does not overtly reveal this, but through body-language and framing hints at the possibility that these hallowed relics hold no significance for their occupants.
The detachment from monuments is not restricted to the Ivory Coast. Using her country, Turkey, and the demolition of the historical Emek Cinema in Istanbul as an example, Aytac opines that memories are being repressed because "history is being erased". Monuments are being sacrificed for infrastructural projects and people have no memories of them once they are gone. While Turkish society's memory lapse results from what has ceased to exist, the buildings in Bonvin's film show that presence does not necessarily invoke nostalgia. With both Turkey and the Ivory Coast having histories of political and social instability, it might be necessary for them to look to the past. If not for solutions to their present problems, but at least to understand the core values that define their existence.
"Everything is material…" (Joao Moreira Salles)
Narrating history in documentaries should not rely solely on cultural or ideological references, as Bonvin proves through her short on Ivory Coast's architecture. She defines the current attitudes toward history through the deplorable state of the country's national buildings. She relies solely on newly shot footage of these places, not on archival material.
It is not always easy for filmmakers to access archival footage, especially when there are no institutionalised film archives. According to Aytac, this is a major problem for Turkish filmmakers too, with no national archive, just private collections.
Moreira Salles is more fortunate when it comes to having access to materials. IN THE INTENSE NOW features home movies and news reels. In his opinion, amateur footage offers a more factual perspective of life since it is yet to be coloured by the media's interpretations. This is obvious in his mother's film of a visit to China, in which she unwittingly captured images of public life.
"What you see in an image at first is not all that's there… there are some things there that are as eloquent as what you first saw, but were invisible to you…" (Joao Moreira Salles)
For the filmmaker to successfully contribute to the development of conscientious cinema, he has to question what is beyond the frame and make the viewer more aware of his surroundings. Images and narratives should not be taken at face value because seemingly innocent images convey a multiplicity of interpretations. The beauty of IN THE INTENSE NOW lies in the director's ability to link unrelated events from different videos into a collage of the era's socio-political issues, such as the occupation of factories in Nantes Saint Nazaire in May 1968.
John Trengove's THE WOUND also takes the approach of looking for deeper meaning within an image. The film starts out with a focus on male circumcision, but deflects to the taboo of homosexuality. This evaluation of homosexuality within a masculine camp is a subtle emphasis on the triviality of rituals in engendering sexual preferences.
"A great film is a film that tells an old story in a new way" (Joao Moreira Salles)
For a story to have impact it must be able to push the boundaries of imagination and creativity. There are numerous subjects worth exploring, but the content has to be constructive and educational, while maintaining an appeal to the target audience and generating critical discourse. The three films assessed draw attention to history through architecture, rituals and amateur footage.
Filmmakers cannot always embark on projects that address history. A complicating factor is accessing sponsorship and creating buy-in for their ideas. However, Moreira Salles provides encouragement: "Original points of view tend to find a way of being shown and financed – as long as they are original and unconventional." But he adds a caveat: to be unconventional, the filmmaker must fully understand tradition to confidently break away from it.
Film gives life to history. These three films highlight the filmmaker's role as a contributor to the development of conscientious cinema. By expressing historical events and practices, they reveal the importance of film in facilitating an improved awareness about the occurrences within society and possibly, an appreciation for history.